We've been here two weeks.  For the most part, it's been a delight.  The last couple of days, however, have been a little dicey.  Maybe a full moon is coming.  I dunno.  All I know for sure is that we had to make an emergency call to daddy today for a little over-the-phone discipline.
Not. good.
Here's to hoping tomorrow is a better day and they simmer down a bit!  We have had some fun in our two weeks stay.  We went to Orlando the few days before Lee arrived where we spent time with family, went to downtown Disney and ate at the world's largest (and most obnoxiously loud) McDonalds. 
I also went shopping BY MYSELF at the outlet mall.  BY MYSELF PEOPLE!  CAMA! (Russian for ALONE)  It was the greatest day of my life.  I mean, outside of my wedding day and the day my children were born.  So it was, like, the fifth greatest day of my life. 
A few pictures for your viewing enjoyment.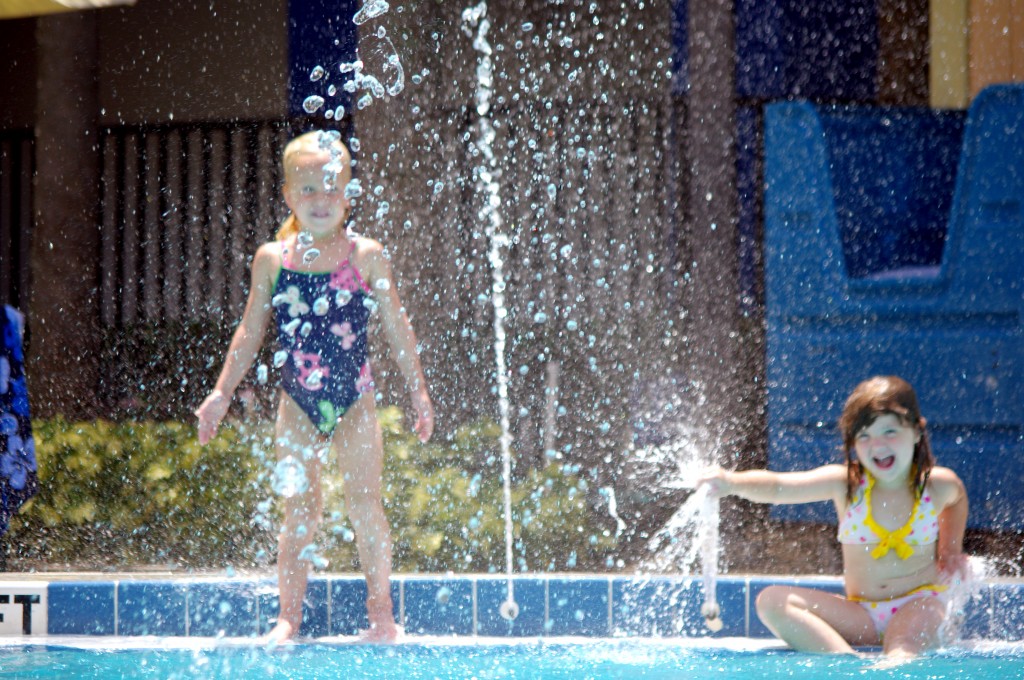 Every other year when I grew up, my parents rented a condo on Clearwater beach for one month.  We'd pack up our (smokin') minivan and trek from Wisconsin (when I was younger) or St. Louis (in my teen years) and drive down.  So this beach is as much home to me as any place else. 
While down here, my aunts and uncles would come over and stay with us in the condo.  Many of my favorite childhood memories are on this beach with my cousins.  I love recreating those memories for my kids.
My cousin Kristen came to see us in Orlando with her four children.  Her third born, Fiona, and Tia became fast friends.  It was such a blessing to be with them.
Landon and Kristen's youngest, Miles, struck up a mean round of ping pong.  After which we ate lunch and Landon decided to take a snooze poolside.
After swimming with the cousins, we dried off and headed to Downtown Disney.  I'm not ready to pay the high prices for Disney World yet.  I want all of the kids to be old enough to remember it before we go.  But Downtown Disney was a fun place to visit, shop and eat.  The kids all had money to spend and had a great time searching for the perfect toy to bring home.  Even though it was 4,000 degrees, we still managed to have a good time.
My brother and his girlfriend, along with her little girl, joined us for a little hotel swimming and Downtown Disney.  The next night we got to play at their home for a bit.  It was so fun to connect with them.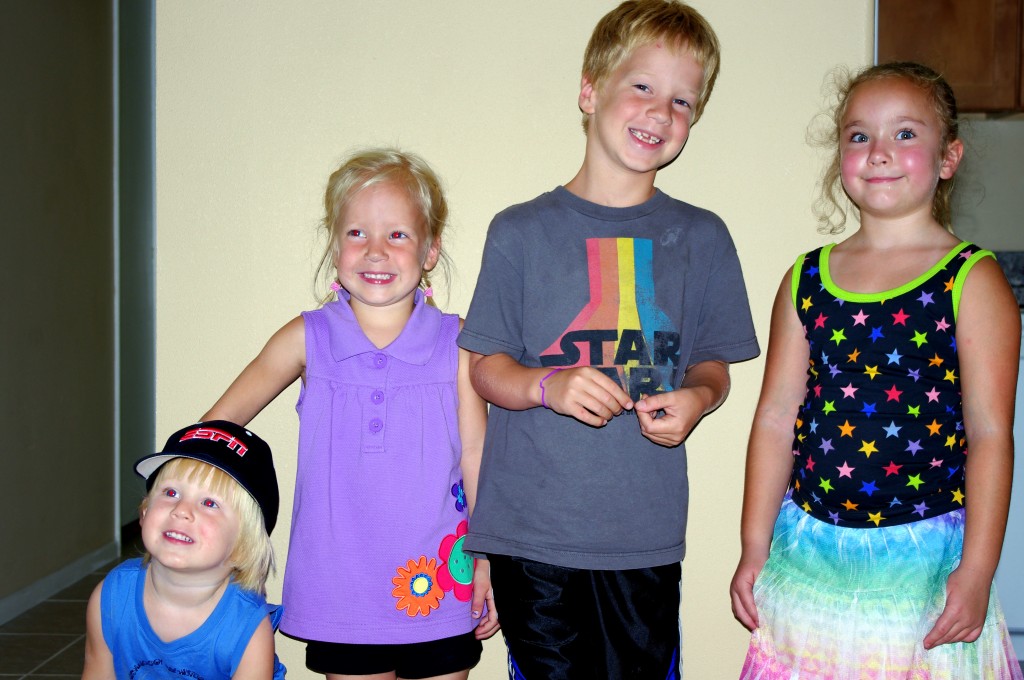 This week we decided to take the kids to Lowry Park Zoo.  The original plan was to hit up Busch Gardens, but then we found out how much it cost and did a quick about face.  Lowry Park was significantly cheaper and the kids had a blast.  They got to ride ponies and camels, as well as a log flume and roller coaster (kiddie coaster).  And we got to feed goats and parakeets, as well as a giraffe, which was, for me at least, the highlight.
My favorite quote of the day was Landon on the roller coaster.  As we zipped around the first turn, he laughed and yelled, "Dis a fuuuun."  Then we gained momentum and roared around the first turn and his eyes almost popped out of his head.  "I stared, I stared (scared)" he cried.  So cute.
Whew. We're tired.  We are having a great time, but I will admit that the kids appear to be tiring of one another as is evident by their near constant bickering.  I'm trying to take them out one at a time for some one on one time and to keep them from killing each other.  We just have a few more days and as much as I'll hate leaving this place, it will be nice to return to the routine of home.
Until then, we will continue to have fun in the sun!