Most of my days consist of multiple hours inside the belly of my minivan shuttling children to baseball, gymnastics, school or friend's homes. If I'm super lucky, I might get to go to the grocery store sometimes or, as is the case today, I get to make a hefty drop at the local Goodwill thanks to one of my children who could easily occupy an entire episode of Hoarders single-handedly.
This hectic schedule leaves little time for hair care, which is one of the reasons I have so loved having my hair short. I have all but mastered the fashionable bed head and when I'm really on my game, I add the hot pink highlights to give my hair a little bit of edge.
Because I am sooooo edgy.
Yo…
Alas, maintaining awesome hair is a greater challenge than most of us care to admit. I'll be totally honest and tell you I have no idea what color my hair is anymore. If I had to guess, I'd label it dirty dishwater. It is neither blonde nor brown thanks to years of abuse and the hormones that come with birthing three children. So I pay someone to help a Mama out and give my hair some much needed TLC.
At least, that's what I do when I have time. But if you'll re-read paragraph one, you'll understand that getting myself to a salon for three hours to have my hair loved on is not always easy or feasible. I haven't had anyone sprinkle magic pixie dust (i.e. Redken Hair Dye) on my hair since before Christmas. Nor have I had it cut.
I'm in a bad place, friends. A bad, bad place.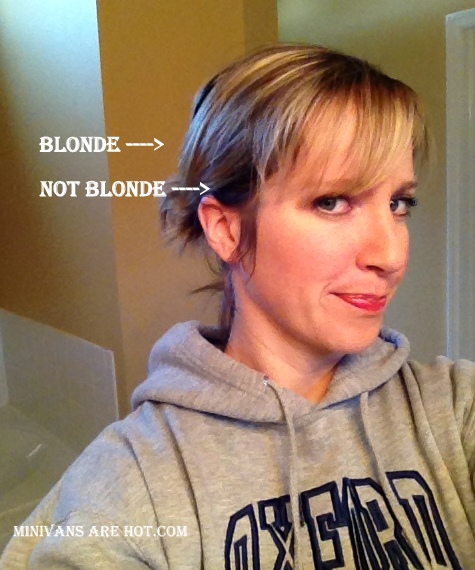 So, what's a busy Minivan Mom to do when life gets too busy to take care of her hair?
Buy. A. Headband.
Or four.
I've found that wide headbands worn high up on the head are an excellent way to mask those painful roots that give my hair the perpetual appearance of filth. I recently bought two headbands like the one I'm wearing in these pictures at Sam Moon in Dallas.
I love them.
I greet them in the morning with a chipper, "Hey there, lovlies." And as a reward for my encouragement, they keep me from looking a hot mess.
The good news is I only have to wait one more day before having something done with the sad, pitiful mop on top of my head. Tomorrow, my hair lady will work her magic with scissors and a bit of color (Pink!). But my love of the headband will not waver.
In fact, yesterday I bought two new headbands from O Sweet Joy. I got The Collette in both sour apple and raspberry. Aren't they the cutest little head wraps you've ever seen? (If you go to Kacia's site, Coconut Robot, you can snag a discount code!)
(And after you snag the discount code, check out the giveaway Kacia is hosting today for Noonday, an AMAZING organization that works to advocate for the orphan by providing jobs so families can provide for their children, raising funds for adoption and so much more. I love what they're doing and their jewelry is Gorgeous with a capital 'G'!)
So, back to my original premise for the post: How does a Minivan Mom keep her hair looking awesome? By investing a little time into a good cut and color, of course. However, when time (and funds) do not permit such an investment, then the smart Minivan Mom fakes it. She invests in a few good headbands, puts on a little extra makeup and keeps things sassy until that next miraculous moment when she can sit her behind in a chair at the salon and let them work their magic.
And we all said together…
Amen. 
(PS – To the men who read my blog (and I know there are several of you out there…don't try and hide it) – I apologize for what was likely a very boring read. I hate for you to feel left out, so please feel free to share with us any tips you have for maintaing your hip Minivan Dad edge. *wink*)