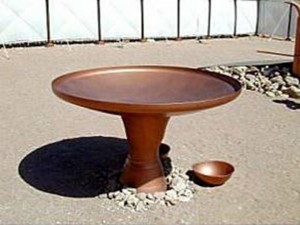 "You shall also make a laver of bronze, with its base of bronze for washing; and you shall put it between the tent of meeting and the altar…" Exodus 30:18
I brought him home from the hospital, his hair aglow in the soft afternoon light.  Looking at him, the sleeping cherub with the bowtie mouth, I stood in awe.  I didn't know he would break my heart.  I didn't know he would turn my life over and upside down with a love so intense and blinding I would sometimes find it hard to breathe.
I didn't know that he, and the two others that followed him, would be the brazen laver in which every ounce of my dirt would be revealed.
Of course the God of the Universe had a reason for His command that Moses should place a laver of bronze between the tent of meeting and the altar.  As the priests dipped their hands and feet into the cool water, they were forced to wash away the dirt that prevented them from entering the Holy of Holies cleansed.
One can't approach the altar with dirt stained hands.
Parenting requires that we gaze intently into the laver, all the dirt revealed in the mirrored waters of our children's actions; their words, their laughter, their tears and fears, their sin all reflecting a small piece of us.  I tried to ignore the intensity of this gaze for a long time.  With the veil torn and the Holy of Holies available to me, I attempted to merely dust my hands off and approach the altar with a dangerous sense of entitlement.
Grace allows me to be here, I thought.  So I will come without so much of a glance into the mirror.
But God, in His infinite wisdom, gave me a child so much like myself that I found myself stumbling to my knees.
"I can't do it!" I cried.  "I am incapable of parenting him!"
Drama much?
And in the tumble and stumble of utter exasperation, I saw…I looked. The brazen laver, always there standing between me and the Holy of Holies, but rarely approached with any sense of humility.
In the looking it was there that I saw the dirt and the grime that had hindered my communion with my children and, more devastatingly, with the One who gave them to me.  With trembling hands, I dipped my fingers into the cold.
It was equal parts fiery pain and refreshingly cool.  A washing of Grace.  A hope for restoration.  Face to face with the parts of myself that were so easily reflected in my child, I realized I had been blaming him for my dirt.  I had been trying to wash him clean with mud cake fingers.
That hurt.
But after the gaze inside the mirror and the washing clean of my selfish, tainted heart, I found myself finally, fully approaching Him.  I stood inside the Holy of Holies.
Me.
The one who left the waters blackened with filth.  I am permitted to stand before Him.  What love is this that desires and accepts communion with me?  Who am I, that the God of the Universe would be mindful of me?
I see my dirt much more clearly these days, though if I'm honest, I would tell you I am often tempted to pass right by the laver before moving into communion.  I don't like to see my tainted reflection.
But then I look at their faces, each one bearing the beauty of His mark.  And my heart aches to usher them into the Holy of Holies, to see them bowed low before the altar, clean and whole.
It starts with me.  They are my reflection.
And they are His.
Click the play button to hear one of my favorite songs of all time.  At around 4:38 start listening closely to the lyrics.  You will get goosebumps, I promise.