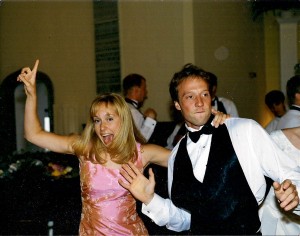 As Lee and I lead up to our 10th Anniversary, I am chronicling some of the favorite memories of our years together.  You can read our love story here.
By the fall of 1999, Lee and I were an official "item."  Although neither one of us could ever really call each other "boyfriend and girlfriend."  It sounded silly and trivial and we'd giggle every time we said it.  We also felt very strange and junior high when we would walk and hold hands.  Because we knew that marriage was imminent, it almost felt like hand holding and labeling trivialized our relationship.
When we returned for what would be my senior year at Baylor, Lee decided to go to the K-Life Board of Directors and tell them about our relationship and his intentions for it.  Because he was on staff and I was a volunteer leader, technically we weren't supposed to date.  I was willing to step down as a volunteer if I needed to in order to officially date Lee, but I did not have to do that.  The Board was not only supportive of Lee and I, they were excited for us.  And for that entire school year, they really poured into us as a couple.  What a blessing that was.
So we were free to move forward as an official couple, and move forward we did.  Every available moment we had, we spent together.  Because I was in my final year and it was kicking my tail academically, Lee and I spent a lot of time at Barnes and Noble – me studying, him staring dreamily at me…
Okay, not really – I think he usually prepared his K-Life talks or Bible studies, but I like to think that he was so distracted by my beauty that he got nothing done at all during that time.
For those of you who have been in Waco in the autumn, you will know that what I am about to write is no exaggeration.  Every fall, Waco experienced what can only be described as the Plague of Crickets.  Thousands upon thousands (maybe millions) of crickets would swarm the town, covering buildings, falling from the sky and altogether making my life a living hell.
I've told you about my unnatural fear of crickets here.  This fear stems from my years as a Baylor student.  And the fall of 1999 was the worst cricket infestation of all my years there.  You couldn't go anywhere without seeing one or 10,000 crickets.  They were in restaurants, churches, libraries, classrooms – every-freakin'-where. 
One evening, as Lee and I sat in a quiet corner of B & N studying and talking, I kept a wary eye on the crickets that were crawling on the wall next to us.  It was at a particularly intense moment of conversation that I felt a tickle on my calf.  I gasped and slapped at my leg, shaking my pants around a little.  Lee laughed and called me paranoid and we moved on. 
A moment later, I felt another tickle on the back of my knee.  I yelped and shook my leg under the table.  When no cricket came tumbling out, I decided that maybe I was being a little crazy.  Until…
I felt something crawling on my thigh!
At this point I leapt to my feet in the silent but crowded book store where several people were studying and began hopping and dancing about as I stuck my hands down my pants and dug for the voyeristic little cricket.  I finally felt my hands close around it and I snatched it out of my pants and threw it across the room with a scream.
I looked around to see all eyes on me and Lee doubled over in laughter.  I gave a little smile and wave, then slowly sat back down all shaky and hot.  Lee was still laughing.  I glared at him and leaned forward.
"Lee," I hissed.  "Did you see that?"
He snorted.
"Lee!" I was desperate for him to understand the seriousness of the situation.  I had just been viciously attacked, for crying out loud.
"That cricket was in my pants," I stage whispered in horror.
Lee sat up and wiped his eyes, then looked straight at me.  "Well," he said with a grin.  "Lucky cricket."
My mouth dropped open and my face got hotter still.  Then we both started cracking up. 
And then we left…And I have had a severe Crickiphobia ever since.