With our lovely and eventful honeymoon now over, Lee and I set up house in Frisco, Texas just north of Dallas.  We had a sweet little third floor apartment that I loved not only for its charm but also for the fact that I could vacuum the entire place without once having to unplug the vacuum cleaner.  Big bonus!
When we returned from our honeymoon, the job that we thought was lined up for Lee had fallen through.  But, thankfully, another job opened up immediately as a sales rep for Hewlitt Packard.  He was going to make 36 grand a year and we were certain we were rolling in the dough.
I commenced to freelance writing and editing.  I had a gig as a co-author with Joe White on an upcoming devotional and I also had several contacts who threw ghostwriting opportunities my way.  Because these took a lot of time, I decided to forgo the traditional 9 to 5 job and get something with more flexible hours.
Enter WOGA – the World Olympic Gymnastics Academy.  As a former gymnast, I had the experience needed to work at this high class facility.  As a russian speaker, I had an immediate in with my bosses, Valery Liukin and Evgeny Marchenko.  So every afternoon, I reported to work and while I coached my level four and five girls, I had the unique privilage of watching a then 13 year old Carly Patterson and 10 year old Nastia Liukin train.  They were amazing even as little girls.  Lee and I also forged some wonderful relationships at WOGA and every time I return to Dallas I try to visit and say hello to my dear friends.
In addition to WOGA, Lee and I attended Chuck Swindoll's Church where, every Sunday, we sat next to Cynthia Swindoll and soaked up the most amazing teaching.  To say those first years of our marriage were blessed is an understatement.  From our friends at church and at work, we have nothing but fond and sweet thoughts of those days.
But, as happens in life, we experienced our first blow in 2002 when Lee was fired from his job.  We were devastated, shocked and scared.  We loved our life in Dallas and didn't want to leave, but after four months of looking for work, we had to make the difficult decision to pack up and move.  Lee got a job in St. Louis and we moved in with my parents.
Humbling.
In October, 2002, Lee and I had a little marital conversation.  It went something like this:
Kelli: "I'm ready to have a baby."
Lee: *crickets*
Kelli: "What do you think?"
And thus Lee laid out a long list of reasons why we should, in fact, NOT have a baby.  They included things like – "We aren't making very much money," – "We don't have a place to live," – "You just started a new job."
"Let's talk about this again in six months," Lee suggested to which I agreed.
One week later I found out I was pregnant.
So I did what any reasonable wife would do with such amazing news.  I called my husband at work and broke the news over the phone.
After the initial shock wore off, we were both very excited…and terrified.  But look how cute we were: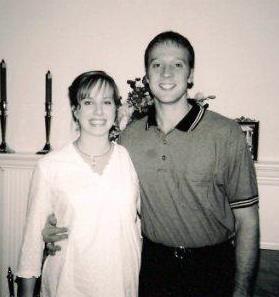 We did find a house in January of 2003 and spent the next seven months gutting and rehabbing it.  Because there's nothing less stressful than trying to rehab a house when you have a pregnant hormonal wife breathing down your neck…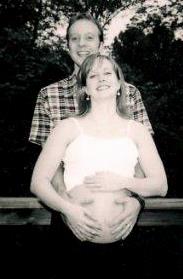 On July 10, 2003, after five hours of intense labor, Sloan Alexander came screaming into the world.  He was beautiful and fat and sweet and perfect and we could not have been more elated.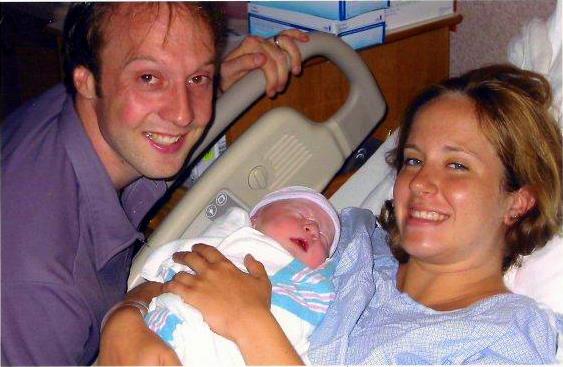 We had the house finished enough to bring Sloan home to it a week after he was born.  We're still in that home today.  It seems to have gotten smaller over the years, but we love it there.
When Sloan was a little over a year old, we decided to give him a sibling.  Little did we know it would take almost a year to get pregnant the second time around.  It was a very discouraging time for me and while I know that many couples struggle for much, much longer than we did, it gave me a small glimpse of the heartache and frustration of infertility.
Finally, though, after much heartache and prayer, we conceived our second child.  When I was pregnant with Sloan, Lee was adamant about finding out the sex before he was born.  I, however, wanted to wait.  So he agreed that we could be surprised the second time around and true to his word, we did not find out the gender.
We just assumed it would be a boy.  There had only been one girl in roughly five generations of Stuarts so we didn't think we'd change that trend.  I washed up all the baby boy clothes and lovingly placed them in the nursery.  We chose the name Sawyer Brayden and we waited to meet Sloan's baby brother. (Sloan, incidentally, though only two years old at the time, insisted that he would be getting a sister.)
On my due date, February 2, 2006, my water broke at 4:20 am.  At 6:19 our daughter, Katya Rose, was born.  That was a good day.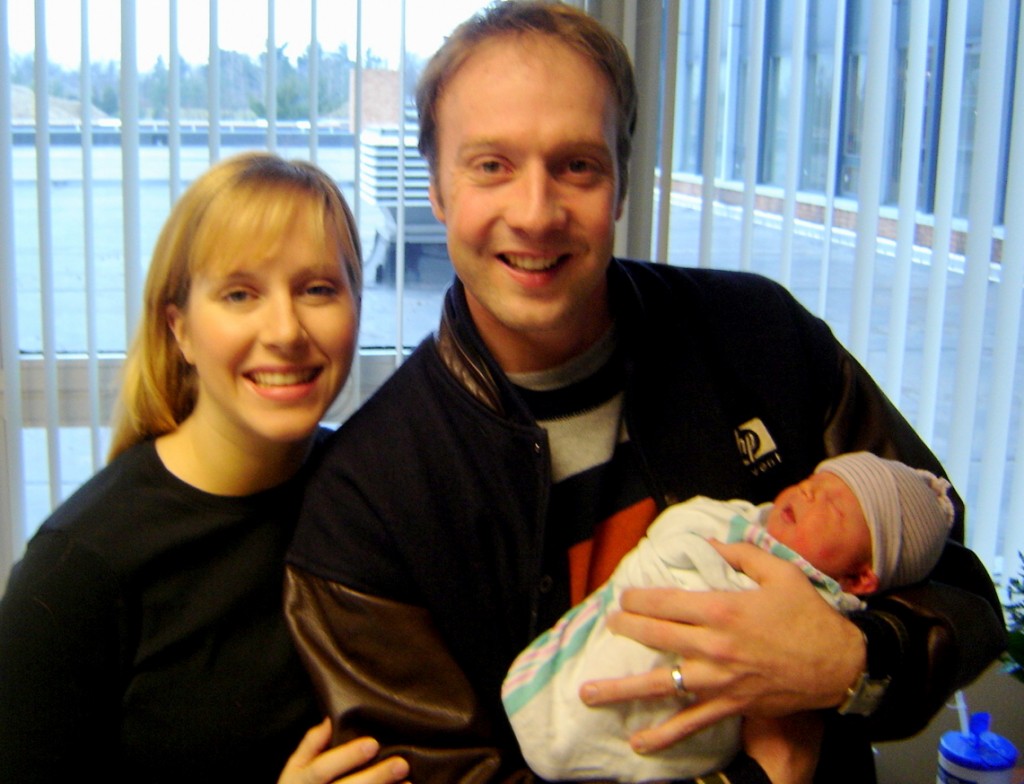 After Tia, we agreed to wait a bit before having a third child.  The only snag came when Tia was 13 months old and we deiceded to take our first vacation alone together since our honeymoon.  Four weeks later I held a positive pregnancy test in my trembling hands.
Lee was leaving that afternoon to visit his family in Arkansas for the weekend.  I made the mistake of telling him before he left.  He was shocked and his initial reaction was anger.  In fact, we barely spoke all weekend.  I was sick with worry and felt like somehow I had done something wrong.  It was a bad weekend.
I even called a friend nearly in tears to get a little reassurance that we were going to be okay and we hadn't detrimentally harmed our older children by forcing another sibling upon them so quickly.
Thankfully, though, Lee came home with a fresh perspective and calmed my anxious heart and, with a little time, we grew excited about this new babe.  Then, at ten weeks, I rushed to the ER, bleeding heavily, sure I was miscarrying.  We discovered the next day that the amniotic sac had torn away from the uterine wall.  The doctor used words like "spontaneous abortion" and "D & C" and I feared like never before.  Because as he said those things I was staring at a tiny, beating heart on the ultrasound machine.  I could see arms and a facial profile and all I could think was that if my body failed, this life would end.
It didn't end, though.  After a moneth of bedrest, the issue corrected itself and on December 16, 2007, Landon Lee was born after what seemed an unending labor and delivery.  (I was in the hospital a whopping two and a half hours before he was born – my longest stay in the delivery room ever!)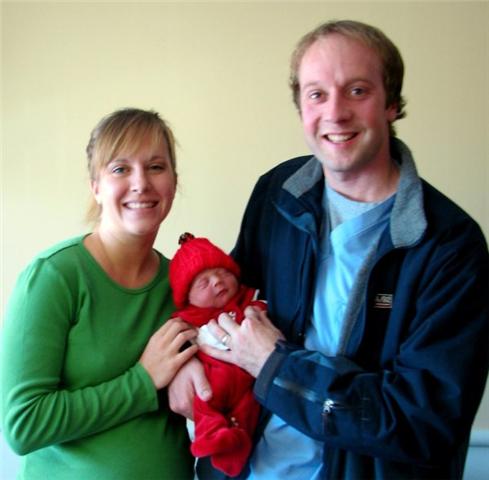 And here we sit – a week away from our tenth anniversary, three children sleeping soundly one room over.  We look a little older than we did the day we walked down the aisle and our lives are definately filled with more crazy.
But I wouldn't trade that crazy for all the riches in the world.  Especially because these three faces…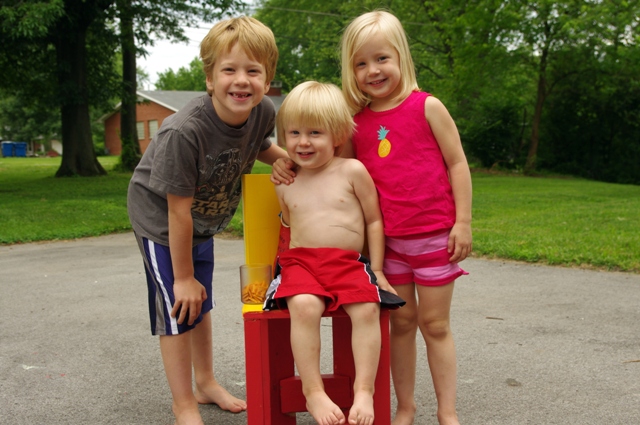 Are the product of what began on the Saturday afternoon in July of 2000.  From where I sit, it's been one heck of a decade.
To read our entire love story – click here.