It was November, 1999 and Lee and I had plans to go visit my parents for the weekend.  We had been talking a lot about marriage, weddings, rings and so on, so I knew an engagement was soon in the making.  I had a sneaking suspicion that the weekend we went home, Lee was planning on talking to my dad and asking his permission.  And then I figured he would officially pop the question on Thanksgiving.
We were flying out of Austin, Texas that weekend and they had recently opened a new airport, which Lee and I had never been to.  The original Austin airport was small and easy to find.  The new one…wasn't.
We left ourselves just enough time to get to the airport, park Lee's sexy Grand Am and get to our gate with about thirty minutes to spare.  This was pre-9/11 days so we figured we could zip through security in no time.  What we did not plan on, however, was how long it would take us to get to the new airport.  It was significantly farther away than the original airport and as we drove and drove and drove and…droooove, we got increasingly nervous about missing our flight.  With an hour to go from departure, we were still roughly thirty minutes from the airport.  And I started to panic.
No worries though.  Lee floored the Grand Am and we broke the law to screech into the airport with no time to spare.  Lee dropped me and the bags off at the front and he raced to park the car.  I dashed inside to the ticket agent and asked him to call the flight and tell then we were coming.
"We?" he said, looking around me.
"My bo-erm…My friend is on his way."  I stammered, still not comfortable with the term boyfriend.  The guy raised his eyebrows and looked me up and down then nodded and said, "Mmm-hmmm.  And where exactly is your 'friend?'" he asked, actually using air quotes at me.
And just then, like a knight in shining armor, Lee tore through the door all red faced and sweaty.  I motioned, the guy rolled his eyes and told us to hurry.  We made it moments before they shut the doors.
When we arrived in St. Louis, I found myself very nervous and jittery.  On Saturday morning, Lee and my dad were going flying.  My dad had his pilot's license and he was taking Lee on a flight to Sikeston.  And the story I got from that morning goes something like this:
The guys were prepping the plane for take off and talking business.  Lee was busy trying to figure out where he was going to work after his two years with K-Life ended.  He had recently met with Drayton Mclane, owner of the Houston Astros, and he was exploring some options.  My dad, who was on one side of the plane, asked, "So, Lee, how did this meeting come about?"  He was asking Lee how he got connected with Drayton Mclane.
Lee, however, was so nervous about asking if he could marry me that he wasn't really thinking of anything else.  So, thinking that my dad wanted to know how the meeting that morning came about, Lee blurted out, "Well Richard, IwantedtoknowifIcouldmarryyourdaughter."
awkward pause
It took my dad a second to figure out what Lee was talking about and why he had so swiftly changed the subject.  Then he made Lee get in the plane and told him they'd talk more when they got to Sikeston.  So for an hour, Lee had to sit next to my dad, in a small plane, nervously awaiting his answer.
Cruel.  But funny too…
That night, Lee and I went to dinner with my parents.  I hadn't had a chance to talk with Lee to see how the conversation went with my dad.  I knew my parents loved Lee so I wasn't worried, but I was curious.  We went to a country club for dinner and as we waited on the salads to come, I ran to the bathroom, throwing my napkin down on my plate.
When I came back, I regaled my parents and friend with my fascination over the country club's fancy bathroom, which had a light that came on automatically when I walked in.
I'm easily please, folks…
"I mean, how did it know I came in?" I asked.  "And how did it know how long I was in there?  How did the light know to stay on for me?  It's crazy, huh?"
I looked around to see robotic stares in return.  My mom picked her napkin up off her lap and kind of flipped in around a couple of times before laying it back down.  But nobody said anything…they just stared at me.  It was weird.  Finally, the waitress came with our salads and I grabbed my napkin off my plate so she could lay my salad down.
And staring up at me from inside a red lined box was a beautiful diamond ring.  I gasped, laughed and looked at Lee who slid down onto one knee.  At this point, the whole restaurant was watching as Lee said a few nice things then popped the question.  I don't remember at all what he said, but I know I said yes and I think I said it kind of loud.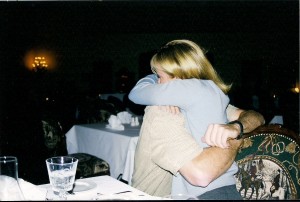 Everyone clapped and moved one.  I, however, couldn't stop staring at my hand, with the sparkler glaring at me from my finger.  It was so surreal and exciting and I don't remember anything else about that night.
It was November 6, 1999.  We would be married 8 months later.
To read the more of the love story, go here.