First, let me start off by saying I thought up all manner of cheesy titles for this post involving doctors.  I finally settled on this one – the most cheesy and least inappropriate of them all.
Disclaimer #2: I really try hard not to push a lot of products on you all over here.  I've never been a big fan of product pitches myself so, for the most part, I aim to not recommend or talk about a product unless it's something I really love and feel would be beneficial to you all.
With that said, when the Rug Doctor contacted me several weeks ago and asked if I would be interested in coming to St. Louis to learn more about their product, I initially said no.  To be painfully honest, I simply didn't care about the Rug Doctor.  However, when they sweetened the deal by offering to fly the kids up with me, I decided to jump on board, not because I had a sudden change of heart but because I wanted to go back home for a visit.
And I really struggled with this decision.  It was a gamble of integrity and I wondered if I'd made the right choice.  Sure I got to go home, but I also had to write about a product now that I knew nothing about.  What if I hated it?  And worse yet, what if my readers felt duped and used?  All because I wanted a free trip to St. Louis.
After arriving, I set the kids up with sitters in our hotel room and I joined the Rug Doctor team and several other bloggers on a tour of the Fenton factory where Rug Doctor develops, tests and assembles their product.  And it was here that I got my first real glimpse at the Rug Doctor and the quality of the product.
From the Rug Doctor website: From its beginning, Rug Doctor has serviced both the professional and the Do-It-Yourself carpet cleaning market through the manufacture, sale, and service of carpet cleaning products and machines.
During the factory tour, we had the opportunity to see scientists testing and developing the carpet cleaning solutions with the intent of creating a superior product that truly does what they claim it does.  Rug Doctor's products are made with a specific ph range that is effective for deep cleaning without damaging the fibers of your carpets or upholstry.  If a batch of product does not test to standards it is thrown out and they begin again.  Quality is of the utmost importance and the employees took great pride in that.
We were given the opportunity to speak with a number of different people from the head of the company to the head engineer in charge of building, testing and improving the features of the carpet cleaning machine.  And I actually found the whole thing very interesting.  It was nice to see a company take pride in who they were and what they offered.
At the end of the day, Rug Doctor informed us that we would each receive a Rug Doctor machine and a box of product so that we could try out it on our own carpets.  I must confess, this actually excited me a little.  The people that owned the house before us had animals and they weren't big on the whole cleaning thing so our carpets are nasty.  Not to mention the fact that the Rug Doctor can also be used to clean upholstry, area rugs and cars.  Did you hear that?
IT ACTUALLY HAS THE POTENTIAL TO MAKE MY MINIVAN HOT FROM THE INSIDE.  That mysterious brown stain in the back? GONE!
I have used my Rug Doctor in several places around the house and I can honestly tell you that I no longer question my integrity for recommending this product to you.  It is, no doubt, amazing.  Don't believe me?  Check out this picture: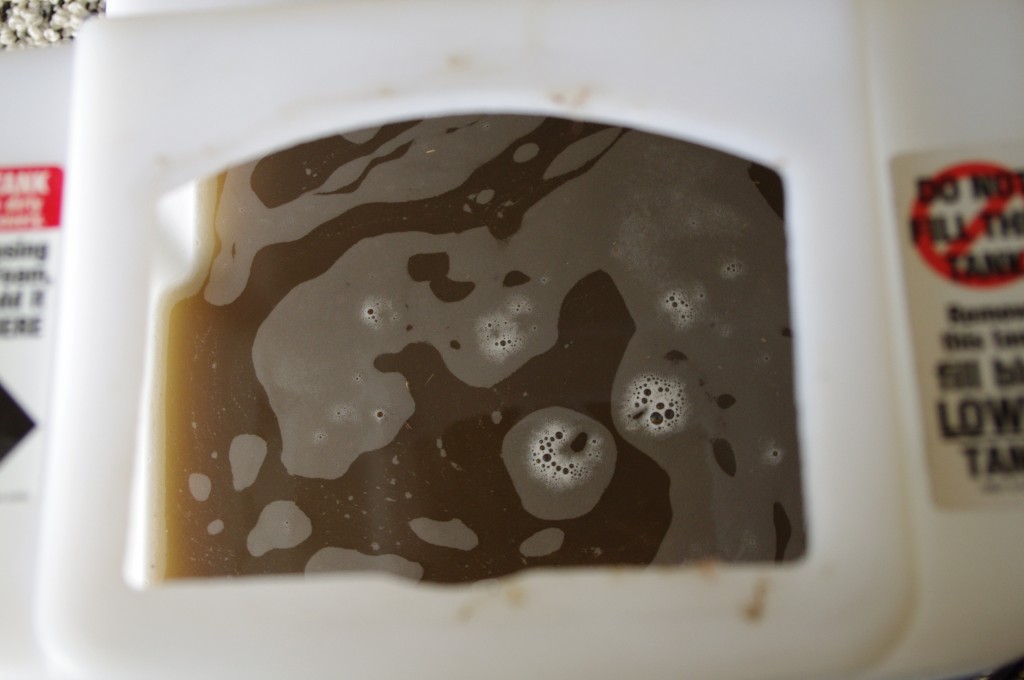 People of the world, that is a picture of the water that came out of my machine after I used the Rug Doctor on my couch.  MY COUCH!  The place where guests sit when they come to visit.  This is what it was hiding.
Horrifying.
I have also used the Rug Doctor on the kid's mattresses after bed wetting and it lifted the stain and odor out immediately.  The only stain I haven't been able to get out is the bright blue one on my office floor, which occurred when I dropped the paint brush while painting the room.  So let the record show that the Rug Doctor can't correct stupidity.
I can now honestly tell you that I love my Rug Doctor machine.  It is absolutely worth both your time and your money to rent and use one.  I plan on using it on every piece of fabric in my house and I am oddly excited about that.  It was extremely easy to use and it absolutely did what they claimed it would do – deep cleaned my carpets and couch without damaging the fibers.
The best part of all this is you don't have to actually own a Rug Doctor to use one.  You can rent one at grocery stores across the nation for anywhere from $20-$32 for a 24-hour period.  Add in the cost of product and you're looking at no more than $50 for the opportunity to deep clean everything in your house.  The Rug Doctor machines are serviced regularly and are quick and easy to rent, use and return.  For more information about what Rug Doctor can do for your carpets, from removing allergens and pet dander to eliminating stains and odor, check out this page.
Disclaimer: Rug Doctor flew the kids and I up to St. Louis for the blogger outreach event.  I was not compensated for this post and all opinions expressed are my own.  And yes, my couch was actually that dirty.
*hangs head in shame*