Today, as the temperatures are hovering in the teens, I am longing to be back in this lovely place.  Yes, loooooonging…
This adorable little boy will be two in five days.  Excuse me while I go sob in the corner for a bit.
Turns out Tia has a knack for gymnastics.  After only a few weeks of lessons, she was bumped up to a more advanced class where she is the only three year old in a group of four and five year olds. 
She's perfected her cartwheel and now does it off our ottoman whilst pretending that it is a balance beam.  She is freakishly strong and has no fear.  But really, does this surprise anyone?  Remember this picture, which I took when she was not yet two years old?
Then, of course, there was this post which described the catalyst for us actually signing her up for a gymnastics class. 
Mmm-hmm…We're not shocked that she's got some talent in the gymnastics arena.  Unfortunately, she's going to be way too tall for the sport, but we'll let her keep it up for as long as she enjoys it.
And speaking of Tia – wasn't it just yesterday that she looked like this standing next to her not yet four year old brother?  She is now less than two months away from being four herself.
If anyone has discovered a way to make time stand still, please pass on the secret.  Pa-leeeeaaase.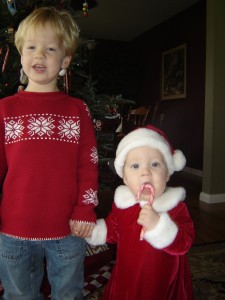 And this one just because.  Oh he's yummy…
Happy weekend everyone!