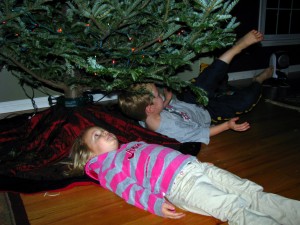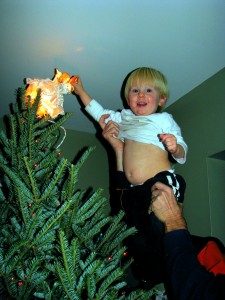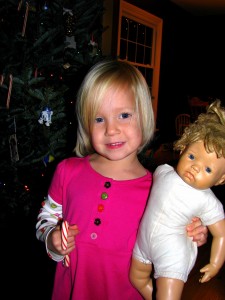 We have Decked the Halls here in the Stuart home.  The house smells of pine and there is a lovely glow as the lights from the tree, the mantle and the outside warm up the living area.
The stockings were hung by the chimney with care…although they have been carelessly pulled down more than once by a certain soon to be two year old.
We've laid beneath the tree and ooh'ed and aah'ed as we looked up between the branches at all the twinkling lights. 
Everyone had a turn placing the angel at the top of the tree.  And Lee came out with scratches on his nose from his face being shoved into the branches of the tree.
When I took the picture of the three of them in front of the completed tree, Tia insisted upon having her picture taken with her best friend, her doll Jadem.  Yes, Jadem.
Incidentally, I received that very doll for Christmas 22 years ago.  I called her Jessie.  I told Tia that and she looked at me as though I'd sprouted a second head.
"No, mom.  'Dis baby ith a boy baby and boy babies ith not named Jessie.  Hith name ith Jadem."
And that was that.
Hope you're all having a Merry Christmas season.  Fa la la la laaaaaa, la la la laaaaa!