Like every other parent, I began my career as mom going completely and totally over the top for birthdays. Sloan's first birthday party was quite the fete and Tia's grew even bigger thanks to the fact that all of our friends had multiple children when her first birthday rolled around. By the time it was Landon's turn, I felt I had to throw a first birthday party simply out of obligation, but it wasn't nearly as big as the others. Poor third baby…
As time went on, the parties stayed big and seemingly out of control with it all culminating on Sloan's fifth birthday which was fun, but enormously chaotic. I vowed after that party never to put myself in that position again and for the last four years birthday parties have been smooth sailing around here.
So how do you host a cheap, no fuss, totally fun birthday party? It's easy: Just follow this simple acronym:
K

eep
I

t
S

imple
S

tupid (or Silly…'cause stupid sounds kinda harsh)
Part of the reason Sloan's 5th birthday party was crazy-town was because I invited everyone and their brother. Literally. I was so afraid of hurting someone's feelings that I invited every single person we knew, even if they weren't people that Sloan played with on a regular basis. And because I didn't want to inconvenience any parents, I decided to include the whole family in ever invitation.
Most of Sloan's friends had two or more siblings. And everyone came!
No more. From that time on, birthday parties became low-key events at our home (minus Tia's fourth birthday, which we had at a local gymnastics facility). The kids are allowed to invite five or six friends and we try to focus on doing something they really love to do.
We've had tea parties and movie parties. Last year, we invited six of Sloan's friends to a local park, gave them all water guns and let them have at it. It was a blast and was as cheap and no fuss as you can get.
Remember Tia's pink princess party?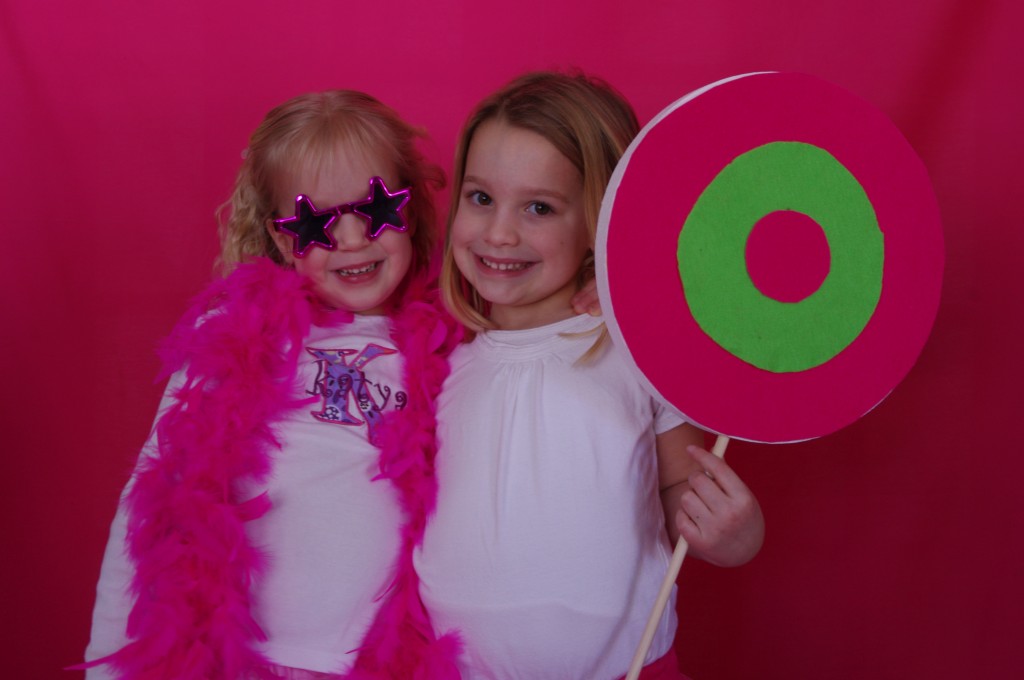 I bought a hot pink bed sheet, a handful of costume pieces, which doubled as both photo props AND party favors, made a cake and some pink princess cookies and voila! A super fun princess party for little money and lots of fun with minimal preparation.
Another thing I've learned about throwing kid parties – skip cleaning the house! The kids could care less and they are just going to mess it up again, so just wait until after they leave and clean it then. That's really a win-win for everyone. The kids get an unstressed Mama and you save yourself a needless afternoon of cleaning.
Finally, don't forget that kids don't really need that much to entertain them. They don't need fancy, organized games, tons of food or manufactured settings to have fun. The less time and money you spend trying to give them the perfect party, the more fun they seem to have partying.
With that in mind, I planned Sloan's party this year on the fly. I did not clean the house, I made a simple cake from a box and the only thing I planned and purchased were the flavored crickets and larva that he wanted to eat.
Uh-huh. It was a Bizarre Foods birthday party.
Prep time for this party was less than an hour. I simply cracked open a few boxes of dried bugs and sat back with camera in hand.
The rest of the afternoon the boys played baseball, swam, played a wicked game of Manhunt (which is esseintally a cuper cool name for hide-and-seek tag) and, of course, had chocolate cake. We topped the evening off by shooting some fireworks with our neighbors in the driveway. Just before leaving the boys all agreed, it was the best. day. ever.
The best part? Sloan decided a few weeks ago that instead of gifts. he wanted to have a donation party. He asked his friends to just put whatever they would have spent on a present in a jar. He collected $110.00. Enough to buy two goats and two chickens for families in need.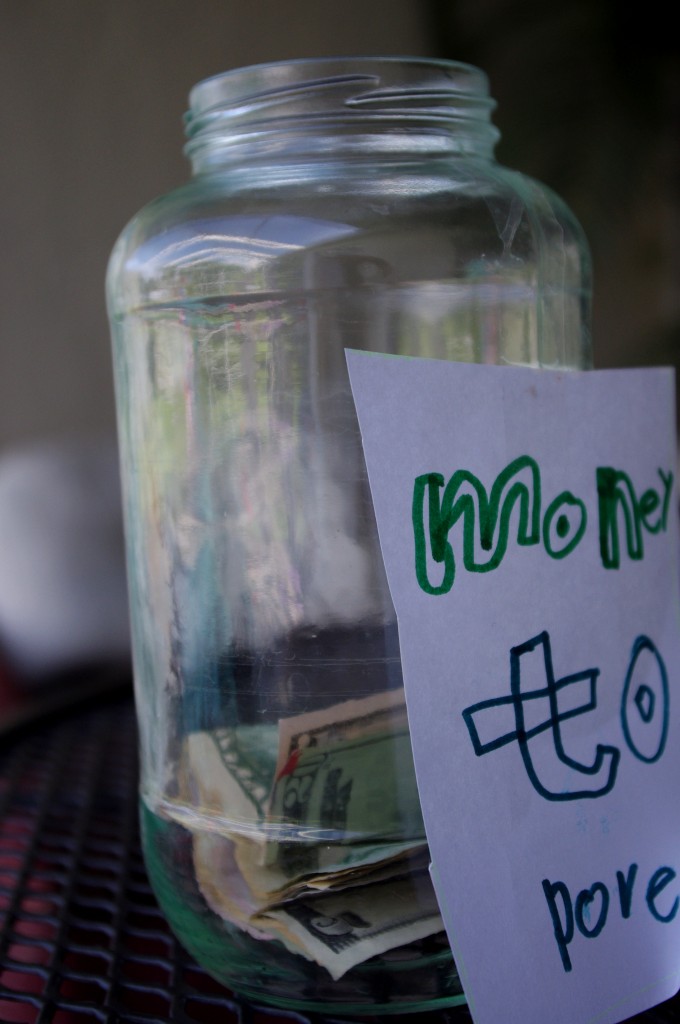 When I asked him why he wanted to do this, he told me he felt like he had enough stuff. "I just want to give good things to others this year." I love his tender heart and I love the fact that he constantly challenges me to give more freely. I also love that, after he made the decision to forgo gifts from friends, he leaned over and whispered in my ear, "But you guys will still give me presents, right? 'Cause family always gives presents."
At the end of the day all of us were very, very :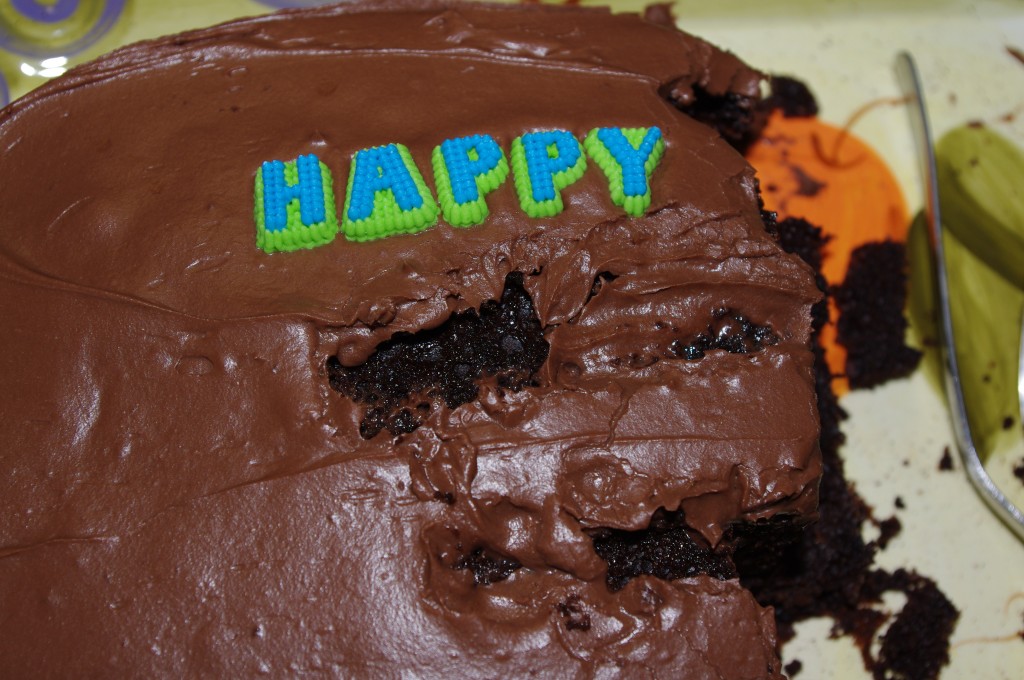 What are ways that you simplify life?
Happy Fourth of July!