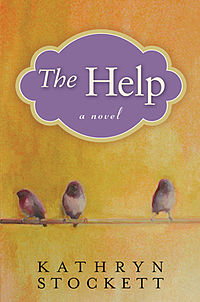 I read The Help this summer as we made our long and exhausting move from St. Louis to Florida. I was emotionally vulnerable and the book was the perfect escape during that first week we were here. I got lost in the story, the rich development of the characters taking me out of my momentary troubles and giving me someone to root for.
I was most struck by the relationship between Aibileen and Mae Mobly, the little girl she watched and loved. Aibileen took it upon herself to make sure that little girl knew and understood her value and her worth.
"You is good. You is kind. You is important," Aibileen crooned to Mae Mobley over and over in an attempt to undo the emotional harm and pressure the child received from her young, inexperienced and judgemental mother. This relationship was precious and I bawled, both in the book and in the movie, as Aibileen walked away from Mae Mobly after giving her one last reminder.
"You is good. You is kind. You is important.
I've thought about this a lot as I've parented my children these last few months – particularly as I have schooled them at home. I will be the first to admit my weaknesses as a mother. While I am constantly challenging my children to be quick to listen, slow to speak and slow to become angry I myself am not always following that.
I am slow to listen, quick to speak harshly and even quicker to become angry. And in so doing, I tear my children down. I. Hate. That.
Sloan takes the brunt of my quick to become angryness. Mostly because he is equally quick, and perhaps even quicker, to become angry and I react. It's not that I don't try to stay calm and patient. I try and I try and I try. And he pushes and he pushes and he pushes.
Round and round we go until one of us snaps. On the precious few days when I manage to not be the one to snap I collapse into bed exhausted and depleted of all sense of myself. Most days, however, I crawl into bed heavy hearted at once again losing control of my own emotions. And I wonder…
Does he know that he is good and kind and important? If I think back on the days events have I given him any reason to believe that I see him as good…and kind…and important?
The thought that perhaps my child is going to sleep unsure of these things can be paralyzing. He knows I love him. He knows this because I tell him all the time. A hundred times a day he hears me say I love him and I sincerely mean it when I say it. I love that child fiercely.
But does he know how good I think he is? Does he know that I think him to be one of the kindest young boys I've ever known? Does he know how important he is not only to me, but to so many others? Does he know?
Today found Sloan and me locked in yet another battle of the wills. Each day is new and yet each day is the same. It's a battle and a war and some days I feel like I am losing. I'm at battle with all three children, of course. You're at battle with your kids, too, if you think about it. We're all fighting the war against their sinful natures and desires. We all wake up each morning and walk into the battle zone and it's a war we must win when they are young and their hearts are pliable and easily molded.
As I felt the frustration bubble up inside of me, I looked into his challenging eyes and saw so much anger. So much confusion. You see, Sloan isn't the only child needing correction in our home, but he receives it more than the others. This is partly his fault and partly mine. He tries to parent the other two kids and gets in my way and so I have to deal with him before I can deal with them. But many times I deal only with him and forget to correct the other two for pestering and nagging him in the first place. And Sloan feels worn down – I can see it.
So after a particularly grueling hour of back and forth, I stopped and grabbed his hand. I was angry and he could tell, but I was fighting against the anger with every fiber. Looking deep into his baby blues, I spoke softly.
"Do you know that you're good?" I asked. He blinked, surprised by my reaction.
"Do you know that I think you're amazing? I think you are kind and gentle and humble. Do you know how good you are?"
Slowly, he nodded his head yes.
"Do you know that I think you're important? You're important to me and you're important to God. Do you know that?"
Again he nodded, his eyes welling up with tears.
"Good," I said, the anger melting away. "I want you to know that."
I'd like to say his behavior changed and that he was immediately kinder and gentler with me and his brother and sister. It didn't exactly work that way, but as the day went on, when he lost control I would look him in the eye and raise my eyebrows and he would stop and nod.
He knows.
He does know. And my prayer tonight is that he would embrace those things and bury them deep. Tomorrow is another day of battle and I feel more prepared now that I've added another weapon to my arsenal. We're going to win this war, he and I. He's too good and too kind and too important for me to give up on.
Losing is not an option.