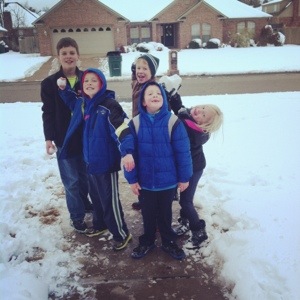 We close out 2012 in Arkansas. As I look out the window at the snow, which slowly melts on the ground, I feel a similar thawing in my heart. It's grey and gloomy, but the hope of Spring calls with promise. There are a few months before the grass will begin to green and the flowers bloom, but I know it's coming. The snow and ice provide a necessary fertilizer. I just have to wait for the beauty to bloom.
It has been a hard week in more ways than one. My heart has been broken and twisted and squeezed and tugged. I have mourned mostly in secret because who wants to be around a killjoy at the holidays, right? But I've been sad.
You see, I have been to the orphanages. I know what they're like. I have seen the children. And for more than half my life I have been waiting for the moment when I could bring one home. So this week has been a punch in the gut. Had we begun the process six months earlier, things might be different, but we didn't and God had a reason for that. I don't know what that reason is, yet, but I trust His timing even if I don't like it.
As I enter into 2013 I believe God has laid the word "Wait" on my heart. This will be my challenge this year. I will wait upon The Lord. Hope is not lost. There is a chance the adoption will be able to proceed. But there's a better chance that it won't and I am waiting for God to tell me what He has planned.
I am praying for the little girl that is supposed to be ours. I have even begun praying for her by name. A name has been on my heart for some time now, but I haven't had the guts to say it out loud. But this week changed that. I am crying out for her by name. I will share that name with all of you when I feel the time is right, but just know that I believe she is real and I believe she is out there waiting for us.
I haven't written much in the last few weeks. Usually at the end of the year I post my top posts from each month as an end of the year recap, but I don't have the heart to do that this year. I did, however, receive a report yesterday that revealed my top post of 2012. This was my most viewed post and it surprised me.
It didn't get the most comments and it wasn't passed around more than the others. But it remains my top post.
The title of this post? Hope is Slow.
I needed that reminder yesterday and today and for the rest of my time here on Earth. I will always need to be reminded that the hope that I long for is slow, but IT IS NOT DEAD! Hope is alive. Hope is real. Hope is here.
But hope is slow.
It's fitting that that very post would be revealed as my top post in a time when I feel like hope is dying. It is right that it was revealed to me yesterday when I needed it most. It makes perfect sense that the words I needed to read again would come from the very trip and experience that pushed Lee and I over the ledge of doubt and gave us the courage to step forward toward adoption in faith.
Hope is slow, friends. But it is not dead.
Happy New Year.
To read all my posts from my trip to Tanzania with Compassion International, click here. This was the defining moment of my year. I will carry those lessons with me for life.