Update: Lee took me out to dinner on Saturday night, but before we went to the restaurant, we went to Target. He bought me the hat. He's a fast learner, friends. A very fast learner. Let's all give him a round of applause. *winky face!* 😉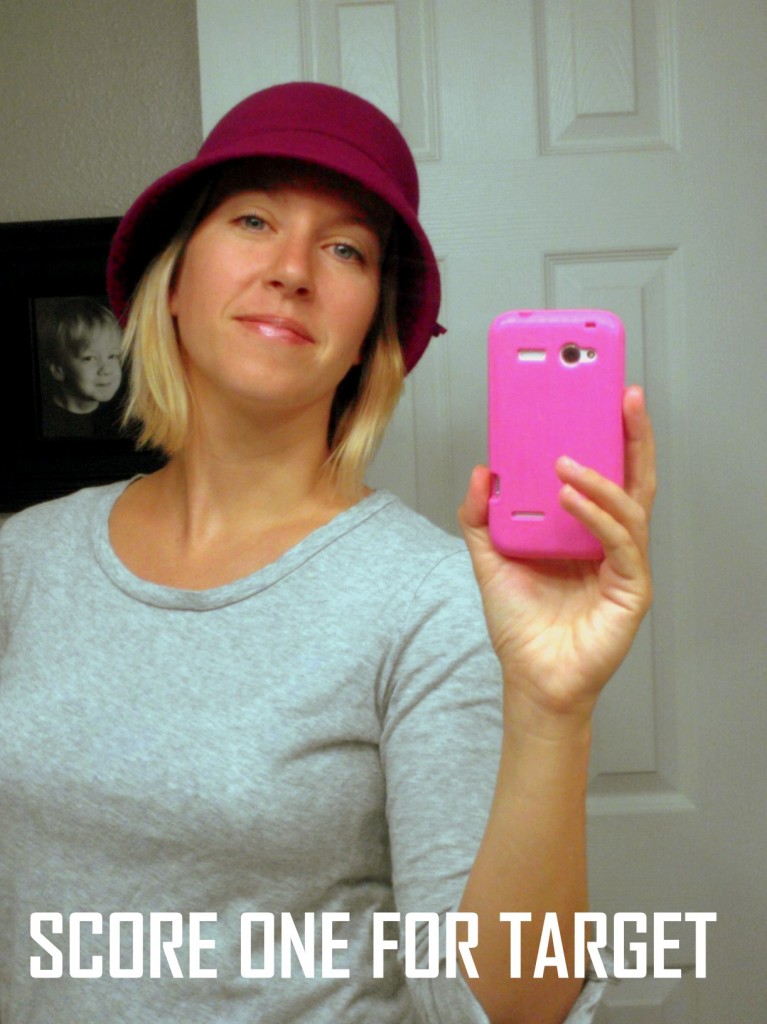 Today, after dropping Landon off at preschool, I headed to the Promised Land. Target. The land of bright, happy colorful things that make the world a better, happier place.
While browsing, I came upon this hat: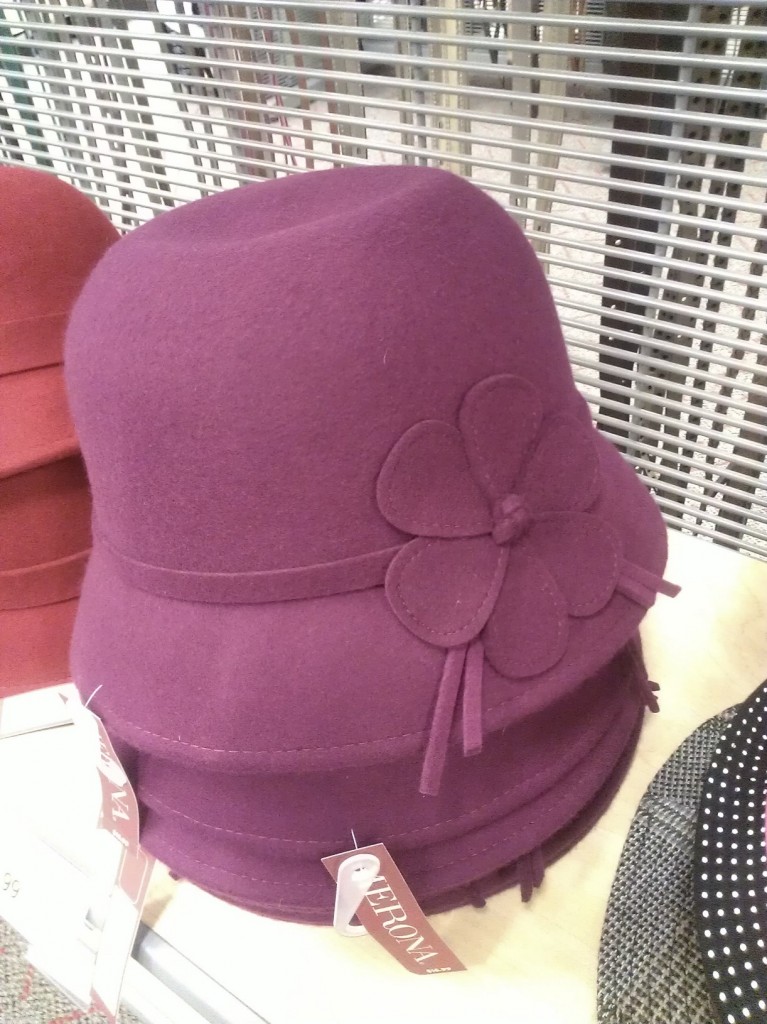 I finished watching Season 2 of Downton Abbey last night and I have spent the better part of the last two weeks fawning over the fashions and styles of those days. This hat felt very Downton-esque to me and I quickly tossed it in my cart.
Then I stopped myself and put it back on the shelf, took this picture and texted my husband.
"Christmas gift idea. I love this hat from Target." I included a winky face, of course, because every good wife should send her husband winky yellow ping pong heads when requesting a gift. It's like wife-law in the new media age. 😉
I felt rather good about myself after sending this text for a couple of reasons, the main one being that I actually gave my husband an idea instead of shrugging my shoulders and asking the poor man (whose spiritual gift is decidedly not gift giving) to surprise me.
I went on my merry way, picking up on the items I needed and imagining wearing my new hat come Christmas day. Then I got a phone call that…well, frankly it took me very much by surprise.
Me: "Hello?"
Lee: "Alright, we need to get something straight here."
Me: "Uh…okaaaayyyy."
Lee: "Target is a store for buying kitchen items. You buy can openers and trash bags and maybe a brushed nickel picture frame from Target, but you do not buy hats from Target."
Me: *silence*
Lee: "I'm not going to buy you a hat from Target."
Me: "Why?"
Lee: "You don't wear stuff from Target. That's not fashion."
Me: "You DO know that most of my clothes are from target, right?"
Lee: "That's neither here nor there."
Me: "Well, I mean, technically it's here, because it's true."
Lee: "Go to Macy's or some place like that and pick out a hat. I'll buy you a hat. You look sexy in hats. But go to a place that makes quality hats."
Me: "No, that doesn't make sense. I could find a hat exactly like this one at Macy's and it would cost $50. This one only costs $16 and I like it."
Lee: "I just can't buy you a hat from Target. It doesn't feel right."
Me: "Um, babe? You do know that Target is basically the Mothership for women, right? I mean, this is Mecca. It's the Homeland."
Lee: "No. It's a place to buy kitchen utensils."
Me: "It's like I don't even know you at all."
Lee: "Women really like Target that much? I don't get it."
Me: "Clearly….so are you going to get me the hat?"
Lee: "I don't think so."
Me: "Huh. Can I buy it for myself for Christmas?"
Lee: "No because I'm going to get you a hat. I'll get you the greatest hat you've ever seen."
Me: "For sixteen dollars or less?"
Lee: "Go to Kohls. See if they have hats. Kohls is better than Target."
Me: "I…I just…I don't even know what to say."
Lee: "Target is for kitchen supplies."
I hung up the phone and couldn't decide whether to laugh or cry. So I just laughed until I cried, which seemed like a happy comprimise.
First of all, I'm not sure I've ever bought kitchen supplies from Target so that alone is cause for a bit of confusion. Secondly, it is clear – CLEAR – he is seeing Target through blue glasses while I see it through pink. That can be the only explanation. Is it the male testosterone? Is that why he's confused? Maybe he just doesn't know…doesn't understand. I think we should all pray for him, that his eyes would be opened to the truth, to the retail glory to which he is so tragically blinded.
I also think that this MORE than makes up for the shock and horror I caused during our conversation about The Natural.
Babe, we're even. 😉
Now about that hat…