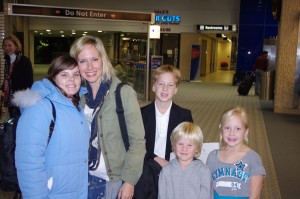 I can't even begin to describe how fun it is to have someone in my home who speaks the language that I love so deeply. I am thoroughly enjoying speaking Russian again, though it is just rusty enough that I stumble over just about everything I say.
For example, yesterday I told "K" that I was a writer and pointed to my desk. "That's where I sit and pee all day," I said.
"I write" and "I pee" are veeeeeery similar in the Russian language, just FYI. Mix up the tenses and you have yourself a bit of an awkward sentence. Luckily, I caught myself and corrected the dialogue quickly, but not before she and I had a good laugh.
Communicating the very basic things has become the most humorous. How to use the shower, what to do with toilet paper (our countries deal with this issue differently), personal hygiene situations. These are all conversations that I have never had in Russian before! Heck, I haven't had to have some of these awkward conversations in English with my own child – now I'm communicating them in Russian with a teenager who barely knows me.
Thank goodness she has a good sense of humor, and she is extremely laid back.
I caught a glimpse of a few of the emotional wounds she's experienced yesterday, and once again, I wished my language were better. I know enough to hear the heartache, but not enough to hold onto it. There is time, though. Time for her to develop a greater sense of trust. Time for me to listen more. Time for us to work together to place a balm on these emotional wounds.
We went to Super Target yesterday. Everyone should experience Super Target with a seventeen year old who's never seen a supermarket in her life. She was silent, wide-eyed, and completely overwhelmed. I had her try on shoes, and she looked at all the selections, then looked at me completely flabbergasted.
Ah, Target – The International Love Language of Females.
Today we'll go clothes shopping. She needs shorts – you know…because it's going to be 80 degrees in Florida this weekend. I also plan on introducing her to Chick-fil-A, because I believe she needs to experience the blessed chicken sandwich, hand breaded on a bun with two pickles and a dash of the Holy Spirit.
Amen?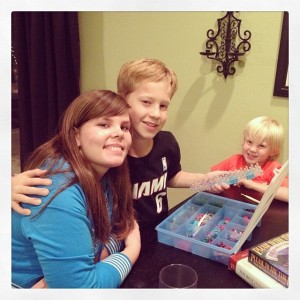 She's experienced the Rainbow Loom kit already, and our boys subjected her to The Wobble last night. It's a dance. There are really no descriptions for it – you should just look it up.
Tonight we're going to watch a movie. I'm not sure which one yet. I'm trying to decide what would be a good, introductory movie for someone with limited language. Elf? Too crazy, too soon? We'll see…
This sweet girl doesn't quite know what to do with herself here, yet. We're going to change that, one ridiculous dance and movie at a time.
*wink*