Comments are now closed. Winner will be announced tomorrow. Thanks everyone!
You would be hard pressed to find another toy company that has come up with a more creative and lucrative idea than that of the American Girl doll. Blending history with all things girly, they have the market on quality toys for little girls. I mean, really – they put Cabbage Patch Dolls to shame.
Those dolls grew in the ground and had yarn for hair. The '80's were a strange time, folks…
Had American Girl been around when I was little, I would have been wildly in love with the dolls. Instead, I am just wildly in love with them as an adult, and thankfully I get to share them with my own daughter and watch her imagination bloom as she plays and learns through their vastly rich historical stories.
Well done, American Girl. Well done.
The newest American Girl historical figure is Caroline Abbott whose story takes place near Lake Ontario during the War of 1812. From the American Girl press release:
"Living with her family in Sacket Harbor, New York, Caroline loves sailing with her shipbuilder father, and she even dreams of captaining her own ship one day. But after British sailors capture her father and cousin, Caroline does her best to keep the promise she makes to her father to stay steady and ride storms through the better weather. In the end, Caroline finds – and proves – her own steadiness and strength as she navigates the challenges of wartime."
Caroline launches with six historical books written by author and social historian Kathleen Ernst and they follow Caroline's adventures through this rich moment in American history.
"Our newest historical character, Caroline, is a brave, independent girl who teaches girls today that they can navigate life's challenges by staying strong, making good decisions, and taking action," says Jean McKenzie, executive vice president of American Girl. "We know our fans will be inspired by the stories of Caroline, who shows girls that they can set their own course to help make changes for the future."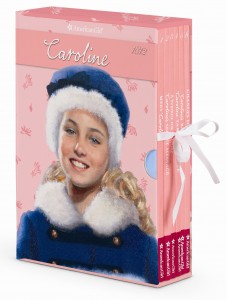 With Christmas quickly approaching (I know, WHAT?!), Caroline Abbott would make a great addition to your American Girl's collection. She has an array of historically accurate clothes and accessories that represent her time period and the books are sure to enthrall your daughters as they learn more about our country in a way that interests them.
Today, thanks to American Girl, I have the privilege of offering one lucky reader Caroline Abbott's six book box set. You can share with your daughter (or granddaughter, or niece, or cousin, or neighbor, or sister-in-law's Aunt's second cousin's daughter…) these fun and lively tales that bring American history to life in a way that they can all love and understand.
There are three ways to enter:

 

– Leave a comment. Any comment will do.

– Send out a Tweet letting people know about the giveaway and come back and leave a second comment letting me know you tweeted and you will earn a second entry.

– Post this giveaway to Facebook and come back and leave a third comment, letting me know and you will receive a third entry.
This contest is open to US Residents only and will end on Monday, September 10, when I draw a random name from the list of comments. You will have twenty-four hours to respond to the email telling you you've won. If you do not respond, I will choose another winner. The winner will receive the box set directly from American Girl.
Ready to enter?
Go!
Oh, and please…have a lovely Tuesday. It's September people! SEPTEMBER! Which can only mean one thing…pumpkin spice lattes and (hopefully soon for us Floridians) scarves and boots. That's enough to make me unendingly happy today…
disclaimer: I am working in conjunction with American Girl to promote the launch of their new historical doll and I'm grateful for the opportunity. I received the Caroline Abbott doll in exchange for writing this post. I was not compensated.