My friend Myquilin (better known as The Nester) is my Interior Design guru. I read her website and sigh at how beautiful and serene and lovely her house is, then usually look at my house, shrug my shoulders and assume I will never be able to pull off anything pretty or serene.
But something has gotten into me the last few weeks. I needed a distraction from my thoughts; I needed something to keep me busy and my dad had some time off to help me paint, so without really thinking about it, I started rolling the snowball and gave it a good shove.
The results are turning out marvelously, if I do say so myself. I have a long way to go, but I am slowly piecing together the home that I've always desired but assumed myself too inept to actually have.
I mean, we all know that I stink at DIY projects, right? Last time I attempted a do it yourself project, I ended up needing a steroid shot to combat my tracker jacker bites.
Dad and I repainted half of the interior of my house last week and I must say, it looks smashing. Of course, now all my furniture no longer matches (hello Craig's List!) and I need new curtains and area rugs (hellooooo IKEA!) and…well, you get the snowball analogy, right?
I'm trying to reuse the few pieces that I can by repainting them. I made my first attempt at painting furniture on Saturday. Using Annie Sloan chalk paint (which is supposed to be fool proof…I decided to put it to the ultimate test), I refinished the table that was behind our couch.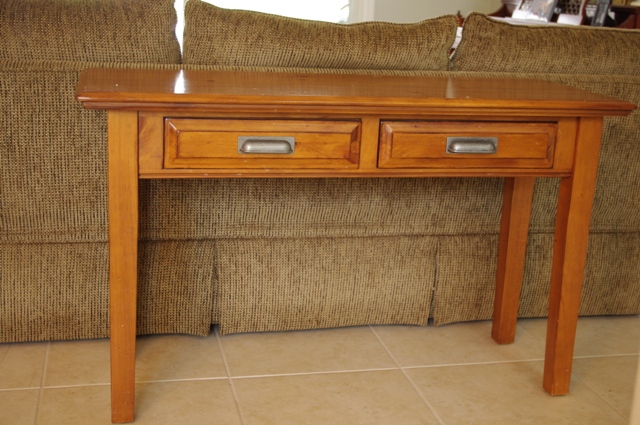 We didn't pay very much for this table and I'm not attached to it so I figured it I messed it up then no harm done. Friends, everything you've ever heard about Annie Sloan chalk paint is true. It practically does the work for you. Case in point – this is what my table looks like now.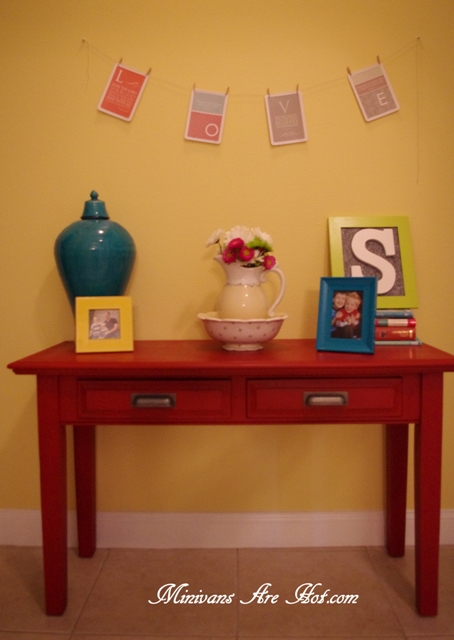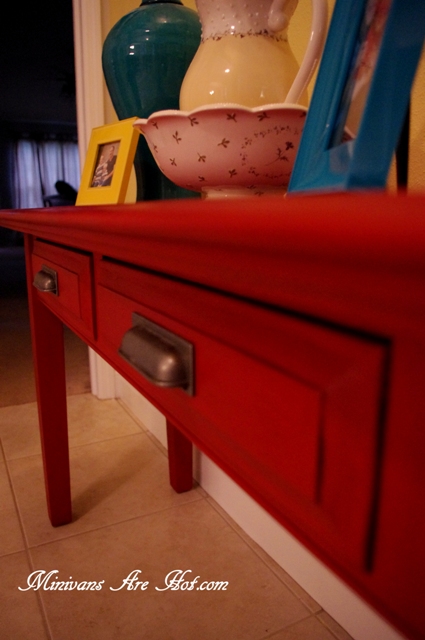 Once I finished admiring my handiwork and patting myself on the back, I looked around at what needed to be done next and I asked myself, WWND?
What Would Nester Do?
She would shop her house, that's what she would do. And so that's what I did. I moved the blue vase from our bedroom (which Lee makes fun of…he calles it "Grandma's Ashes" – punk…) and a couple of the colorful frames I had scattered throughout the house. I grabbed my pretty yellow pitcher that always makes me smile and a stack of books and threw it all on top of the table.
Then I went to Michaels where I bought the letter 'S', a piece of scrapbook paper and the bright green frame. I removed the glass, glued the paper on the back of the frame and then glued the 'S' to the paper and stood it proudly atop the books.
Look at me go!!!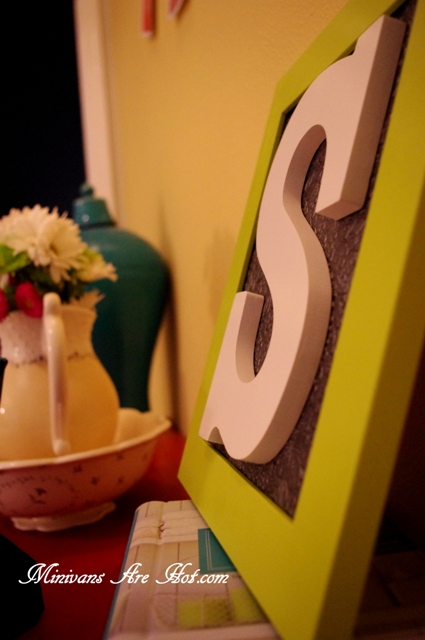 I've also had these pretty Alphabet Bible Verse Cards for awhile and I've wanted to do a better job of displaying them so I used my thinker, looked through a couple of magazines, and I decided to keep it simple. I grabbed a couple of thumb tacks, a piece of string and the little clothespins that I use to hang up Christmas cards and viola!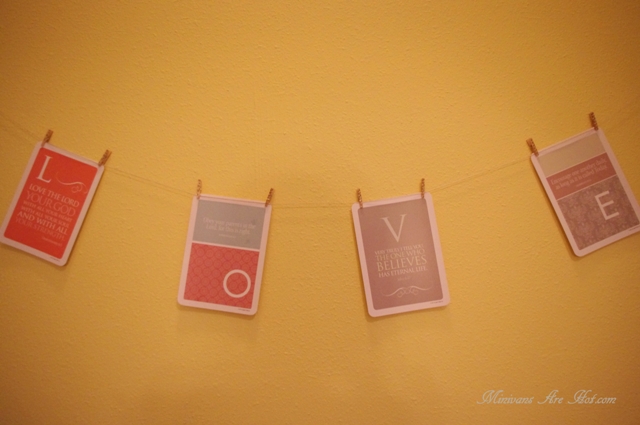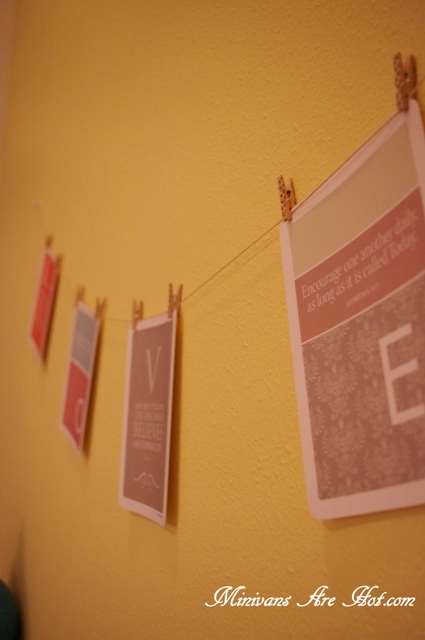 Indeed…I do love it. I love it a lot – especially the way the colors all move from one room to the next in a way that makes sense.
Now I just need to sell all my brown furniture (except the pieces that I plan to paint…nothing wooden is safe in my house now. I MIGHT BE ADDICTED TO ANNIE SLOAN!) But it's all starting to come together, slowly but surely. (Warning: The color and quality of these photos are not good. I didn't have the patience to keep trying to get it right. The walls are a very pale, light grey…)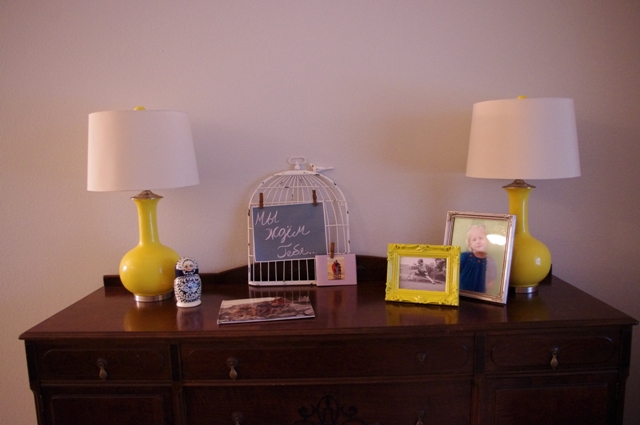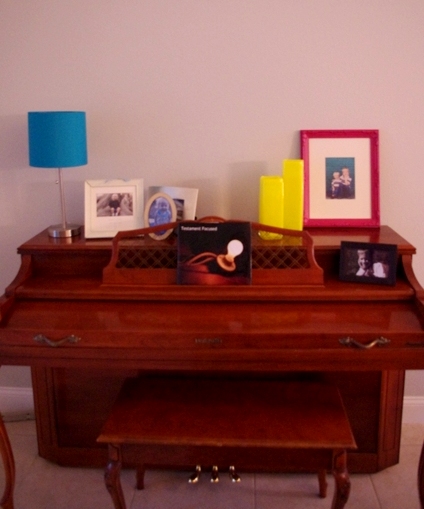 It's not perfect…yet. But that's the other thing that Nester has taught me – It doesn't have to be perfect to be beautiful. For now, I'm just happy with progress because it feels like something in life is finally moving forward. This, oddly, gives me a sense of hope for the future.
Who knew redecorating my house could be so philisophical?!