I am good at many things.  I know this and I embrace it.  Sometimes I doubt it, but deep down, I know the things in which I excell and I chase after them, sometimes with great glee.  Sometimes with trepidation.
I also know, however, of a great many things that I do not do well.  Like sewing – can't do it.  I can't even sew a button on a shirt without it falling back off within a few days.
I made an Octopus pillow in 7th grade.  I sewed it to my jeans…twice.  Ultimately it turned out pretty darn cute, what with its crooked eyes and all.  I haven't sewn a single thing since then.
Ironing.  This is another skill that somehow passed on by me.  I can do it, of course.  It's not rocket science, ironing a shirt.  But I'm not great at it.  I never know how to lay the shirts right on the table and I end up making more creases that need to be sprayed and ironed out and…
I felt a bit of shame over this one when we first got married.  I felt that ironing my husband's shirts was a wifely duty that I needed to conquer in order to honor him.  I was certain that my initiatiation into Wifedom would not be solidified until I hung his shirts and pants, starched and pressed, in his closet.
I surrendered all of those feelings of failure a long time ago and, thankfully, I have a husband that doesn't mind ironing his own clothes.  If he's in a pinch and needs something – I am his gal!  But mostly, I don't iron.  In fact, I can't remember the last time I ironed.
And I don't feel bad about that.
Decorating.  Ah, decorating.
I stink at it.
I don't know if this pillow should go there or if that picture should hang here.  I don't know how to arrange a book case to make it look cute and not cluttered.  I don't know how to hang knick knacks on the wall in a way that is cute and doesn't make my house looks like it's inhabited by an eccentric old woman with 99 cats.
I don't like to watch HGTV, because it makes me feel inadequate – and it bores me a little.  I actually just heard some of you gasp in horror. 
Picking out paint colors sends me nearly into shock and the decision to move our TV over the fireplace almost gave me a heart attack.  My husband has been wanting to do that for eight years.  I have resisted because I just couldn't see it.
Then my neighbor came over.  My neighbor who had a table that she thought would look better as a bench so she sawed the legs off and painted it white and low and behold, she had herself a bench that looks like it walked out of Pottery Barn.  I would never have thought of something like that.  Ever.  If I didn't know what to do with a table, I would get rid of it.  Or better yet, just sit and look at it for a decade and mutter repeatedly, "I hate that stupid table."
Carol walked into our house on Sunday and in two hours the entire house was transformed.  Trans-flippin-formed!  Our front room, which has always been a bit of an eyesore has now morphed into a warm, cozy music room.  For eight years we've wondered what to do with that room and in one hour Carol fixed it.  We sold a desk, moved furniture and lamps around and voila'!  Transformation.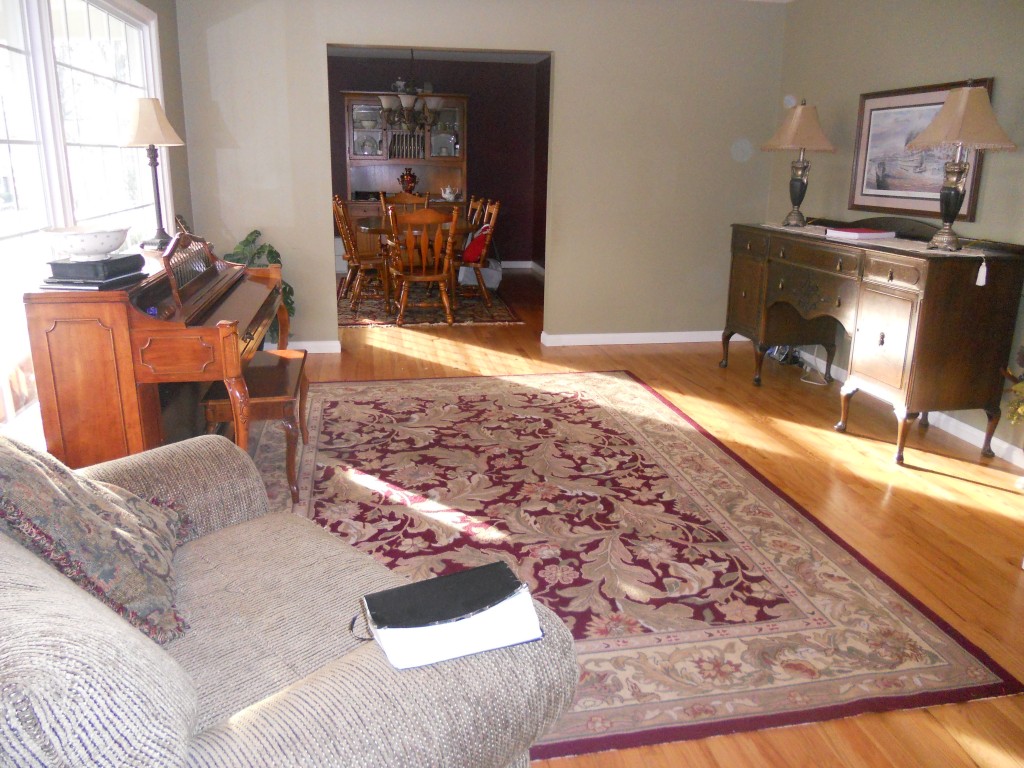 Then she tackled the rest of the house.  Like the foyer, which has felt like a cave for the past two years.  See the beautiful hutch in the above picture.  That bad boy was in our foyer.  And yes, for two years we have tripped over it, muttering under our breath and we were prepared to get rid of it.  Until…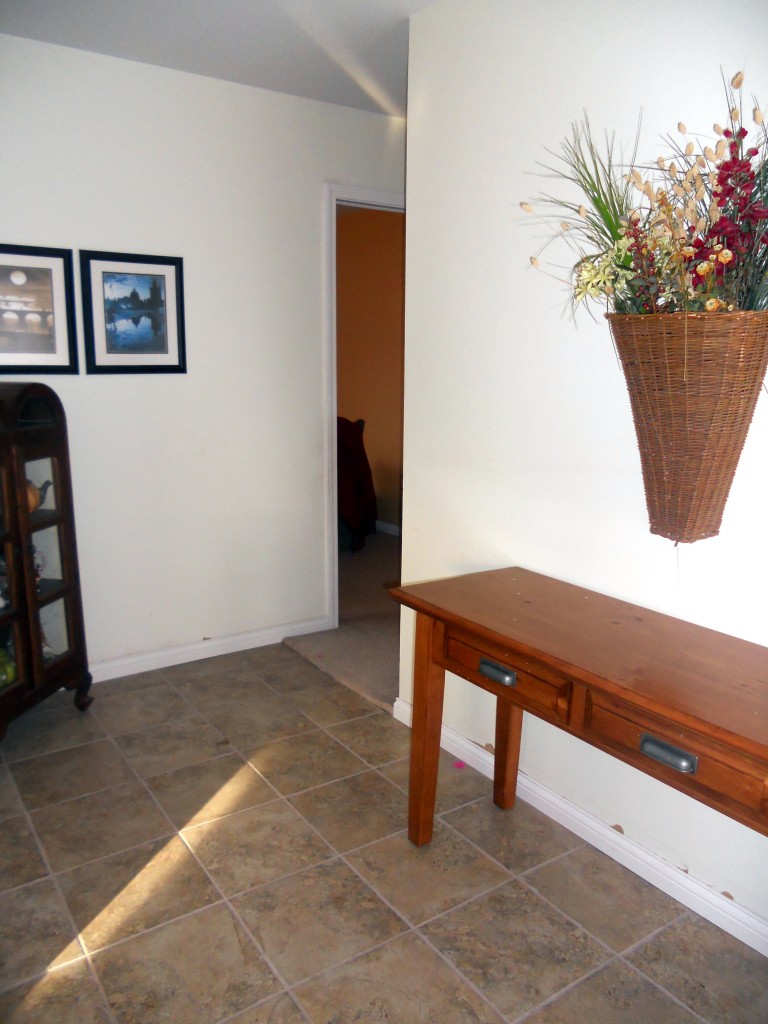 And yes, she moved our TV over the fireplace, turned all the furniture toward it and by God if it doesn't look like the room is twice as big.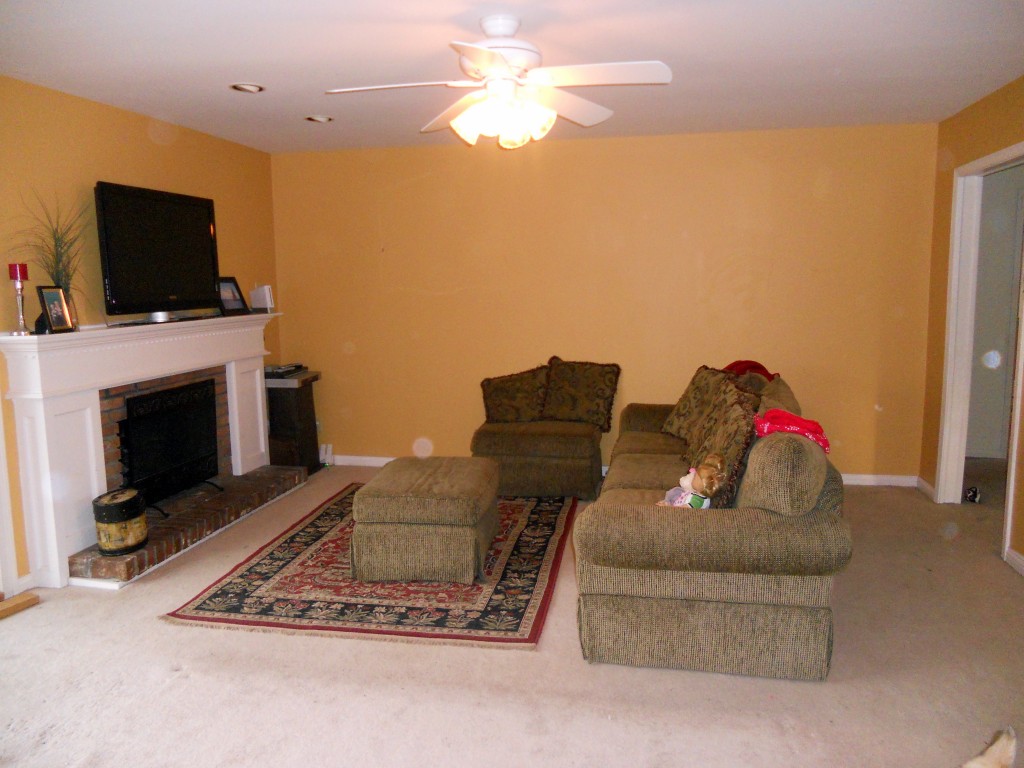 Lee has been smugly strutting around the house all week.  Yes, dear.  You were right.  The TV looks great over the fireplace.  *eyeroll*
So now you know.  The decorating, designing, making cute from drab gene passed right on by me.  And it laughed as it raced by yelling "See ya, sucka!"  And I'm left with nothing to do but put this picture here and that painting there and then sit and wait for someone to come along and do it right.
I'll try not to wait eight years this time.