There are five people in our family. I realize that in the grand scheme of familyhood this is not a significant number. Three children is less than four or five or six or twenty children. I wouldn't classify us as a large family. We're a regular-sized family of five…who love to travel.
Since gas prices have soared (Boo! Hiss!), airline prices have gone through the roof. This means that an average family of five cannot afford to fly anywhere without having to sacrifice a small puppy to the gods in hopes that money will start falling from the sky. And since I'm not generally in the habit of murdering puppies, this leaves me with no alternative but to teach my children the finer art of the road trip.
(Sidenote: Can we talk for a minute about the absurdity of the fact that it costs less for our family of five to fly from Florida to California than it does for us to fly to Little Rock? What the huh?!)
In the last two weeks, we spent about 43 hours driving as we visited family and friends in Missouri and Arkansas. So the equivalent of two days were spent inside our minivan, which, incidentally, currently SMELLS like a family of five spent two days cooped up inside. Excellent.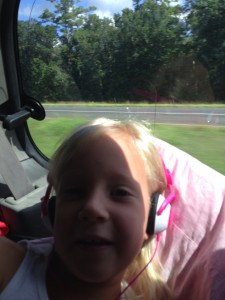 In general, my kids have become quite adept at traveling by car. We have a system. They play for a bit, look out the window, whine for good effect, then ask to watch a movie. But before they can watch a movie, they have to do two math sheets or a reading comprehension exercise. This is my barometer for how badly they want to utilize technology.
If they get hungry, I throw a bag of Cheez-its their way. Thirsty? A tiny little water bottle gets hurled at their heads. If and when all requirements are met, they are then allowed to shut their brains down and watch quality, educational movies such as Rookie of the Year and Teen Beach Movie.
Once upon a time I was staunchly opposed to the children ever watching TV in the car. When I was a kid, I read on road trips. I cozied up with The Babysitters Club and Sweet Valley Twins (Ah, Jessica and Elizabeth…I wonder what they're up to these days?). I didn't have the option of watching a movie back then.
I also laid out flat on the back seat with the seat belt juuuuust barely fastened around my waist and wasn't stuck sitting straight up and down in an uncomfortable seat with the seat belt snugly tucked across my chest.
And I walked to school up hill both ways barefoot in the snow.
Whatever.
The point is, I quickly came to the conclusion that there is no reason to be a martyr for motherhood. If the kids wants to watch a movie, they can watch a movie and I will be thankful for the serenity of modern technology.
But 43 hours is a long time, which means there was a lot of time spent NOT glued to the tiny TV screens. Most of the time the kids do a pretty good job of playing quietly, drawing, listening to music or reading. But there are those long stretches of time when they ask every five minutes if we're almost there, when they cry because a foot has fallen asleep or, my personal favorite, when they start car wrestling, an activity that always, without exception, ends with someone crying.
This is where I need the developers of minivans to step up their game. I'm here to offer a proposed to solution for parents everywhere who are relegated to cross country car trips inside the bowels of their minivans.
How about a partition between parents and kids? Just a thought…a mere suggestion! Think of it like a limousine, because we all know that a minivan is a limo for very small people. Limo drivers can raise a partition between themselves and their passengers allowing for some privacy. WHY HAS THIS NEVER BEEN DONE FOR MINIVANS?!
When the kids are getting particularly squirrely, parents could quietly and non-chalantly raise the thick, sound proof partition thereby cutting themselves off from the insanity. Of course, we would still need to be able to keep an eye on the monkeys in the back – safety first and all. A monitor on the dashboard would be connected to the camera inside the partition allowing the parents to keep an eye on the children.
You could even install a button that parents could push to hear what was going on in the back if they wanted. Or they could keep it muted and assume that everyone back there is just fine.
I see a number of benefits to this idea. First: SANITY! Kids could blast the soundtrack to Teen Beach Movie as loud as their little ears could stand it while Mom and Dad listen to music that doesn't make their ears bleed. Kids could wrestle and cry and duke it out without giving Mom all that unnecessary grey hair.
Honestly, I'm not sure that I really need to list all the obvious benefits of this (brilliant) idea. It speaks for itself.
Now I realize that putting this out there means it could be stolen and someone else could make a lot of money off my idea. No worries. This one is for free internet! Someone, please, take this idea and run with it. When it comes time for us to buy a new van in a few years, if I find that they all come custom fit with a separating partition between front and back, I will consider that thanks enough.
You're welcome, minivan drivers across the world.
You're welcome.