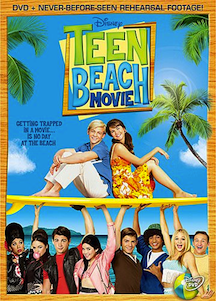 Somewhere, Annette Funicello is smiling and nodding her head as Disney's latest TV film makes waves with young ones across the nation. Teen Beach Movie hit the small screen last week and as much as I resisted watching, I have to say…
I kind of enjoyed it. 
At least I did the first time I saw it. By the 5th time, I was kind of over it, but since I'm not really in the demographic they were aiming to please, I'm not sure it matters if I've already tired of the sticky sweet tween flick. My kids certainly haven't tired of it. Well done, Disney. Well done…
Teen Beach Movie is every bit as silly, campy and sugary sweet as you would expect a Disney teeny bopper movie to be, but there was something nostalgic about it that made me smile more than cringe. I almost didn't let the kids watch it for fear I wouldn't be able to handle the silliness of it all, but Tia was counting down the days until this movie came on with such fervor that I worried it would send her into a spiral of despair if I said she couldn't watch it. So I caved, popped a little popcorn and we curled up on the couch for the big event.
While Teen Beach Movie was entirely focused on boy/girl dynamics, it was done in a very innocent, funny and underhanded way. As the littles got swept up in the silly lines and over the top characters, I couldn't resist a few laughs at the obvious spoof Disney made on some of the old Frankie and Annette Classics.
It's almost as though Disney took the movie Grease, put it in a blender with Beach Party, then dipped it in sprinkles, rolled it in Cotton Candy and served it up on a hot pink stick.
When "Tanner" (Garrett Clayton) first appeared onscreen I had to laugh out loud. That kid could not embody the 1960's dreamboat any more than if he were computer generated. When Lee saw the movie with us, his first comment was, "He looks just like that guy from all the old Disney beach movies!" Paired with the adorable Grace Phipps who played "Lela," it seemed as if Disney had found almost exact replicas of Frankie and Annette.
The music in the film is catchy in an I can't really believe I'm singing along to this, sort of way, and it's so authentic to the '60's that I briefly wondered if they had pulled actual songs out of the archives of the golden oldies. Just try to watch "Cruisin' for a Bruisin'" and not tap your toes.
In all, I was plenty pleased with Disney's latest movie, and my kids have all given it two thumbs up (that's six thumbs for anyone counting). They will continue to watch it over and over these next few weeks, and while I will likely bow out due to the fact that I'm not entirely sure it won't give us all cavities, I certainly don't have a problem with letting them continue to laugh and sing along to this summer gem.
To make this write up even sweeter, the kind folks at Disney have given me one copy of Teen Beach Movie to give to one lucky reader. To enter this giveaway, simply leave a comment and let me know if you saw the film and if you know all the lyrics by heart now, too.
For additional entries:
– Share this giveaway on Facebook, then come back and leave me another comment.
– Share this giveaway on Twitter, then comment back and let me know for a third entry.
Comments will remain open until Tuesday, July 30 (the same day Teen Beach Movie releases on DVD) at 8:00 Central Time when I will pick a winner randomly. The winner will be notified via email and will receive the movie shortly thereafter.
So, come on. Fess up. I know you have ONE song from the movie
that's stuck in your head. Spill it.
Disclaimer: I am working with Disney to promote the July 30th release of Teen Beach Movie on DVD. I received a copy of the DVD to review and a copy to giveaway. All opinions expressed are my own. I am grateful for the opportunity.