Once upon a time I threw the biggest birthday party known to mankind. That's only barely an exaggeration. When Sloan turned five, I threw a fire fighter birthday party and fell prey to fear, which led to me inviting every single person we knew and their entire families.
I have deep seeded people-pleaser issues.
I was so afraid of someone feeling left out that I just invited everyone I could think of assuming that with it being summertime many would be out of town and unable to attend,  but at least they would know I thought of them, right?
Almost every single person RSVP'ed. Twenty-nine (or more, I lost track) kids, 16 adults and a sprinkler. I have never done that again.
All that to say, I can't choose just one winner from the Name that Photo contest. I don't want to hurt anyone's feelings and plus you guys flipping made me laugh so hard. I wouldn't know how to start. I laughed out loud (I did NOT LOL…ugh) so much, then I went and reread the comments and laughed again. Out. Loud.
Sloan mooning us? Nutella locked in the van? Draining noodles? Timmy trapped in a well? Fat tourists in thongs? 1-800-CONTACTS? Smokey Bones? Oh heavens…you guys are the best. So funny.
Well done all of you. VIRTUAL HIGH FIVE'S ALL AROUND. Hold your hand up…wait just a sec…
There! High five. BOOM!
And here's your side hug.
Now the super-duper feelings of awesomeness and glory will take a few days to get to you. You should all receive those by Monday at the latest. Be on the lookout…
In other news…
– Today I am guest posting at Bohemian Bowmans on the impact Tanzania has had on my writing. Hop on by and check out the Bohemian blog – they're Canadians now, dontcha know…
– In order to retain my Mom-Blogger card, I am required to post a recipe now and again. Otherwise my membership may be revoked and then I'll be relegated to writing about, I dunno, politics or something.

*shudder*

 I've made these eggs twice this week and both times my first born, he who gags like he's dying when I serve him eggs, has gobbled them up. So what's in this magic eggs concoction?

– 1 leek, thinly sliced (leeks are like big, fat green onions – I had no idea…I'm not what you'd call a cook.) Sautee the leek in 2 T of butter and add one garlic clove chopped.

– 4 cups of Kale. Add the Kale to the Pan and pour in 3 T of white wine (you read that right), cover and let simmer until Kale is melted. Salt and Pepper to taste.

– Crack four eggs on top of the greens, put a lid on the pot and let cook on low until eggs have hardened and set. Serve hot and watch in amazement as your kids eat so much good stuff without complaining.

*This is not an original recipe. I got it out of Men's Health magazine, which, naturally, I was only reading for the recipes… *nervous laugh*  
– I want to Hulk Smash the alarm system in our house. I hate it. Every time the power trips, the alarm goes off. Last night the power tripped three times. When that alarm goes off in the middle of the night I wake up prepared to kill. It explains why today I am drinking this, which I only drink in the most dire of situations.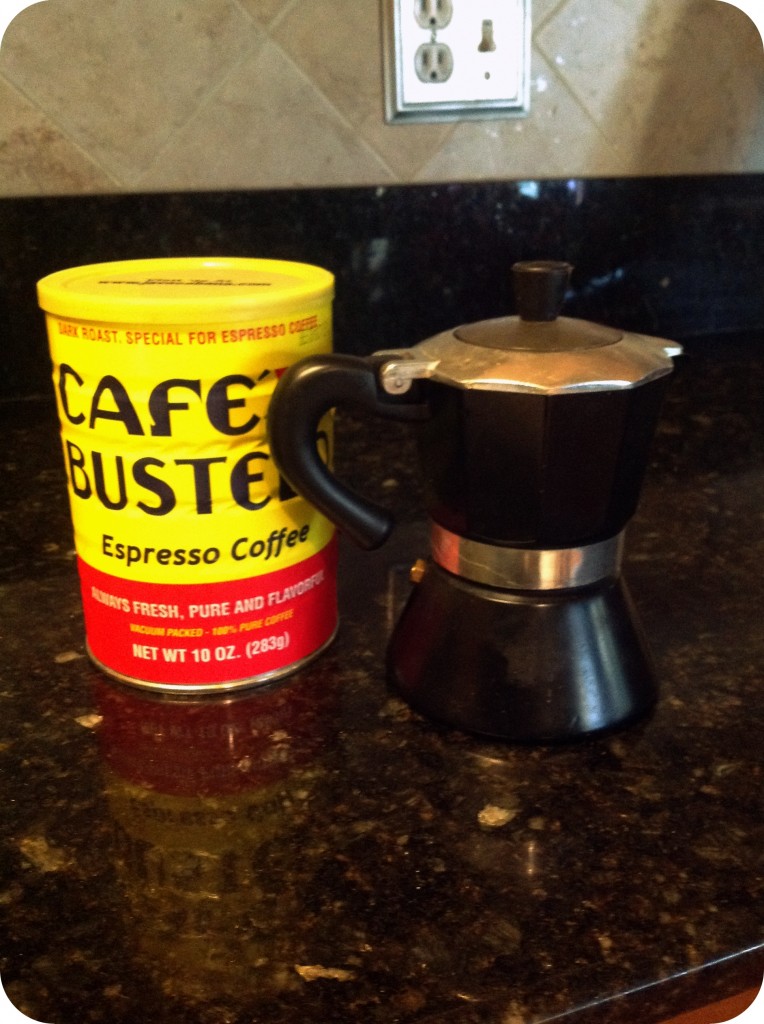 My hands are trembling uncontrollably right now.
– I downloaded all three Ingrid Michaelson albums today. I've loved her since "The Way I Am" came out, but lately we have been listening to the Over the Rhine station on Pandora and every time she popped up on the screen I got goosebumps. She's freaky good.
– I signed all three kids up this week for gymnastics camp. I've had about three hours a day to myself. At home. ALONE. I had kind of forgotten what this felt like. It's a little boring at times, but for the most part it has been entirely enjoyable.
Okay, I've talked enough. Now it's your turn. Tell me something funny, or sad, or happy. What are you doing this weekend. Do you have a vacation coming up? Did your kid say something funny to you this week?
Who's gonna make me laugh? Come on, help a sister out. I didn't sleep much last night and you guys demonstrated yesterday that you are plenty funny so lay it on me.
Happy Thursday, friends.