*update – if you're having trouble with the video constantly stopping and buffering, click on the numbers in the bottom right hand corner.  I don't know what they mean but if you click it it should change from 360p to 480p and then the video should play without stopping.  At least that's what worked for me.  I think it has something to do with pixels, but I dunno really…
I got this idea from my friend Nicole a few months ago. 
We put the kids to bed early last night.  Sloan stomped and groaned and bemoaned the fact that the summer is over and school is starting and "why won't you let me stay up and enjoy my last night of summer – WAAAAAAHHHH!" About five minutes after laying them down, we went into their room and flipped on the light (only to find them both sitting up in the same bed…so much for them actually going to bed) and told them we wanted to go get some ice cream.
"Would you like to come with us?" we asked.
Their reactions were priceless.  And you can see them for yourself.
*a quick disclaimer: Lee got a little ahead of me and flipped the kids light on before I had the camera going so I missed a little bit of their reaction.  Bummer.
I think my favorite part of the video is when Lee begins talking about third nipples (nubbin's) and Sloan starts laughing so hard he almost wets his pants.
Welcome to crazy town.  So glad you came.  Leave your shoes at the door…or leave them on. Whatever.  We talk about third nipples.  You can do whatever you want.
Have I mentioned lately I love my family?
Yay for the Ice Cream Surprise!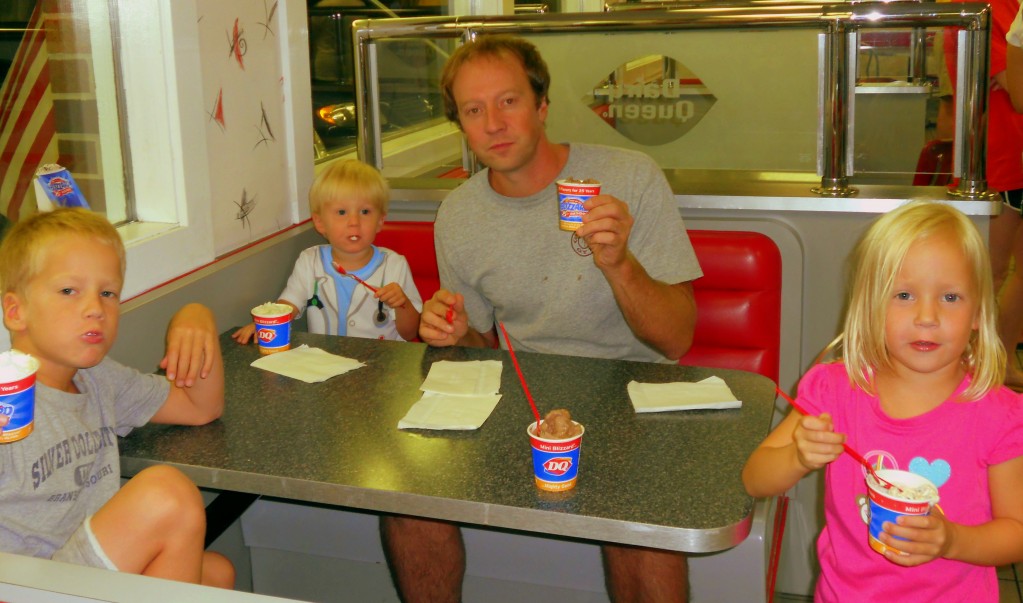 And now I'm off to shower so I can take Sloan to school to meet his teacher.  I'm taking my kid to meet his first grade teacher.  I'm taking my child to his elementary school where he's going to be spending the entire day at school.  I'm having a panic attack while I think about taking my kid to see his first grade class.
I'm feeling old.