It was a packed weekend and there is just so much to share and document!  But by far, the highlight of the weekend was the annual Russian-American school Christmas party.  I look forward to this party every year.  It's loud, chaotic and loads of fun.
I'm tellin' ya – the russians know how to throw a party!  It just makes me happy because it makes them happy.  Seriously, grown ups and kids alike have a ball.  And who wouldn't when characters like these come out for Christmas?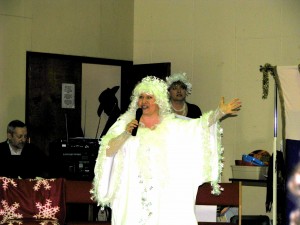 This is Winter.  She sang, she dance, she whooped and hollered and kicked up her heels.  Who knew winter could be so much fun?
See?  She's having a ball.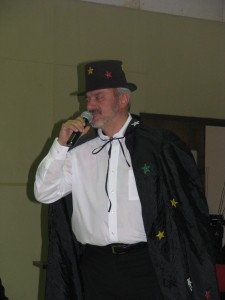 Then there was this fella.  He was the MC and he sang everything in a warbling, Dean Martinesque voice.
Then, of course, there was Baba Yaga, the forest witch who's always trying to ruin Christmas.  She sings too…
And what is Christmas without Little Red Riding Hood and the Big Bad Wolf?
Seriously, you can't make this stuff up.
And look how much fun they're having?  Don't you wish you were there?  And yes, that's a singing tiger on the end.  I told you it was a fun party.
And then the older fella on the left came out (I'm not sure who he was supposed to be – his mic was muffled so I couldn't understand him) and he went fishing and pulled out the singing fish, which you can see on the right.
And of course, the highlight of the party is the unveiling of Ded Moros (Father Ice aka Santa Clause) and his granddaughter, Snegurichka.
They sing too…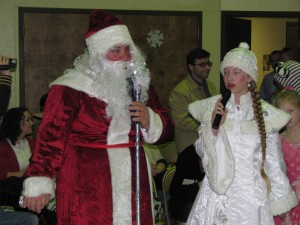 Sloan and Tia thought it was rockin' awesome.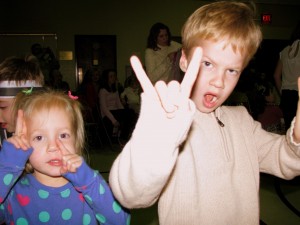 And why wouldn't they?  They got to sing, dance, play toss the ring on the goose…
They didn't dress in costume because I forgot about the tradition of kids dressing up for Christmas.  But other kids dressed up, like this little doll:
Who can resist a little blonde boy in a cow costume?
And at the end, Ded Moros, alongside all the other characters, gave out Christmas gifts.  Sloan came home with a digital photo ornament, which he thought was the bee's knees, and Tia got a huge art set. 
Ded Moros gives good gifts.
I gotta tell ya, when I go to parties like this I realize how boring America is.  I mean, all we've got is Santa, Frosty and Rudolph.  Bo-Ring.  Give me a singing tiger and dancing bear and then we can celebrate Christmas!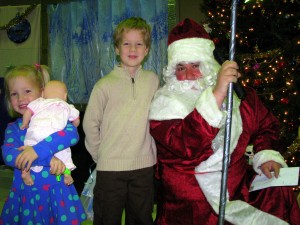 S Razhdyestvom! (Merry Christmas)