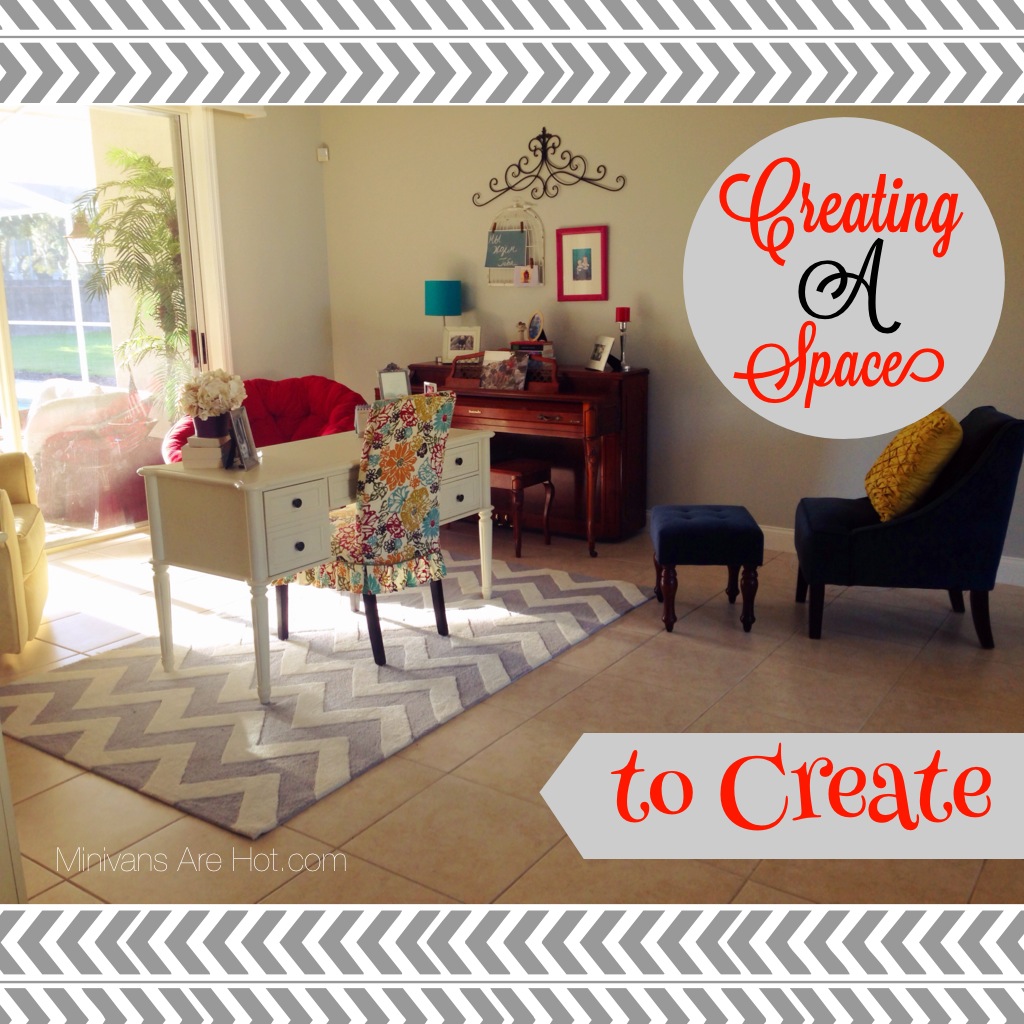 Whether you are a fiction or non-fiction writer, inspiration is a key component to writing well, and inspiration can be found in so many places. I find that I am most inspired to write when my surroundings are peaceful, quiet, clean, and happy.
I'm not very good at writing in chaos. I can play around on Facebook all day long at Starbucks, but it is difficult for me to get any serious writing done in that environment. I'm too distracted, my thoughts are too easily jumbled, and the coffee makes me jumpy. That's not to say I don't go to a coffee shop, or book store, or some other location on occasion to work.
It just means that I know I won't be at my productive best in those environments.
It's taken me more than two years to finally create a space in my home that inspires me. Finding your space to create can take time, and that's okay. You may need that time to figure out where, and how, you best work.
When we lived in St. Louis, I dreamed of having a house with an extra room that I could turn into an office. I wanted a space that was all mine. So when we moved into our new house two years ago, I quickly claimed a front bedroom as my space, and I really love what I did with the space. It was pretty, and simple, and it made me happy.
But I couldn't write in there…
I quickly realized that while I enjoy quiet, I don't like isolation, and I felt very isolated in that little room.
Last April, we began a bit of a face lift on our house. A simple coat of paint completely changed the front living area of our home, and as I watched the entire feel of the room transform, I felt a new wave of inspiration hit. I knew that this space would become my writing space.
It's taken 6 months to pull together and the space still isn't finished. We're doing a little bit at a time, but very slowly this has become my space to create.
I love how bright and airy the room is, and the colors that surround me soothe my soul. I feel peaceful in this place, and yet I still feel connected to the rest of the world. When I'm sitting at my desk, I can hear and see everything that's going on in my house and, oddly enough, I find that settles my mind allowing me to focus more on my work.
It's so important to carve out a tiny space for yourself as a writer/creator. It doesn't have to be an entire room – it could be a corner of the house where you hang a few pictures, or next to a book shelf stacked with books that tickle your brain. It could be in front of a window with a good view, or in a windowless room that offers no distraction.
Perhaps you work better when the world around you bustles – in that case, carve out time to sneak away to Starbucks, or Barnes and Noble, or wherever it is that leaves you inspired enough to create.
Maybe you're inspired by nature. If that's the case, go outside and write! Find a tree to sit under, a table at a cafe, a bench at a park. Take your kids to the playground and work with the sounds of their delighted laughter floating around you. Whatever you need to do to create – do it!
The beauty of this is there is no formula to follow. What you need to create will be different from what I need, so figure out what inspires you most and take steps to pull it together.
Your surroundings will either make you a better writer, or they will distract you from your goals. <–Click this to tweet!
My encouragement to you today is to figure out what you need to create, and start taking steps to pull it together.
Do you already have a space that inspires you to create? Do share!
Throughout the month of October, I am participating in The Nester's 31 Day challenge. To read each of my posts, click the landing page here. Thanks for stopping by!