"Get inside," the guard said gruffly. Andie was gasping for air, trying to recover from the sharp blow he had given her in the gut. Andie pushed to her feet, and began stepping forward.

"Move faster," the guard was yelling in her ear. The guard was pushing her into a dark chamber. Andie winced. The musty smell of stale water was strong and harsh. Andie was trying to remember how she ended up in this place. How did it all go so wrong?
The number one mistake I see when editing manuscripts is a gross overuse of the passive voice. Today's post will be short and sweet because what I want to say is simple: DON'T DO THAT!
Writing in the passive voice slows the entire story down. A forward moving character is now forced two steps back as the reader muddles through each and every slow, painful paragraph. The above excerpt is the type of writing I see frequently. Not terrible, but not very good, either. The details (those intricate strokes of the brush on canvas) are smudged between all the words, and it could all be said so much more simply.
"Get inside," the guard barked. Andie gasped, heaving from his sharp blow to the gut. She pushed to her feet and stumbled forward.

"Move faster," he yelled in her ear. The guard pushed her into a dark chamber. Andie winced as the harsh, musty smell of stale water washed over her. 

"How did I end up here?" Andie thought, fighting a wave of nausea and desperation. "When did it all go so wrong?"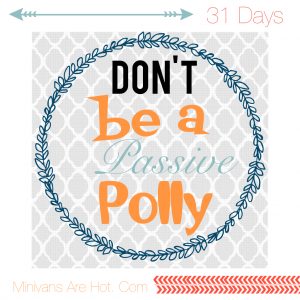 Writing in the passive voice is an easy mistake to make. While it isn't technically a grammatical error, it is indeed very sloppy writing. The passive voice can be easily defined as the use of a form of "to be" combined with a past participle.
The building has been struck by an unidentified object.
He was talking in a low, mysterious voice.
They were running in the grass.
It takes a conscious writer to avoid this common pitfall. Many times you'll find that the best way to rid yourself of the dreaded passive voice is to simply look for, and eliminate, it in the editing process. If, however, you train yourself to first write in the active voice, you'll find editing to be much less painful.
Move your characters forward – don't walk them in circles. Take out all the "had said's," the "was walkings," the "would thinks," and every other "to be" words you can find that are useless to furthering your story. Replace them with active verbs that give your reader a sense of forward motion.
If the active voice keeps the page turning, then the passive voice kills a story altogether. <–Click this to tweet!
For example, the above sentences could easily be changed to read:
An unidentified object slammed into the building.
He spoke in a low, mysterious voice.
They ran through the grass.
My challenge to you today is to go over a story you wrote, whether it be recently or some time ago, and look to see if you might possibly be a Passive Polly. Once you identify this very common problem, it is easy enough to fix. It simply takes conscious writing.
So today's 31 Days tip of the day?
Don't be a Passive Polly.
This is part of a 31 Day series on becoming an author. To read all the posts in this series, click here. To stay up to date on my daily posts through email subscription, enter your email address in the top left corner.