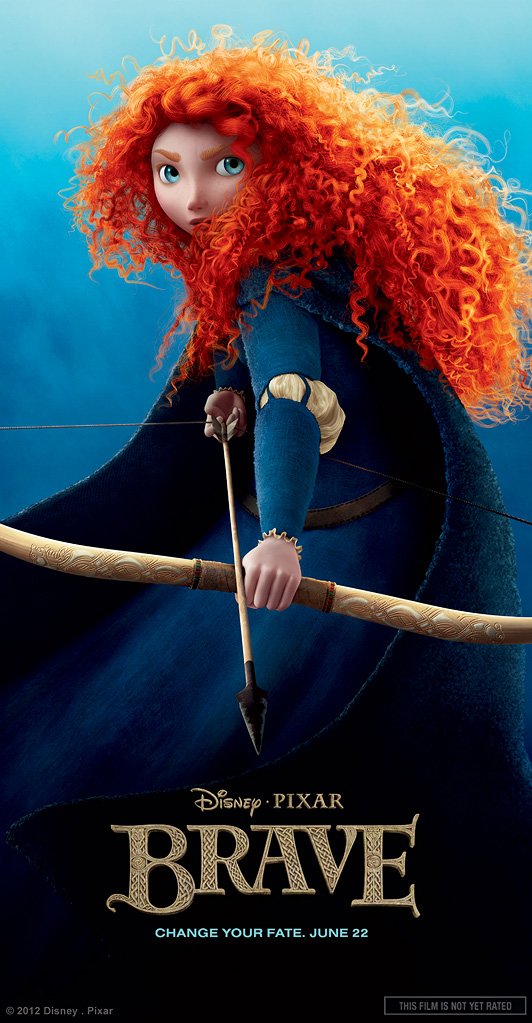 This giveaway is now closed and a winner will be chosen and notified shortly. Thank you to everyone who entered.
Disney-Pixar's newest animated film, BRAVE, packs a dramatic and thrilling punch. I really enjoyed it the first time I saw it, but after reading the concerns of others about the film's content, I wondered if maybe I had missed something. So when Disney contacted me and asked if I would like to receive the soon-to-be-released 5-Disc Ultimate Collector's Edition, I jumped at the chance.
Since receving the movie last weekend, I have watched it twice with my youngest child. (Remember when you were a kid and could watch movies over and over…and over again?) I have to say, I don't share the concerns voiced, though I do respect them.
BRAVE is ambitious in a lot of ways. We're faced with a bold and brash Princess who doesn't want to get married. This, of course, isn't the first time Disney has explored that storyline (Aladdin's Jasmine didn't want to be forced into marriage, either. I know my Disney movies…) But for the first time, a Disney Princess movie doesn't involve any sort of love story whatsoever.
Honestly, I found that refreshing.
Merida is not pining for a fella. She wants to grow up more. She isn't opposed to marriage – she's just not ready for it. I think this is a good message for little girls…if they even pick up on that theme at all. Chances are, most young ones won't get the underlying messages of this movie, and that's okay. Because it's a fun movie to watch.
(Never before has an animated film left me with such a desire to travel. The scenery is so gorgeous that I've got half a mind to pack my bags and move to Scotland.)
BRAVE is a little scary in places. The evil bear, Mor'du, makes several gnarly, growly appearances and the much of the movie takes place at night, which adds an air of tension. This has not affected my children in the slightest, but if you have kiddos sensitive to those sorts of things, you should be aware. It is not, in my opinion, any scarier than other Disney movies (a gigantic octopus witch getting stabbed in the stomach with the mast of a ship anyone? It's a wonder any of us ever slept again after that one…)
I also enjoyed the complexity that BRAVE explores in the relationship between mother and daughter. Merida and her mom, Elinor, fight almost non-stop the first half of the movie. A few years ago, when my own daughter was younger, this may have bothered me. But considering I wanted to bash my head against the wall this morning due to a battle over shoes (SHOES! JUST PUT THEM ON PUT THEM ON PUT THEM ON!), I get it a little more. This mother daughter thing is give and take and I loved the resolve at the end of the movie on the part of both characters.
BRAVE is a little…um…braver than other Disney films. In one scene, a bunch of the men walk by having shimmied down the palace walls using their kilts as ropes, and we are greeted to our first ever Disney butts. I found this hilarious – you may not. But at least you know. I also enjoyed the relationship between Elinor and Fergus, Merida's wily, burly father. Yes, the Queen comes off looking more polished than her husband, but he is also a very strong character who fights bears and protects his family without fear. And I love the sweet bond that is shown between father and daughter.
In all, I found BRAVE to be delightful and fun and I'm thrilled with the bonus features on this five disc combo pack (which includes 1 Blu-ray 3D disc, 2 Blu-ray Discs, 1 DVD and 1 Digital Copy). The bonus features further solidify my longing to visit Scotland.
Today, thanks to Disney, I have the privilege of offering one lucky winner their own 5-Disc Ultimate Collector's Edition of BRAVE. Simply leave a comment to enter. You can leave a comment about anything at all. But if you have been to Scotland before, would you please tell me in the comments section – is it as beautiful as it seems in animation?!
There are four ways to earn additional entries:
– Share this giveaway on Facebook, then come back and let me know you shared it.
– Share this giveaway on Twitter then, you guess it, come back and let me know about it.
– Post this giveaway to Pinterest, then come back and leave yet another comment.
– Post about this giveaway on your blog for a final entry.
This giveaway will be open until Tuesday, November 13. I will draw a winner at 12:00 PM EST. I am working with Disney-Pixar in promotion of the release of BRAVE on DVD. I was provided a copy of the 5-Disc Ultimate Collector's Edition for review. I was not paid for this post. All opinions expressed are my own.