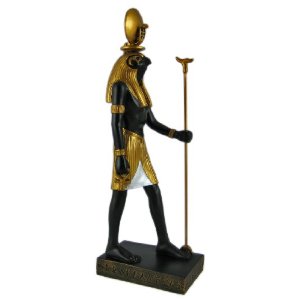 "Mom!  Hey, MOM!  Lookatthislookatthislookatthis!  It's Ra, the Egyptian Sun god!"
Thus yelled my eight year old across the aisle of Homegoods, as he stood face to face with a life size statue of Ra. It was in the clearance aisle.
Odd.  I would think a creepy looking faux Ra would be a hot ticket item...
The gentleman sitting in the arm chair nearest Sloan looked up in surprise.  He then looked at me quizzically as I cleared my throat.
"We've been studying Egypt," I said with a smile.
pause
"Why?" he asked.
"We were reading about Moses bringing the Israelites out of Egypt," Sloan said.  "Have you heard that story?  Where Moses turned the water to blood and sent tons of frogs and parted the Red Sea and Pharoah and his people sank to the bottom."
The man looked at Sloan with amusement, then back at me.
"We homeschool," I said.  It's my only defense.  Why else would we be in Homegoods at 1:00 on a Monday afternoon?
"I see," was his reply, then he leaned back into his chair, presumably to nap since his wife was nowhere to be found.  I grabbed Tia's hand and motioned Sloan to follow us.  As we walked away, Tia glanced back at the statue over her shoulder.
"Why would anyone want to worship that little statue?" she asked.  "It's just made of wood.  Wood can't help you like the one twue God."
And as we walked away, I heard the man let out a hearty laugh.
Homeschooling is an adventure unlike any I've ever taken.  I've got a video to share with you all at some point.  I wanted to today, but my computer ate half of it and I don't have it in me to start over now.
This past week was rough.  It was crawl into bed and lay staring comatose at the ceiling rough.  A myriad of issues led me to a bit of a low point where smiling felt like a chore and everyday tasks seemed monumental.
Make the bed?  Impossible.
Clean the dishes?  Painful.
Sweep the floor?  Everest.
It was like a marathon just getting through the basic tasks of each day.  And I just felt sad.  Even a night away generously donated by my husband couldn't pull me out of my funk and I couldn't figure it out.
As Lee and I talked, my eyes welling up with tears, I told him how I just feel frustrated.  There's so much to do.  So many plates to keep spinning.  And I am overwhelmed and feeling very…alone.
It felt good to cry.  Yesterday I woke up feeling a little more refreshed and ready to tackle the day with a specific prayer on my heart – Lord, let me see You today.
About half way through my day, I received an email from a company confirming my participation in an event in St. Louis.  This company has agreed to not only fly me up to St. Louis, but also the kids.  A much needed chance to get away, take a break and be refreshed.
I saw.
Last night I attended a meeting at a local church for homeschooling moms and it did more than give me a couple of new ideas for making our school more fun – it refreshed my heart.  I met people my age, in my same boat who get it.
I saw.
The woman sharing was a veteran homeschooling mom with her oldest preparing to graduate high school.  "It goes so fast," she said.  "You blink and they're teenagers and it's gone."
I've heard this a thousand times, but I needed it again last night.  I really needed it.
"Soon the house will be empty," she continued.  "It will be quiet and in order and clean…but I'd rather have the noise."
I saw.
These were seemingly little things, but they brought a fountain of relief and rest to my soul. 

Right now, as I type this, the house is refreshingly quiet.  Blissfully so.  But I know the noise is coming and I want to greet it with a fresh perspective.  It's hectic and chaotic and my house isn't decorated how I want it, or painted the right colors, or even organized functionally.
But it's full.  And that's a good thing.  Plus I get the added perk of driving that smokin' hot minivan for a long time to come, right?  Huh?  Huh?
I'm going to choose joy this week, because tomorrow they'll all be one day older.  Time isn't going to slow down so I'm just going to hang on and enjoy the ride that is this current season of my life.
Now, where to put my statue of Ra…