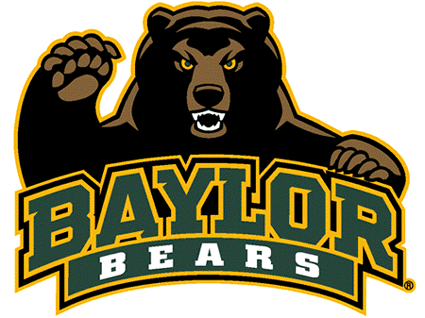 It was 1999 and I was a senior walking beneath the cloud of new love.  I didn't have a ring on it yet, but it was only a matter of time (weeks, to be exact).  We were headed to yet another Baylor Bears football game where we would talk and visit and only occasionally check the field to measure just how badly we were losing.
My time at Baylor will not be remembered for great football…
At some point during this particularly overcast and chilly day, the pace of the game changed.  Baylor was winning. It was a thrill almost entirely unknown to me since I had spent most of my four years at the school accepting defeat with grace.
The crowd was electric.  The score was 24-21 against UNLV and there were 20 seconds left in the game.  Baylor had the ball at the 8 yard line.  This was our time – the day to rejoice.  All they had to do was down the ball.  Just put down a knee.  So easy.  So very, very easy.
Until…
Wait.  What's that?  Why are they? Wait…huh?
"A two point conversion!  What are they doing running a two point conversion!" My husband to be roared as the Rebels' Kevin Thomas scooped up the fumbled ball and began making a dash down the field.
I had no idea what a two point conversion was or what on Earth had just gone down, but from the look on Lee's face, I knew I needed to be horrified.  I wanted to shout at the field with him, make my protest known at this mysterious call.  But I could do no more than clutch my head in my hands, my mouth open in a horrified stare, no sound permitted to escape.
And as the clock ticked down to zero, the entire stadium watched in stunned silence as Thomas ran the ball into the end zone for a 99-yard touchdown to win the game.
I almost cried.  I don't even care about football that much, but that day…I nearly cried.  And since then, I have never been the same.
I'm not a great sports fan to begin with.  Games make me a nervous wreck.  If I care about one of the teams in play, I find myself jumpy, fidgety and nervous.  But when my team does begin to win, I feel a sudden onslaught of sympathy for the opposing team and I want them to at least not lose badly.  But if my team starts to lose I get all jumpy and jittery and I start to talk loud and fast and…
Don't get me started on how uptight I get when I don't care about either one of the teams.  I alternate between total exhilaration for the winning team and utter sympathy for the losing team.  I'm like a sports crazed Sybil.
I'm not one of those cool girls who yells at the TV and high fives when the football dude runs the ball into the end zone.  Oh no.  I'm the chick in the corner nervously biting her nails and gorging herself on little hot dogs slathered in barbeque sauce straight from the crock pot.  I'm the girl pretending not to care because if she pays attention to the game too closely she might have a nervous breakdown.
The St. Louis Cardinals are currently playing Game 6 of the NLCS Championship against the Milwaukee Brewers.  I haven't watched much of the series for two reasons:
1.) We don't have cable so watching isn't that easy.  Lee has taken the kids to Chili's to watch several of the games.  I went with them once, but the rest of the time I declined because if given the option to be alone in my house for a couple of hours, I'm going to say yes.  Sorry Red Birds, I love ya, but…
2.) It makes me crazy.  C-to the-RAZY.  I want the Cardinals to win and I can't stand the pressure.  I can't stand it. As we speak, Lee has the game on the radio and we're listening to the game on ESPN.  And this, friends, is next to torture.  TORTURE. Because the noise of the crowd is intensified over the radio and the announcer's voices keep going up in decibels and sweet-mother-of-all-that's-holy-I-NEED-A-DRINK.
So Cardinals, I hope you win.  I really do.  And if you make it to the Series, I will watch as often as I can mooch a TV screen.  But I will watch through my fingers, I will pace, I will likely chew off all my nails and I'll probably leave the room now and again to take a deep breath.
By the end of the Series, I will probably have an ulcer.  Don't worry, though, I won't blame you.
I blame the Baylor Bears.
*Disclaimer: I love Baylor University.  My four years there were by far the best of my life and I would do them all again in a heartbeat.  Except that one game.  I would skip that game if I got a do-over…