We ended our vacation with a stop in Mobile, Alabama, where we watched and participated in the wedding of my cousin, Whitney, to her new husband, Jordan.  It was beautiful and emotional and perfect and I'm so glad we got to be there to see this union take place.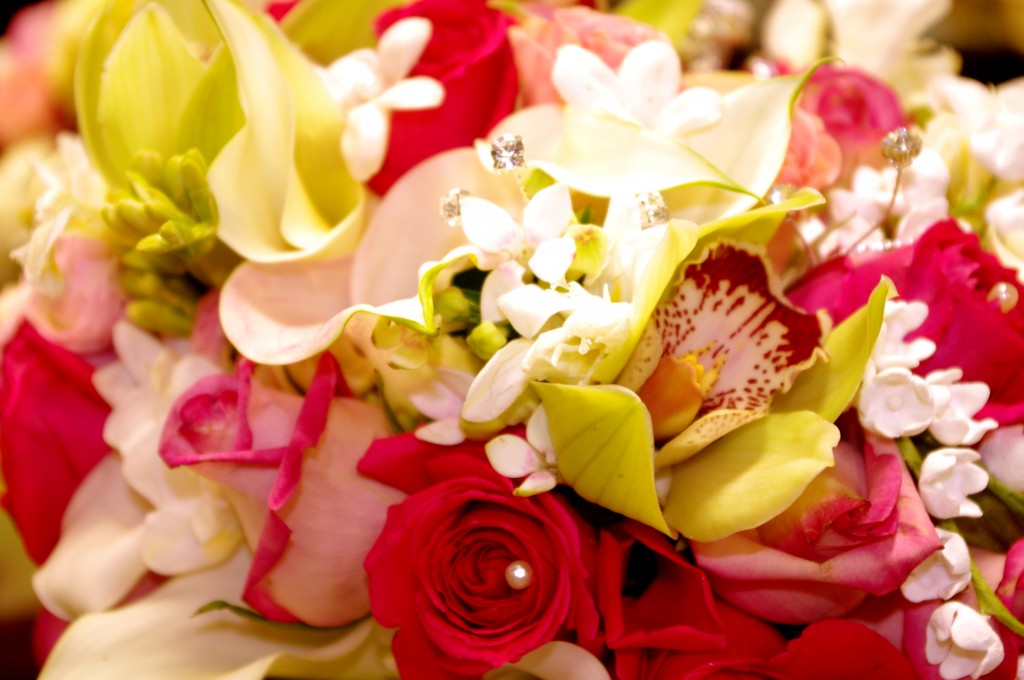 Whitney has overcome more hardship and pain than most people will see in two lifetimes.  She is a true picture of beauty from ashes.  She's not only beautiful on the outside, but on the inside as well.  When she was five, she and her brother and sister spent a year living with my family.  I was thirteen at the time and I adored having a little "sister" to dress up and play with.  I curled her hair, put make up on her and doted on her daily.  I learned her tap dance routines and taught her silly songs to perform in front of others.  I don't know if it was fun for her, but I enjoyed having a real life baby doll.
 Whitney asked Sloan and Tia if they would serve as flowergirl and ring bearer.  It was an honor for them to take part and after they got over their initial trepidation at standing up in front of a lot of people (and having to watch the bride and groom kiss – Ew!) they had a great time.
And the number of times that they've played bride and groom since the wedding?  Five.  And counting.
 I was so proud of how great the kids did before, during and after the wedding.
 Whitney's mom died in February of 1991 when Whitney was only 5.  I was twelve and I don't remember much about my Aunt Joy.  There are snippets that come to me periodically, like flashes in time.  I remember her laugh and her smile and I have a CD of her singing, but other than that, the memories are vague.  But my mom and my other aunts and uncles remember well.  And all of them say that Whitney is so much like her mom it's frightening.
She's the life of the party. 
She's got an infectious laugh.
She loves people and she loves Jesus.
I'm so proud of her.
 My cousin Randy's little girl joined Tia in the role of flowergirl.  Can you tell these two are related?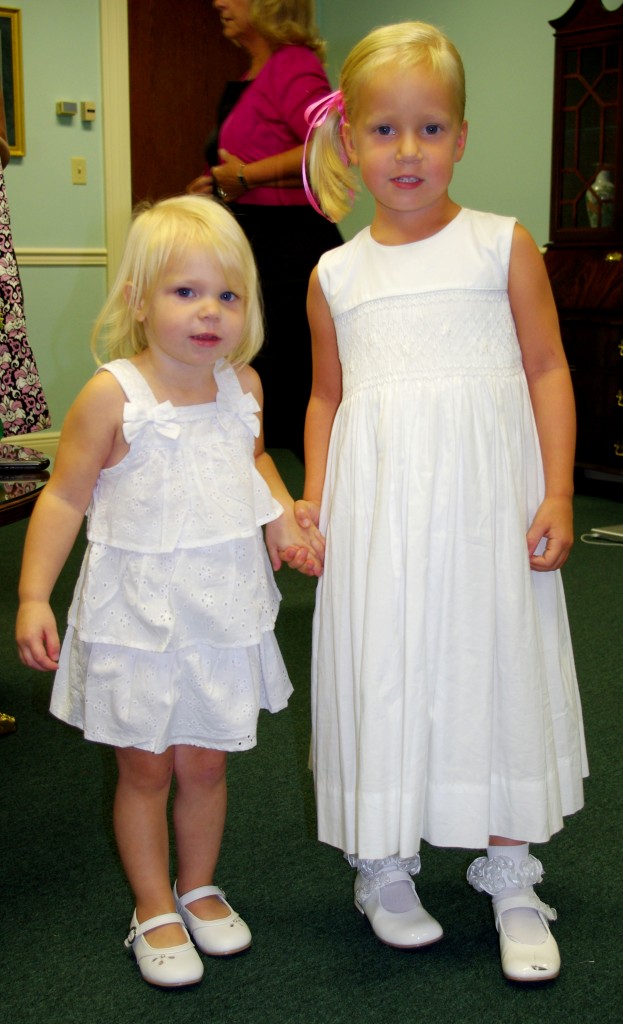 I do believe that Sloan developed a bit of a crush on Whitney.  He followed her around like a puppy dog all day long and asked to have no less than fifty pictures taken with her. 
"She is so beautiful, Mom," he told me. 
 Tia has become enamored with playing "bwide" since we got home.  She puts her fancy shoes on and taps around the house saying "I Do."  I've drawn the line at her and Sloan kissing.  They'll thank me one day.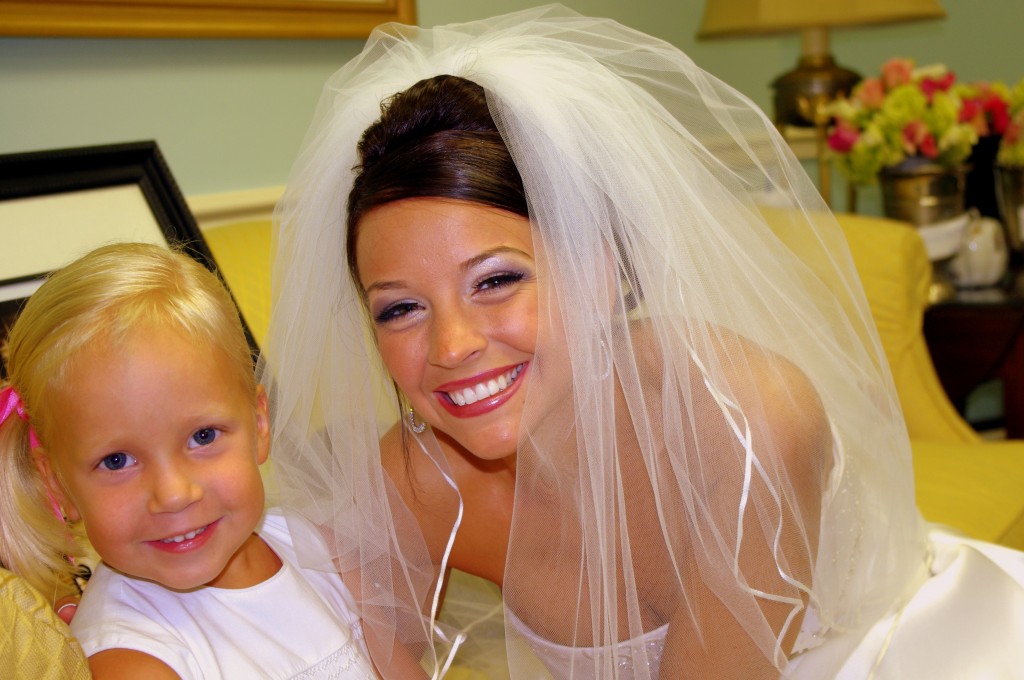 I wish that my aunt could have been there on Saturday.  She would have been brimming with pride at the young woman that Whitney has become.  I know that in heaven there are no more tears of sorrow so I doubt that those who have gone on before us can literally watch and see what's happening to the loved ones left behind.  Because if they could, then surely they would experience sorrow at the pain that is ever present on this Earth.
I do hope, however, that in moments of joy, such as Saturday's wedding, those who dwell in heaven experience an extra measure of joy, peace, love and contentment.  And since one day on Earth is like 1,000 years in heaven, I hope that Joy experienced 1,000 years of extra happiness and joy over the union of her daughter to such a wonderful man.
 Sloan was such a little man.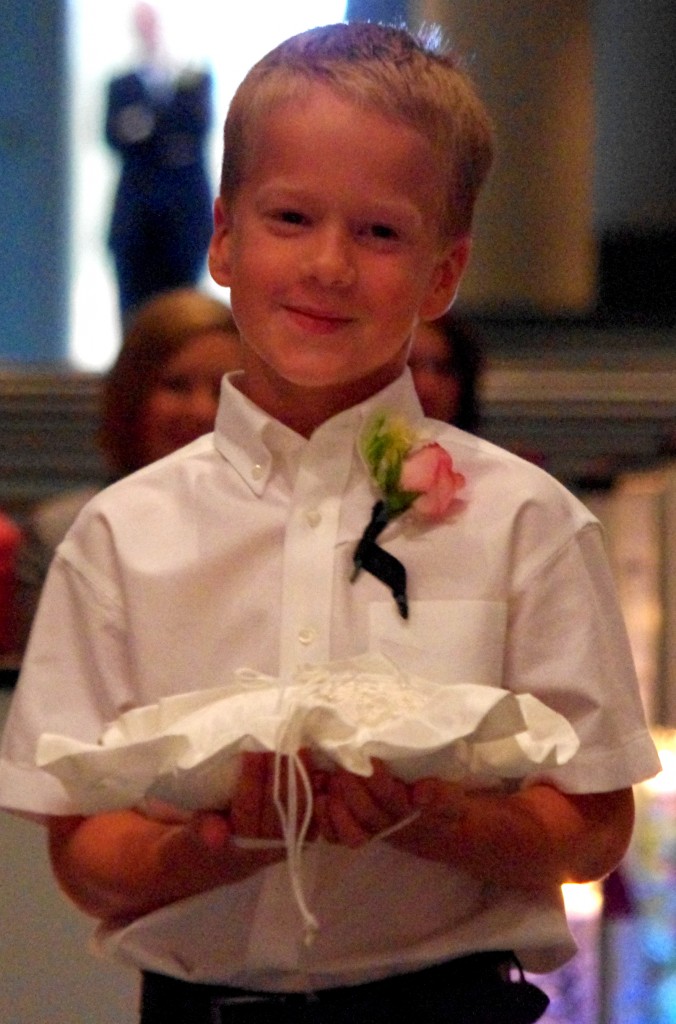 And Tia was a great helper to little Hayley.
 And Whitney beamed with such force as she walked down the isle that I worried her face might split in two.
 Sloan, of course, got a little bored during the ceremony.  It gave him plenty of time, however, to smell the roses.  And, of course, when the bride and groom kissed he giggled and blushed and shook his head.  Because just…ew.
 Tia got to hold Whitney's bouquet during the ceremony.  It weighed easily 5 pounds.  She was a real trooper.  Doesn't she look like she's having the time of her life?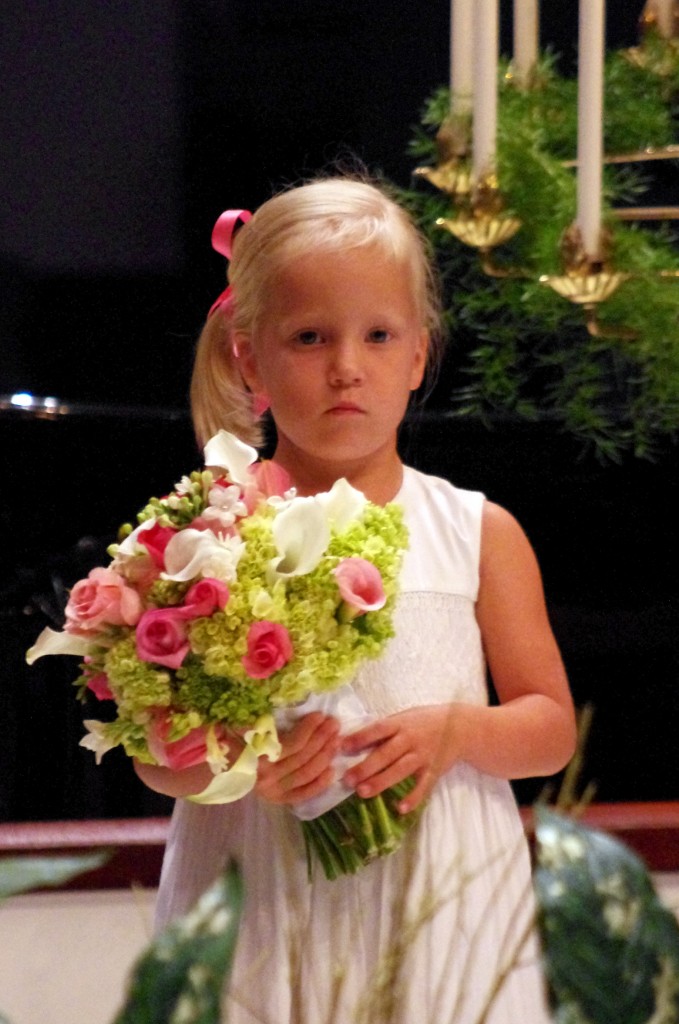 Mr. and Mrs. Jordan Van Matre.  They have a rich heritage to uphold and continue.  I have no doubt that they are fully equipped and prepared to carry on the rich legacy of this family.
 My Aunt Tammy made a lot of sacrifices to raise Whitney alongside her own four children.  And she and my Uncle Cletis did a great job making sure that this little girl, who was a broken, scared 9 year old when they got her, grew into a confident woman of God.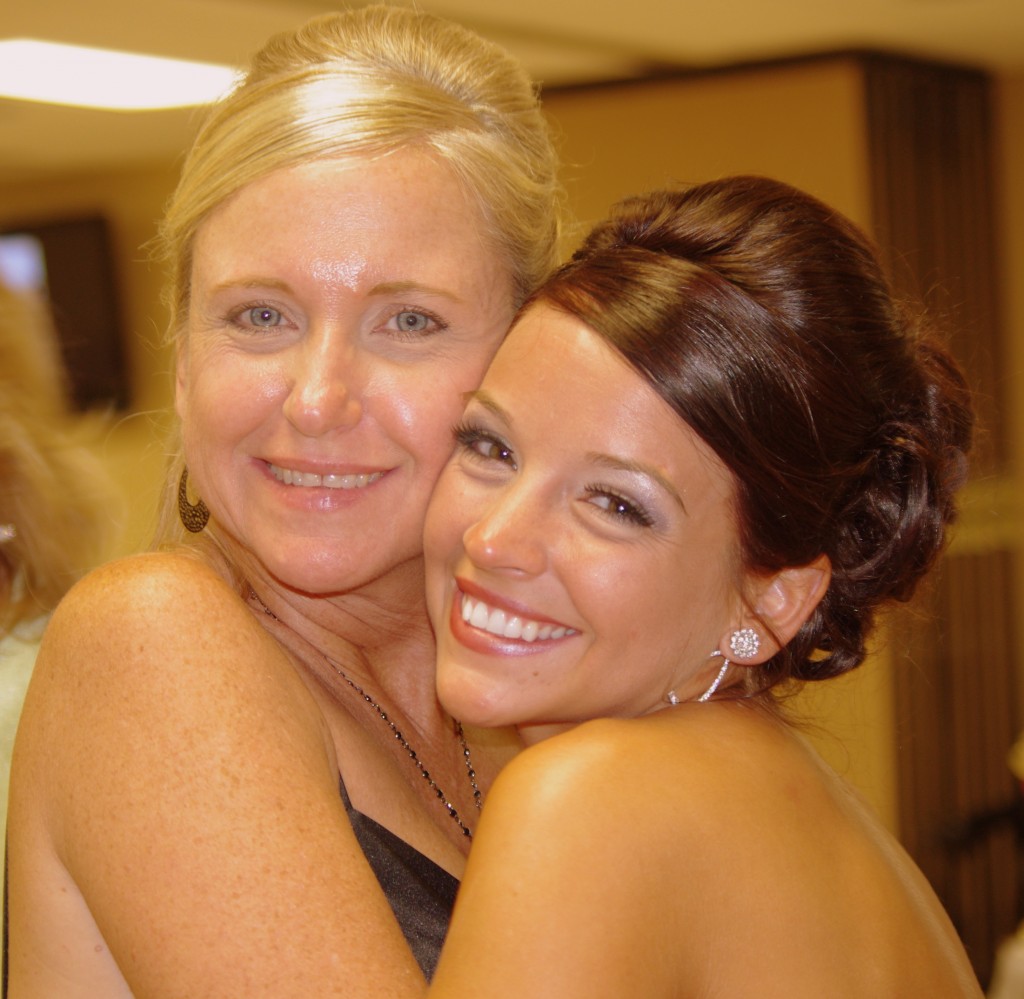 Equally, my mom and dad also made sacrifices, pouring energy, wisdom and hope into Whitney's life.  They also raised Whitney's brother and supported Whitney's older sister as they grew.  My Uncle Dusty, the oldest of the Cooper siblings, was also a pillar of support.  As the male head of the family, he has been a constant for all of us.  I am honored to be a part of such a unique and loving family.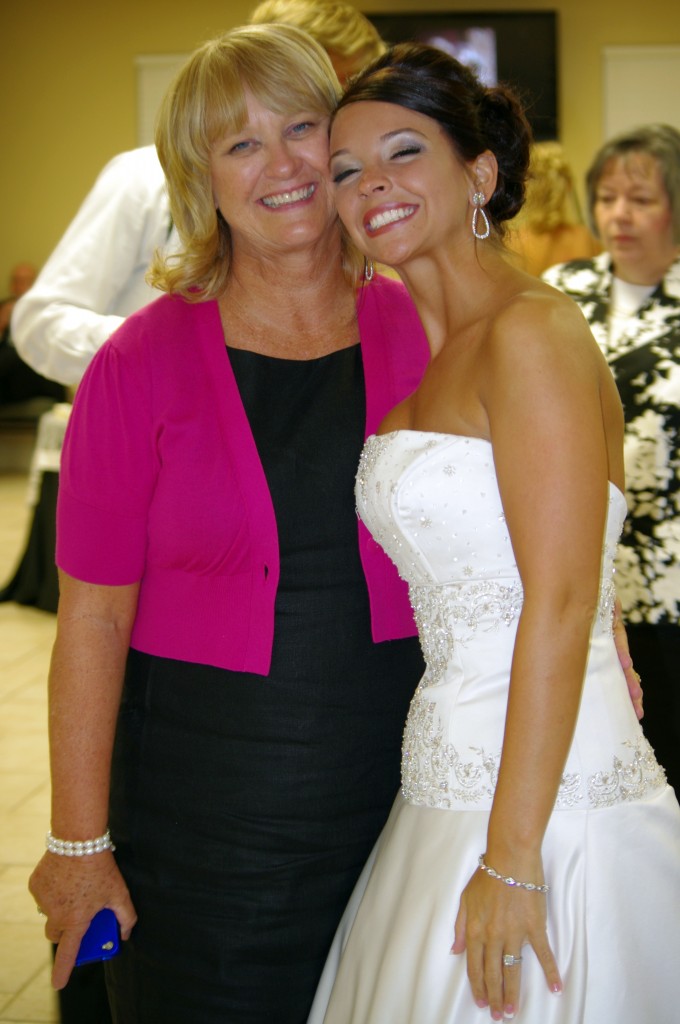 It was a time to reconnect for my cousins and I, and for our kids to begin making memories together.  My cousins' girls and Tia all lined up for the tossing of the bouquet.  Emerson, my cousin Sean's daughter, ended up catching it, much to her delight.  Girl shrieks abounded.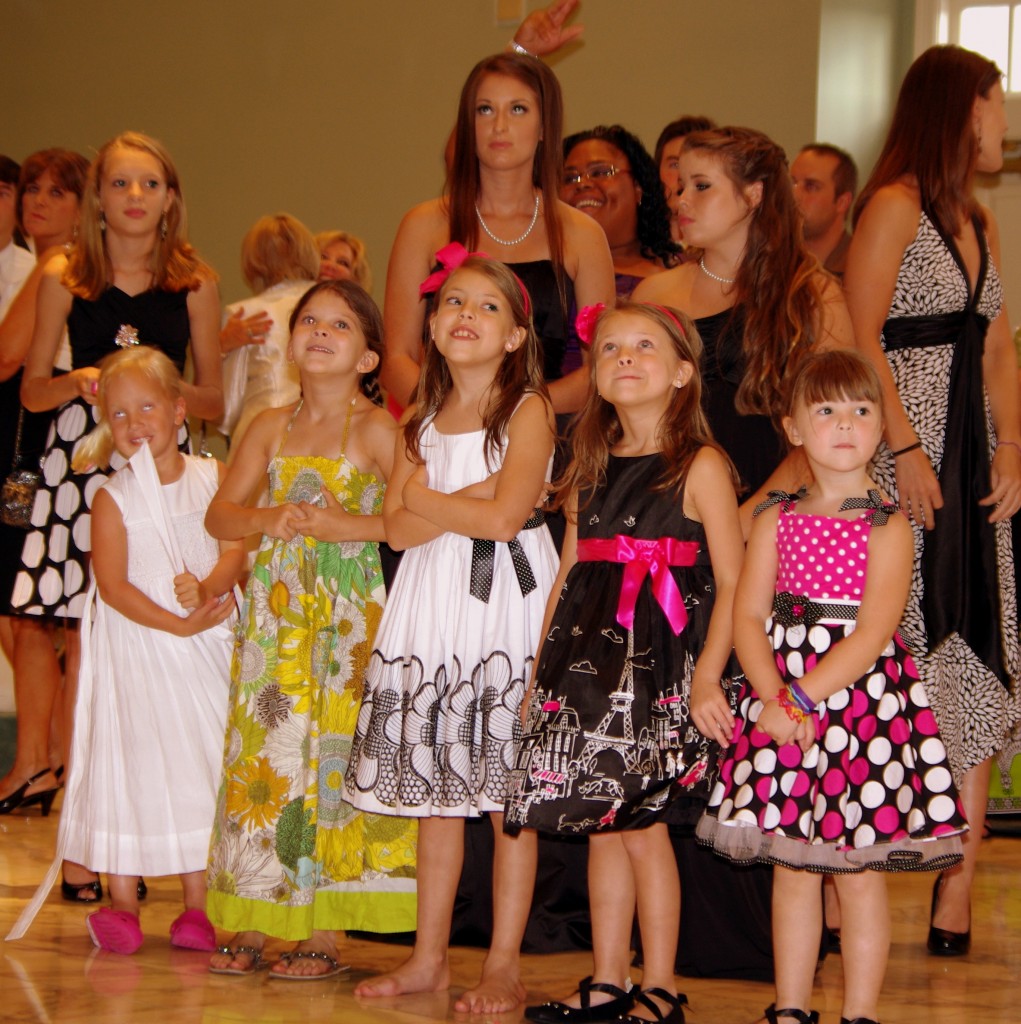 Look closely everyone – this could quite possibly be the future President and First Lady of the United States.
It was the perfect end to our vacation.  Now we're home and it's back to reality.  I went to the store this morning and gave them my right arm and right leg for groceries and school supplies.  The house appears to have been hit by a tornado and it smells quite a bit like rotten dog.
*sigh*
To be a newlywed again.