Part of my Craig's List money went toward a minor room redecoration.  I never liked the bedding I bought for our king size bed a couple of years ago and last year when we recevied our new furniture it just accented the ugliness of our bedding.  So I bought new bedding.
Here's the thing – I don't have a decorator's bone in my body.  Which makes the fact that I recently started freelancing for a decorator's blog slightly humorous, wouldn't you say?  The fact is, I just don't know how to put together a room.  I don't know what looks good where, how to hang photos, what pieces to use for accents – it's just not my strong suit.  So given that knowledge, I'm pretty proud of the minor changes I made to our bedroom.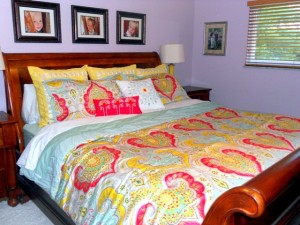 Obviously, finding the right bedding was my first goal.  As soon as I saw this bedding online, I fell in love with it.  I ordered it two months ago and it just arrived yesterday due to back order issues.  Just in time for my birthday.  Yes, I am 29 AGAIN today.  Lee seems to luck out on birthday gifts wouldn't you say?  Last year our furniture happened to arrive the day before my birthday as well. 
So here we are, one year later, and my bed is finally outfitted properly.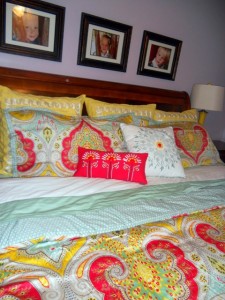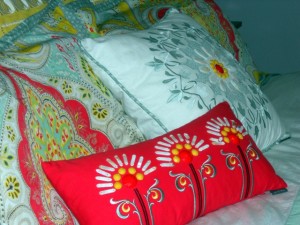 I also bought new side table lamps since our old ones didn't match and were not even remotely cute.  Behold, the glory of a cute side table lamp:
Many thanks to HomeGoods for being the perfect place for non-decorators like me to shop.  And naturally we needed a few accents in the room to pull it all together.  Naturally.
Lee's not overly crazy about the urn.  "It's weird," he keeps saying.  "What's the purpose?"  And I'm all, "Dude, you obviously know nothing about decorating a room…"
Weird urn aside, I like how things are coming together in there.  I still need to figure out what to do in one naked corner and I need to re-hang a few pictures that don't look right and, eventually, I'd like to repaint the walls.  But what color?  Those are the types of decisions that stress me out.
For now, however, I'm going to rest my head on some cute pillows and let out a sigh of accomplishment because I conquered my fear of redecorating a room!
Now if I could only get my husband to take the suitcases down to the basement as they are totally messing with my Feng Shui.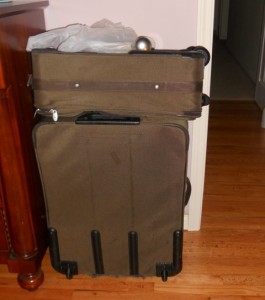 I feel like I'm living in an episode of Everybody Loves Raymond.
All photos were taken with my new point and shoot, courtesy of my parents.  I love my Pentax and the quality of pictures it takes, but the thing is a mammoth and, to be honest, I wasn't crazy about hauling it around the Zoo with me.  It made me nervous.  So I'm excited to have a smaller camera that I can stick in my pocket.  Thanks Mom and Dad.