We've had a beautiful Indian Summer this past week, but alas, I know it is soon to draw to a close.  My hydrangea bushes still have some beautiful blooms on them and rather than see them shrivel up in the coming cold and rain, I decided to enjoy them just a little bit longer:
-My sister-in-law, Becke', has just finished her first book and it's amazing!  It's called Testament Focused and it combines her love of God's Word with her love of photography.  It would make a great Christmas gift.  You can preview the book here.  I highly, highly recommend it.  And, bonus, 100% of the profits from the first 25 books sold go to an amazing ministry called Soaring Wings Ranch. 
– I am participating in our church's Christmas musical called A Time for Christmas and it opens in just a few weeks.  It's a broadway style musical filled with singing, dancing and a whole lot of Christmas music!  It's been a pretty big commitment but I think it's going to be worth it as the play is really starting to come together.  Tickets went on sale this past Sunday.  You can purchase them here (just click on the link that says Purchase Tickets).  The show runs from Thursday, December 10-Sunday, December 13.  I would love it if you could come!  I'll be the one singing the high D and shattering all the glass in the room.  Good times…
– The Tooth Fairy made a second appearance in our home the other night after I pulled out Sloan's second wiggly tooth.  And, for the record, I don't like pulling teeth out of someone's mouth – even if that someone is my kid.  It's gross and it set off my gag reflexes big time.  Here he is sporting his large window.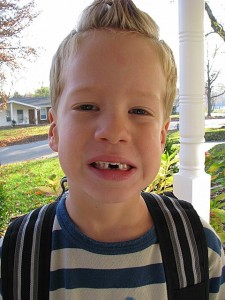 Notice the crooked smile?  Yeah…Guess who has massive amounts of orthodontic work in his future?!
– And finally, I got my hair colored yesterday and I was feeling brave.  So I told her to make me a brunette, and that she did! 
You only get to see the back of my head because I haven't washed or painted my face yet today and yes I'm vain enough to know not to put a scuzzy looking picture of myself on the interweb!
Happy Wednesday!