I need to tell you all something and it may be hard to hear. Maybe you should sit down for this. Wait – what's that? You're already sitting? Oh. Um…Great! That's really…super.
*sigh*
Look I didn't mean to be deceptive. You must believe me when I say that. I really truly to my core wanted to believe it was true, but the fact of the matter is…
I guess…I mean, what I'm trying to say is…
I don't always think minivans are hot.
I'M SO SORRY!
I know you're disappointed. I know that I have been steadily convincing all of you over the last couple of years that they are, indeed, a sexy means of transportation but-
Hmmm?
What now?
You didn't believe me?
You don't think minivans are hot either?!
*hangs head in shame*
I went to the salon yesterday with my hair piled in a bun on top of my head where it has remained for the past year and a half. I sat down dramatically in the chair and yanked out the ponytail holder, letting the golden orange locks spill onto my shoulders.
"I was trying to save money," I said pitifully as she gingerly combed through the brassy gold locks. "The box said my hair would turn a dark blonde."
"The box lied," she said.
"Well, I need you to fix it and I need you to give me a total hair makeover. Drastic. Edgy. Fun."
And then, friends, I uttered the words that revealed the deception of my heart.
"I do not want to look like I drive a minivan."
OH THE SHAME!
Forgive me?
She fixed my hair, then she chopped it off. Waaaaaaayyyyyy off. And she covered up the brass up top. Then we made it just a tiny bit more fun.
When I first mentioned to Lee that I wanted to put pink highlights in my hair, I told him that the only thing holding me back was the fact that I'm a mom who drives a minivan.
"I don't want the kids to end up taking me on Maury Povich someday under the unfortuante title MY MOM DOESN'T DRESS HER AGE!" I moaned.
But I have to tell you that as I strutted out to the parking lot, my van glinting in the afternoon sun, I suddenly felt a surge of confidence. I'm a minivan mom, yes. But I'm a minivan mom with pink in her hair and I happen to really love it. And suddenly I didn't feel so bad about being said minivan mom.
Even my van felt a bit edgier and more fun! With all the scratches running down the sides from the kids' bikes, I'd venture to say my van is down right punk.
Lest you should worry that my pink highlights are going to my head, I bid you fear not. I do retain the humbling necessity that will ever remind me of my minivan mom (and ever aging) status and that is the pair of the glasses that I have to wear now because my eyes are wearing down on me.
They do give me a respectable minivan mom look, though, don't they?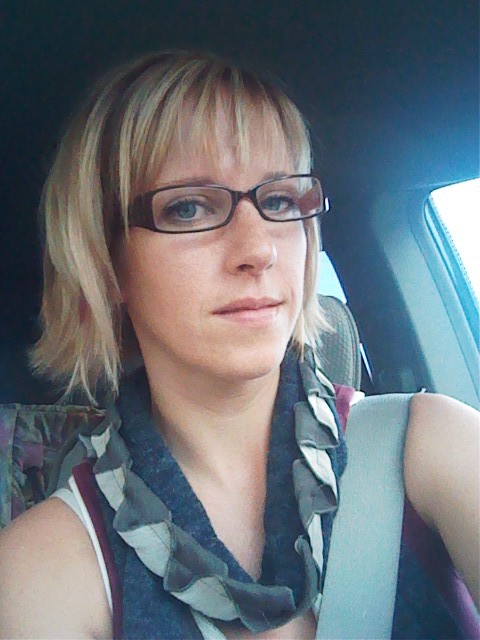 I'm sorry I let you down, dear readers, but I hereby pledge to continue the valiant fight to erase the stigma of the dreaded minivan. I will say it over and over until I believe it to my core.
Minivans are hot, minivans are hot, minivans are hot…
Say it with me?
Minivans are hot, minivans are hot, minivans are hot…