We knew early on that Tia had a knack for gymnastics. Remember when I walked outside and found her like this at three years old?
Shortly after taking this photo, we signed her up for her first gymnastics class. Within a year she was selected for a special developmental team and we slowly tip-toed our way into competitive gymnastics.
This has been one of our tougher parenting decisions, honestly. It's been hard to know how much to allow, how much to push, how much of her time to commit to a sport that she likely won't be able to stick with long term. We held her back for a long time, not pushing or allowing her to move too quickly for fear it would be too much.
This year it finally came to the point where moving her up in the sport was inevitable. We either needed to make the commitment or pull her from the sport and guide her in a different direction.
We decided to say yes.
Tia is currently training three days a week for a total of 11.5 hours. It's a big commitment for a seven year old and it isn't one we made lightly. I still have worries and concerns about the time it's taking, and yet…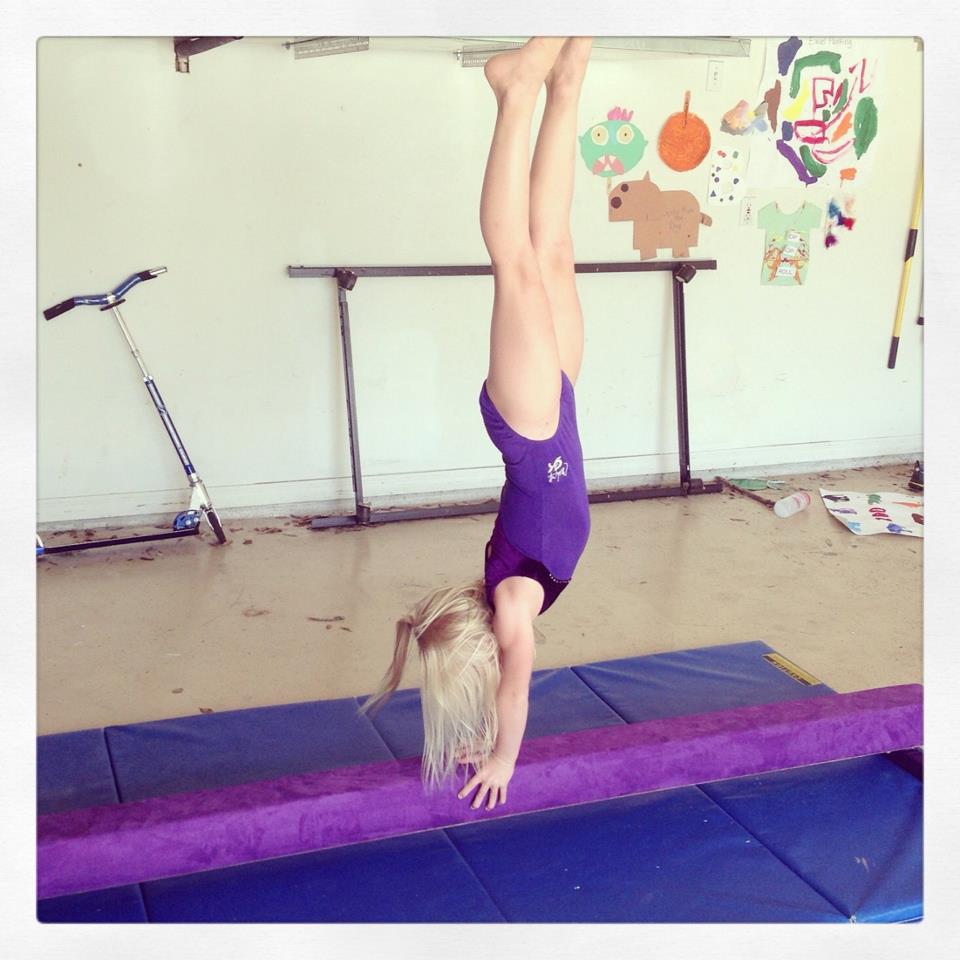 She really loves the sport. She loves the challenge of it and the thrill of getting a new skill. She thinks the beam is fun, which is just crazy talk if you ask me. And she runs so hard down the vault runway that she scares everyone but herself.
There are times when I drop her off for one of the four hour practices that I wonder why on Earth we are doing this. Is it foolish? Should she be at home with her family? Are we stealing her childhood? Will this affect her relationship with her brothers?
Then I laugh and shake my head. I think the time apart improves her relationship with her brothers. Also, we live in an amazing neighborhood full of kids, half of which spend most of their afternoons playing in my backyard.
All of them are boys.
There aren't a lot of little girls running around our neck of the woods beach, so gymnastics is, for Tia, a crucial time of socialization and girl time. It's where she's learning all those cute little girl chants and clapping games that every single girl has played since the beginning of ever.
Gymnastics is not only making her stronger and more confident – it's also giving her the perfect outlet to be a silly little girl and I really love that for her…even if the sassy hip pop makes me want to roll my eyes.
I have no idea how long she will want to stick with this sport. The time commitment is so intense and it makes for some really long days. But in the long run, we finally decided that whether she does it for a year or five, these hours in the gym won't be wasted. She can take the skills, both physical and mental, that she's learning on the blue mats and apply them to any other sport and experience in life.
Parenting is so hard. We are given these children for a short time and we begin to recognize talents and gifts and suddenly the pressure to develop those gifts, to point them in the direction that will best suit them, gets all heavy and freaky and you find yourself wondering if you're really helping them or if you are forever screwing them up.
Then you breathe in. You watch a beautiful vault, hear the crack of the bat, scream as the ball soars into the net, shriek when he runs the ball in for a touch down, and you breathe out again.
And when she walks out of the gym and collapses in a heap of tears because the workout was so hard that night, you wipe her tears and tell her to stick with it, because you know it's important to fight through the pain.
You also know that the day will come when she'll turn and look at you, holding a ribbon high with a joyous grin plastered across her face and in return you'll give a huge thumbs up and clap louder than anyone else at the accomplishment.
Those are the moments we wait for as parents. Those are the moments when we're glad we said yes.
What about you? Have you made big extracurricular commitments with your kids? How did you make the decision to commit your child's time to a single activity?