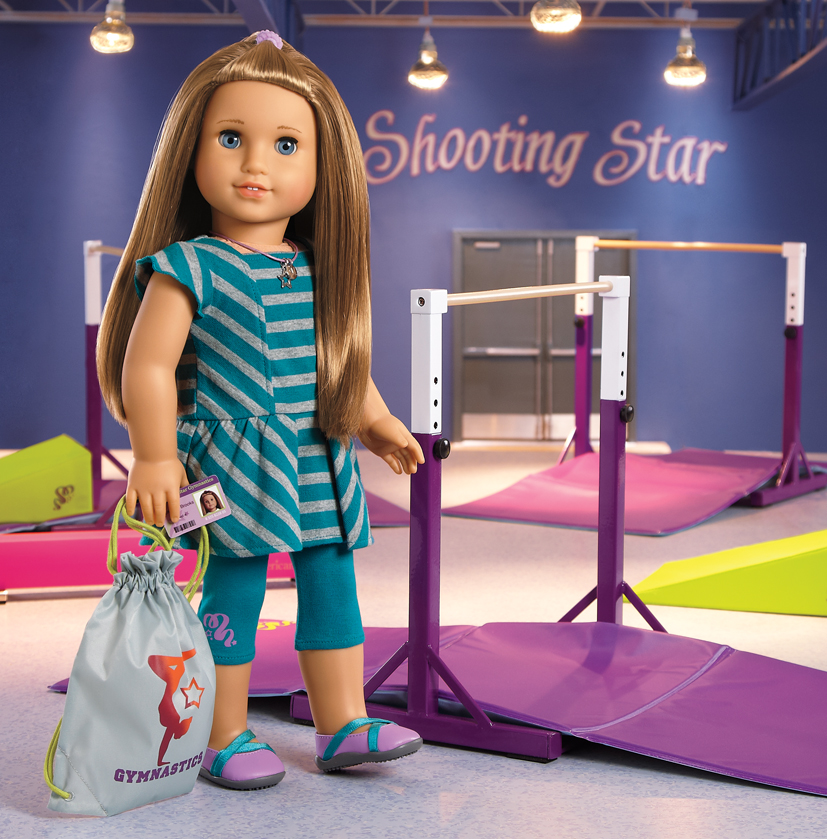 Did you know I'm a ninja? Seriously, I'm like the master at stealth. I'm so good that sometimes?
Sometimes I take myself by surprise.
For example, today's post about the recent launch of American Girl's newest Girl of the Year, McKenna comes right on the heels of my post about gymnastics and what an impact that sport has had on my life and continues to have through my daughter.
And it just so happens that McKenna's story is a gymnastics story.
See how I did that? You might be prone to think that I planned these two posts so that one followed the other – that I worked a bit of organizational magic. But if that's what you thought, you would be wrong. I placed these two posts side by side without even thinking about it.
Because I'm that good…
Ahem.
So American Girl has officially launched McKenna and I couldn't be more in love with this new doll. She's adorable (no surprise there) and her story is inspirational as you would only expect from American Girl. I can't wait to show Tia this new doll.
From American Girl: McKenna's story is about a young gymnast who overcomes her struggles with reading by using her strengths. Through tutoring, friendship, and hard work, McKenna gradually develops a renewed, deeper confidence in her abilities. She learns that confidence lies in balancing strengths with weaknesses and using what you know to master what you don't know. We hope that girls who read McKenna's stories discover that by focusing on their strengths they can achieve great things, whether it is in academics or any other activities they want to pursue.
McKenna's story is a chance for young girls to relate to the challenges and obstacles that come with passion and drive. McKenna loves her sport and excels in it, but when she struggles in another area of life, namely academics, she has to admit that she needs help. Mary Casanova, author of the two McKenna books, took some time to share a bit of her heart behind writing McKenna's story.
"There are many aspects to McKenna's story that I hope will inspire young girls," says Casanova. "When McKenna struggles with reading and faces academic challenges at school, she must admit that she needs help and also be willing to accept help to overcome her challenges. That's not an easy thing to do. It would be wonderful if success in one area, such as sports, equated success in every other area, such as academics. But life doesn't always work that way. That's why one of the life skills that is emphasized in the McKenna books is: finding balance."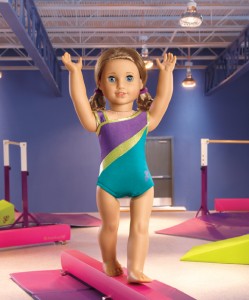 With this idea in mind, American Girl has partnered with Save the Children in support of their U.S. Literacy Program. By introducing a companion nonfiction book, Take the Challenge!, featuring various activities, games, and quizzes, American Girl strives to help girls explore their different strengths and abilities. And for every trophy a girl earns through the McKenna Take the Challenge online activity, American Girl is donating $.25 (up to a maximum of $50,000) to help Save the Children supply the tools children in grades K-8 need to increase their reading achievement and provide the guidance and support they need to grow as readers.
In addition to the Take the Challenge initiative,  American Girl will continue its partnership with Save the Children in May as part of their Summer Reading initiative, where they will be donating $1.00 (up to a maximum of $100,000) for every American Girl book purchased in the proprietary channels during the promotional time frame. More information on the initiative will be available on the American Girl website later this spring.
I'm not going to lie – American Girl dolls bring out the little girl in me. I may, or may not, have spent time brushing and fixing the hair of Tia's dolls by myself on more than one occasion. I mean, I'm not saying for sure, but there's a chance that that's happened.
More and more, though, I find myself impressed with the company itself and their heartfelt desire to encourage and build up little girls. If any of you were thinking about taking the plunge into American Girl, McKenna is a great place to start – particularly if you have a little girl who needs a little inspiration and encouragement. Visit American Girl.com for more information.
Disclaimer: I am working in conjunction with American Girl to promote the launch of the Girl of the Year, McKenna. In return for my help, I received a McKenna doll. I was not compensated for this post and all opinions expressed are my own. I am grateful to American Girl for the opportunity.