We leave for Italy in ten days.  Let me write that again in case you didn't catch it the first time.
TEN DAYS!!!!
Someone actually asked me a couple of weeks ago if I felt guilty spending the money on such a "lavish" trip when the economy is bad, so many are in need and on and on.  Um…no.  I don't "feel guilty."  I am proud and grateful, actually.  Proud of my marriage of ten years.  Grateful to a husband who loves me so much that he wants to do nice things for me and have an adventure with me.  Grateful that God has blessed us with the funds to be able to take this trip (and the wisdom to be wise with our money and budget accordingly so we could save what we needed over the course of this past year).
We are not wealthy people.  Not even close.  But we are blessed.  And we work really hard to be good stewards of those blessings.  We don't always do a great job at being good stewards.  Sometimes we (ahem…I) make frivolous, unnecessary purchases.  Sometimes we forget to tithe at church.  Not because we don't want to, but because we just…forget.  We are working on these things (and many other things!).  But we are careful with our money and we do try to use good judgement in how we spend it.
There is nothing I love more than being with my husband.  I think he's hilarious, fun, sweet, caring and easy on the eyes.  Why would I not want to see the world with this man?!  I can't wait to spend ten days alone with him, exploring and making memories to last a lifetime.  Memories that we will look back on in fifty years (God willing) and laugh with fondness of the days when we were able to travel the world without a box of depends and a walker…
We won't regreat doing this in fifty years.  We won't regret it ten days from now when we step on that plane.  And I have a couple of photos to prove why.
One of the first places we will drive through is Lake Como, Italy:
From there we'll be driving through southern Switzerland into Austria.  We're planning on heading to Salzberg, although we have since found this gem of a town and are now contemplating skipping Salzberg, or at least just spending less time there, so we can have more time here: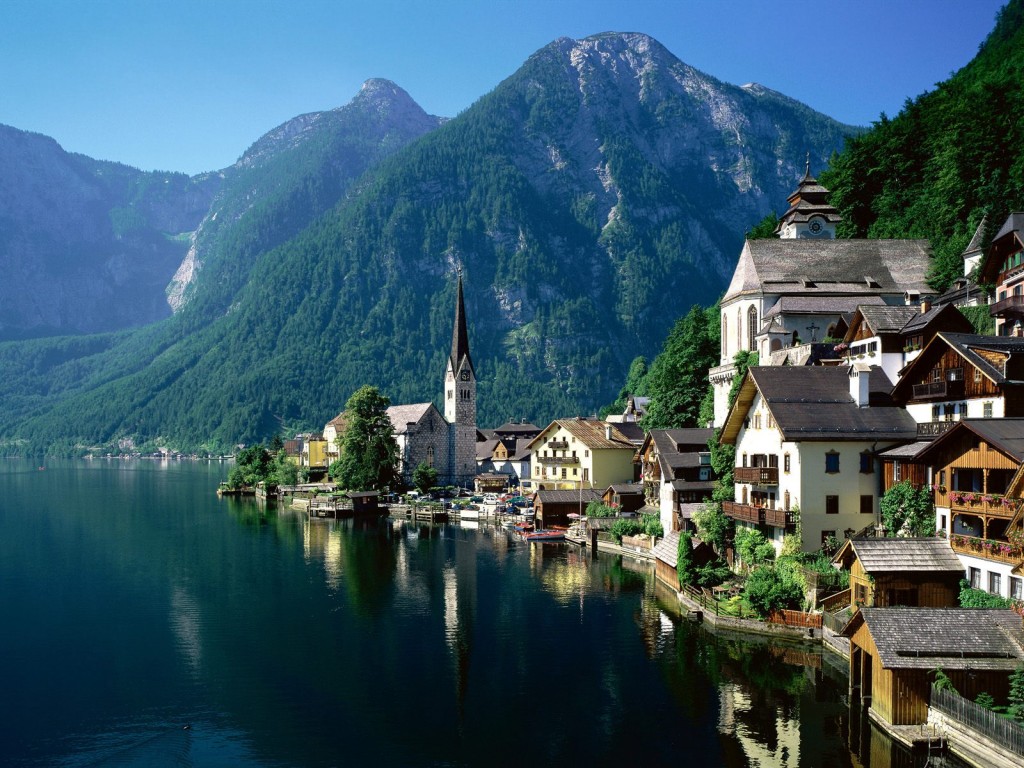 Hallstatt, Austria.  Did your heart just skip a beat?  Because mine does every time I look at this photo.  I want this very shot on my own camera.  The hair on my arms is literally standing up right now.  Isn't God's creation magnificent?!
From Austria, we plan to scoot down to Italy where we will spend four days in Tuscany at a gorgeous resort like this (we're waiting on confirmation that we will be able to stay here):
We plan on tooling around Tuscany visiting Florence, Sienna, Montepulciano and wherever else the apartment owners tell us to go.  Just me and my man.  Why would I feel guilty about that? 
I will tell you what I do feel…a little nervous.  If I think about us being gone for ten days, driving through foreign countries, too long, I start to panic a little.  What if something happens to us?  What if something happens to one of the kids and we're so far away.  What if, what if, what if???
So I try not to think about it.  Because the fact of the matter is, something could happen to one of us at the end of the street.  I can't live my life in fear of the what if's.  I can think about them and I can even panic momentarily, but then I need to move on and trust that the God of the Universe is in total control.  Our children will be in the loving hands of all four of their grandparents.  They will probably be spoiled mercilessly.  They will likely be watched closer than they are when I'm home.  You know…because I encourage them to play in the street and juggle knives.
I'm kidding.  I never encourage them to play in the street.
And I am praying with full trust and belief that my God will answer my prayer, that Lee and I will be kept safe and we will be reunited with our children as a stronger, more united front in our marriage and parenting.  I think this trip will make us better parents and better partners.  So no, I don't feel guilty about leaving for ten days to celebrate my marriage. 
I do feel fleeting moments where I'm quite certain I could dissovle into a massive freak out.
But mostly I'm just so excited it's kind of hard to sleep.
Not that hard, though. 
ZZZZZZZZZZZZZZZZZZZZZZZZZZZZZZZZZZZZZZZZZZZZZZZZZZZZZZZZZZZZZZZZ
Post edit #1: I wrote this last night when I was wiped out from a fun but busy weekend.  However, when Lee and I went to bed we started talking about the trip and got so excited we couldn't fall asleep.  So Lee got up and searched the internet for more places to go and things to see while I tossed and turned, imagining all the fun we're going to have.  So it turns out we really are so excited we can't sleep.
Post edit #2: I had the wrong date in my head when I wrote this.  We're actually leaving in eleven days.  Whic isn't quite as thrilling as leaving in TEN days.  Re-read this tomorrow and I won't be a liar…