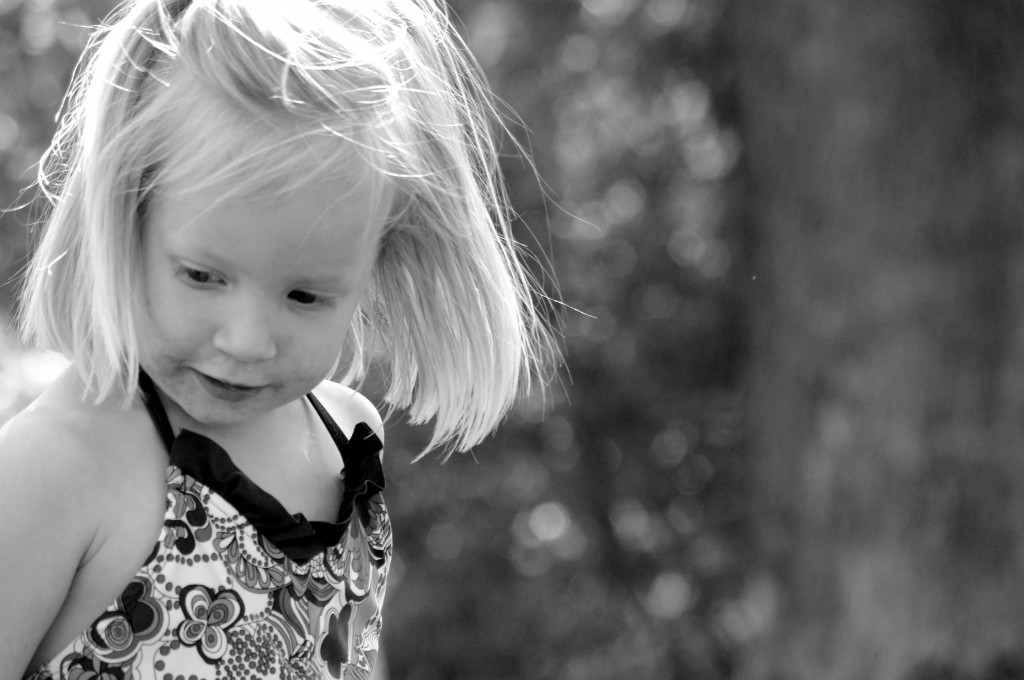 An iron will combined with pure determination make her beauty a little tougher to penetrate.  Life ebbs and flows under her watchful eye and she pours forth emotion only when unaware that anyone is watching.  Fierce love and sheer delight dance in her eyes, though, and it's here that her tough exterior shows weakness.  The best kind of weakness.
Compassion.
Her white blonde strands dance in the wind and her baby blues swim with concern.  Her brother has just been punctured by a catfish – his first fishing wound.  As blood seeps and he cries, she makes her move unaware of my observance.  She slips an arm around his shoulder and squeezes tight.  Concern.  Fear.  Pain.
She feels it all.
She feels my watchful eye and turns to look at me. I nod, showing as little emotion as I can and for a moment, I see her compassion falter. But a maturity is setting in – one that hasn't been there before. She is five and a half now. She reminds us every day.
What I see is more than an age, though. It's God. It's a given nature settling in, begging to be watered and fed. She is seeking and questioning. Who is God? What is Grace? What did Jesus do for me? She asks and I answer. Then we wait.
"I want to know Jesus," she says from the backseat. "But I'm not ready yet." And that is okay. We will let her wait and question and seek, because the time is coming when faith will call and she will make it hers. But it will be in the time that feels right to her. She would have it no other way.
I would have it no other way.
He would have it no other way.
Her younger brother cries. In a fit of laughter he took the corner too fast and head met wall with force. He wails and I look down. Her hand on his ankle and tears in her eyes. She looks entirely surprised by this reaction. Empathy has never been her first reaction. But lately…she's changing.
"I don't know why I'm cwying," she says, her eyes bright.
Compassion.
I say the word to her. Over and over we discuss it. Compassion. I tell her every day now. "You are compassionate. You care. And that's a good thing." She needs to know. Because by nature, her independence prefers distance. She likes control and predictability. But compassion…it is unpredictable. You don't know when it will strike and the tears will flow. Compassion requires surrender.
Late in the evening as a storm meanders off in the distance and the clouds paint the sky in a Master Tapestry of shape and color, she and I walk hand in hand. "Do you want to call her?" I ask. She has been talking about her friend Noelle for several days. I hear the ache in her voice. The tender age of five has not tempered her longing for companionship. She misses her friend.
"No," she says and shakes her head hard. This is her sign. She doesn't want to talk. She doesn't want to process. The tough exterior is up. We return to the condo and I watch her move.
"Tia. Why don't you want to call Noelle?" I ask, when the bustling movement of masculinity dashes to another room and we two are left alone. She looks at the floor, then at me. Again her eyes are full and bright and sad. She shrugs. She won't talk because the emotion threatens and wavers and her first reaction is to fight for control.
"Are you afraid that hearing her voice will make you sad?" I ask. And she crumbles. We lay on the bed and weep together. Me for her…and for myself. I miss them too. The friends and loved ones. I miss them. And so does she. She's only five, but also…she is five.
We spend some time talking about our friends. We remember all the fun we had with them and we rejoice in the blessing of dear, sweet friendships. Then we pray. She clutches to my chest, her hot tears dripping off her nose and together we plead for new friendships to fill the void. For me.
For her.
And one more time before the lights go out we discuss compassion. I stroke her silky soft hair and tell her again. It's okay to feel. It's okay to cry. It's okay to love. She possesses all of these emotions in full but letting them out is the trick. It's the magic.
It's what makes her so unique and wonderful.