BRAG ALERT! BRAG ALERT! BRAG ALERT! BRAG ALERT! BRAG ALERT! BRAG ALERT!
My husband is a freakishly good athlete. It's actually annoying, really, how good he is a sports. He can play pretty much any sport well and when I say well, I mean better than the average population.
In college, one of my favorite past times was rollerblading. Oftentimes, I went out with a bunch of guy friends and I prided myself in being able to at least keep up with them as we buzzed around the Baylor campus, leaping down flights of stairs and doing various tricks without helmets…
So when Lee and I were dating and he told me he had never been on roller blades, I jumped at the chance to take him because I figured finally something I could do better.
Within fifteen minutes on his roller blades he was jumping, turning circles, skating backwards and doing tricks I would never even dare to try.
Punk.
It is with a small ridiculously large amount of glee that I tell you, however, that my husband can't water ski to save his life. Image Gumby trying to get up on skis and that is about what Lee looks like. It is like a balm to my wounded pride to watch him water ski because I can do that better!
Anyway, the point is, my husband is an amazing athlete. He was a full ride scholarship collegiate basketball player. He was asked to play basketball professionally in Germany just before we got married. And we declined. It is our greatest regret to this day.
So it's no surprise that I have three kids who are all good little athletes, with the youngest being so much like his Dad it's a little eery. Landon is a natural with a ball. He always has been. Remember this video?
If you can get past my husband's glaring hotness you'll see a then 18 month old Landon dribbling the ball beautifully. Today, he can dribble with both hands while walking. Lee has him dribbling to the beat of music and many days, when he's decided he's had enough of the school thing, I can hear the basketball rhythmically bouncing outside…or inside.
And this Saturday, Landon's four year old dreams came true when he got to start basketball. It was just a YMCA league so we could start slow, but Landon didn't care. As we headed out Saturday morning, he confidently told us he was headed to the NBA finals.
Tell me, is there anything cuter than a four year old playing basketball?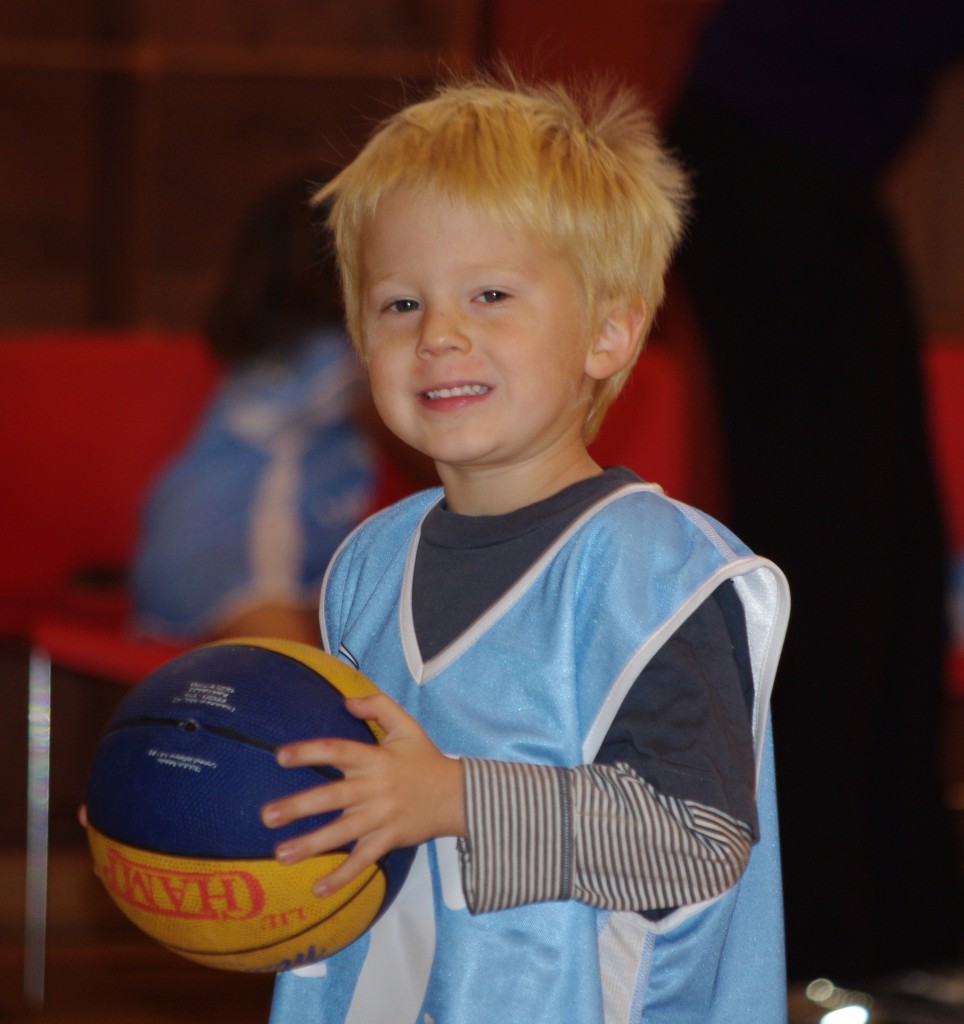 Landon isn't the only Stuart child to get their father's athleticism, though. Sloan is also a pretty amazing little athlete. While he enjoys basketball, the agression of that sport doesn't match his personality, but baseball and golf are right up his alley.
In fact, we had a pro golf player pull us aside last week and tell us to start getting Sloan lessons and enrolling him in tournaments because he's a natural with the golf club. "He could be great," the instructor told us and I believe it. I've always known Sloan was gifted in golf, but it was so nice to hear it affirmed by someone else.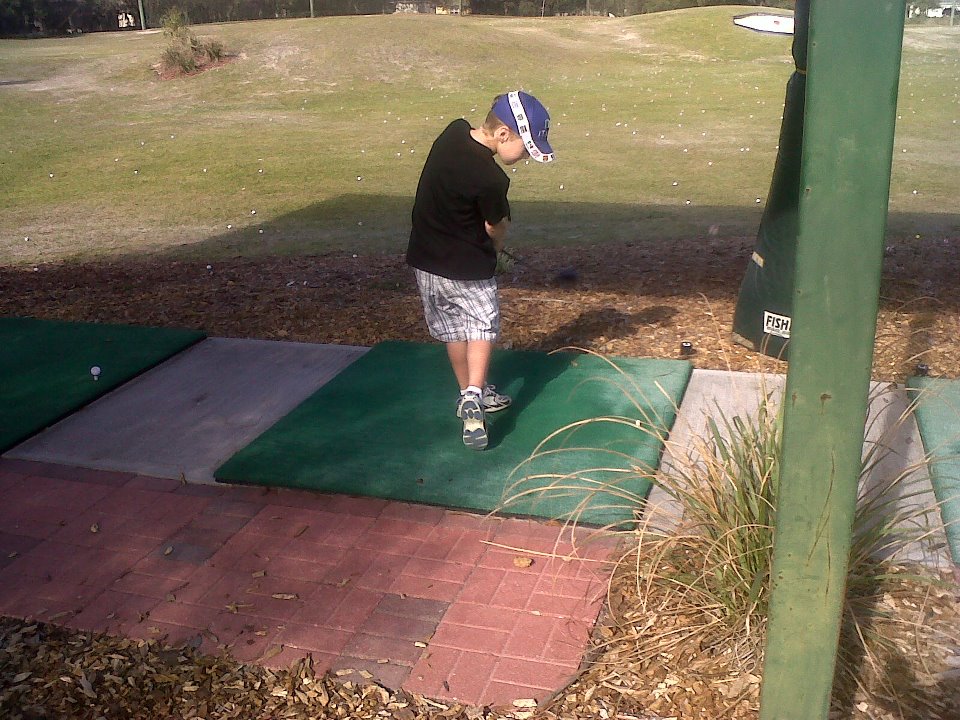 I don't know much about golf, but apparently this is a great swing. I have pictures of him doing this when he was three. The first time we took Sloan to the driving range, he had just turned three. Lee set down a golf and we watched as he hit ball after ball anywhere from 25 to 50 yards.
College ticket?
And of course, Tia loves gymnastics and while she isn't quite as coordinated with a ball, I could see her being a great soccer player. Mainly because I think she'll bowl over anyone who tries to take the ball from her. She may have inherited the full brunt of her Daddy's competitiveness.
Honestly, all three of my kids could grow up to be just average athletes. It doesn't matter to me whether they're great at sports or not. I want them to play what they love and love what they play. Sports are secondary. More than anything, though, I love the relationship that is growing between us and the kids as we bond over athletics. It's fun. We love to go out in the yard as a family and just play.
And this picture is worth far more than any word I've typed today. It communicates wholly and fully the love and admiration that my kids have for their Dad and there's a reason for that.
As good as Lee is as an athlete, he far more excels at being a father.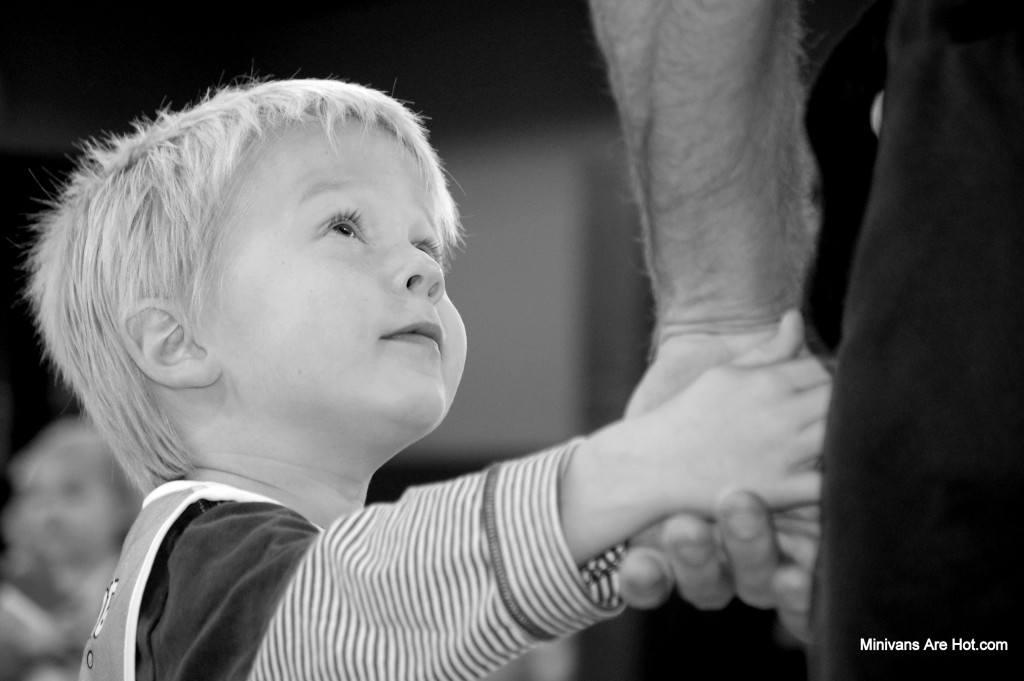 My children are blessed. (I might be, too).