If anyone ever tells you that sleeping in a tent is comfortable, go ahead and assume that person a liar. If they tell you that having the proper equipment is all that stands between you and a good night's sleep in a tent, kick them in the shins and flee.
We camped last weekend.
Our friends Kevin and Jenni let us borrow some of their camping gear for this trip, and I foolishly thought that having nice gear would make the entire experience okay. On the second night of no sleep, however, I may or may not have cursed nature and all it's components.
Here's how it went down…
We arrived at the campsite and began pitching our tent. Just as we tossed the rain shield over the top of the tent, the rain began to fall. Then the sky sobbed for 45 minutes. I think it was nature's way of trying to warn us of the consequences of camping in January, but we misinterpreted the storm as "memory making" and "character building."
The rain stopped, we finished setting up (including mopping up a small lake that had developed inside our tent). Super duper…
Then the temperature began to drop plummet. The #1 redeeming quality of camping absolutely must be the fire pit. A crackling fire on a cold night gives you the false sense that this camping thing was a pretty darn good idea.
It also helps if you're surrounded by good company. Kids running through the trees, breathless and pink cheeked, free from the confines of electronics, while adults laugh and joke adds a luster to the whole "living in the great outdoors" thing. This is the part of camping that I would boldly place under the column labeled FUN.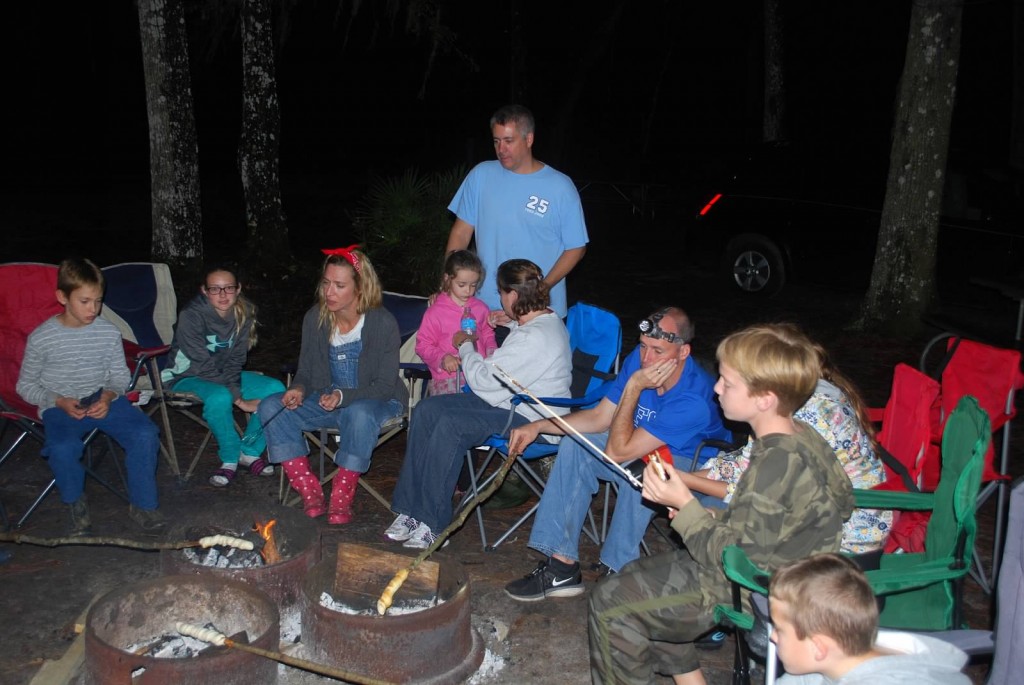 Then we went to bed.
Jenni had given me her sleeping bag, which just so happened to be named Big Agnes, along with a thermal pad to go under it. The thermal pad actually tucked into Big Agnes and kept me warm from underneath. When I climbed into Big Agnes that first night, I had high expectations. "I will heretofore sleep like a baby," I thought as I nestled in deep, and indeed, I quickly fell asleep that first night.
I woke up at 2:00 when a raccoon (one of satan's sidekicks, undoubtably) tossed a metal pan off the picnic table behind us. I heard his evil laugh as he ran back into the trees. It was at this point that the whole sleeping thing eluded me for the rest of the trip.
Lee slept next to me in a different bag – a bag not named Big Agnes, which I think may have been part of the problem. He also slept on a thermal pad that seemed to be made of tin foil, so every time he moved (which was all. night. long.) it sounded as though he were thrashing on a pile of crumply aluminum. After the demon raccoon woke us all up, Lee left the tent to go to the bathroom. It was at this point that I realize the temperature had fallen significantly. My body was toasty warm (thank you Big Agnes) but my eyelashes were icicles.
Lee came back to the tent and began the process of settling into his sleeping bag. My husband is 6'2″. When you zip him up into a thin body bag, there's bound to be a few issues with comfort. He pulled the zipper all the way up to his neck to get out of the cold, then I heard him thrashing. I looked over at him, and his gaze was fixed intently on the ceiling as he flopped around like a whale on a beach.
After a couple of minutes, I leaned over and hissed, "What the heck are you doing?! Can you please be quiet??" He looked at me as he continued to flop, his arms pinned to his sides, and the thermal tin foil under him shattering the silence of the campsite. A moment later he squirmed and tugged until his arm broke free of the bag and he thrust it in the air, his pants clutched firmly in his hand.
He looked at me as though he'd just won a prize. "It's hot in this bag!" he stage whispered.
Then we both started laughing so uncontrollably we couldn't breathe, and neither one of us slept the rest of the night. Nor did we sleep the second night, which was less comical than the first, but who's keeping score?
In all, it was an awesome weekend, despite the loss of two night's sleep. The kids had a blast, even "K," though she wanted to make sure we were definitely planning on returning home to our warm beds on that second day when the temps hovered around the high 30's and low 40's.
Will we tent camp again? Definitely. Camping is a bit like childbirth, I've decided. Give yourself enough space and time from the experience and you forget just enough of the pain and turmoil to want to do it again. As long as I've got Big Agnes, a cup of strong coffee, and my husband to laugh at, I'll be just fine…