His bent frame curved low over the chair in which he sat. His head was bald, but a photograph in the corner told me he once sported quite a mop of dark hair. His face bore a perpetual smile and his hands trembled mildly as he passed me a black and white photograph of a young woman dressed all in white.
"We were married 60 years, 4 months and 22 days before she passed away," he said and he offered a wide smile. "She was the prettiest girl I ever laid eyes on."
I was in a Waco nursing home on an afternoon service project. On my left hand, the engagement ring sparkled and shined and I wore it with such pride that some days I wondered if my heart would burst. As I sat and spoke with Abe, I couldn't take my eyes off of the picture of his wife, who had passed away only months earlier.
"Tell me about her," I said. When he spoke of his wife, his face split in two and his eyes sparkled. Love has a way of preserving youth, doesn't it? I could see the young man Abe had once been when his eyes danced in the memories.
"She had a lot of spunk," I remember him saying. "Did you know we were married for 60 years, 4 months and 22 days before she died?" I nodded.
"That's wonderful," I told him. "I am getting married in just a few months."
Leaning forward he looked deep in my eyes. "You enjoy it," he said very seriously. I nodded and he leaned back, satisfied and content. He was, quite possilby, the most joyful man I have ever had the honor of speaking with. "Did you know," he asked me again, "that we were married 60 years, 4 months and 22 days before my wife passed away?"
I wish I could remember all that Abe told me that day. He shared at length stories of his life with his beloved wife. Stories of the war, of raising children, of traveling and of growing old. And every other sentence was peppered with the fact that they had been married 60 years, 4 months and 22 days before she died.
When I walked out of that nursing home, I rushed to Lee's house and told him all about Abe. "That's what I want for us," I said, lacing my fingers through his. "I want to be married for 60 years, 4 months and 22 days…plus some!" And that became our mantra. I even had it engraved inside his wedding band, which he lost a year ago. Some day I'll replace it.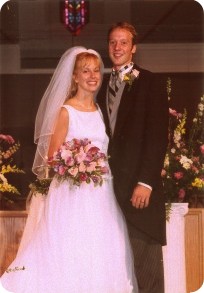 On our wedding day, Lee and I recited vows that we had written ourselves. In the vows we included the line, "I will never divorce you."
Later, someone made the comment that she thought we were irresponsible for using those words. "How do you know what will happen in the future? How can you say you'll never divorce someone?"
My first inclination was to react defensively. What do you think 'Til death do us part' means? Our vow was not meant to be a holier than thou approach to the institution of marriage. Rather, it was the acknowledgement that  marriage is hard and we were in for the fight.
Yesterday we marked twelve years since vowing to spend the next 60 years, 4 months, 22 days plus with one another. I can honestly say it's been the best twelve years I could have ever imagined. Not the easiest, but the best. Our path hasn't been smoother than anyone else's. We've had to fight for one another, but it's been more joy than fight and for that I'm so desperately grateful.
We have been through unemployment, the frustration and discouragement of wanting to be pregnant and not being able to get pregnant, the fear of nearly losing a child, two big moves, a house renovation (oy), the death of loved ones, loss of hair, thickening of waists and the list could go on and on. There have been times when I did not like him much and other times when I was not all that likeable. We are no different from any other couple on the planet.
But in the midst of it all there has been joy so deep that sometimes it takes my breath away. Lee makes me laugh harder than anyone else on this planet and there is no one on this Earth I would rather spend a day with than him. Marriage hasn't been easy, to be sure.
But it hasn't been that hard either.
I know how blessed we are. I have seen marriages fall apart and I know that sometimes divorce is the only option. I used to not think that. I used to believe that one should stick it out no matter what, but I know better now. I've seen people who were abused in their marriages, emotionally and physically. I've seen friends fight tooth and nail for their marriage only to realize that it would be healthier for everyone to just walk away. There is a lot of healing that can take place when someone leaves an unhealthy marriage. Sometimes walking away is necessary and I will never stand in judegement of a failed marriage.
I don't proclaim immunity to difficulty in our marriage. We are falliable human beings, Lee and I, entirely susceptible to temptation and selfishness and capable of breaking the vows we uttered a dozen years ago. But deep in my heart, I know that there is no one better suited for me than the man I stood before as a fresh faced, naive twenty-two year old.
And with that in mind, I will continue the fight and will keep carving a path toward forever by his side. I will fail, he will fail, but together I believe the two of us are in for quite a journey. One thing I know without a doubt, we're going to have a good time along the way.
We've got 48 years, 4 months and 22 days plus some to keep figuring this thing out.
Edited to add this link to my current favorite song. I love me some Ingrid Michaelson. Listen to it. Download it. Love it. Amen.