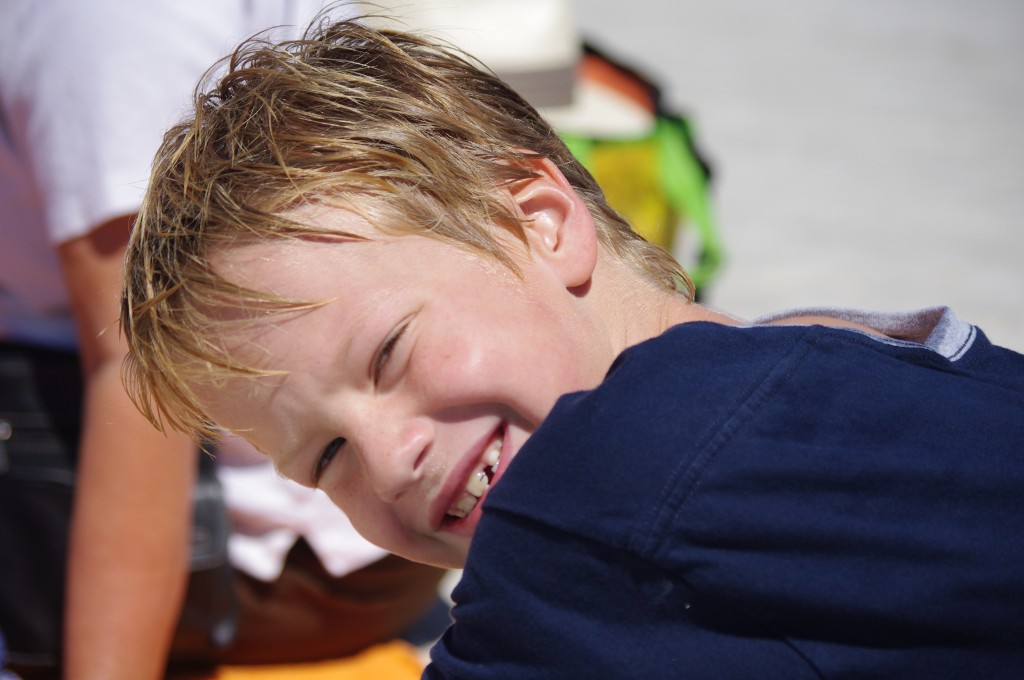 He runs out the door, all red-faced and sweaty and dashes into my arms, crumbling into a heap of bitter sobs.  He who is almost to my neck still needs to be held and I realize that his size belies the fact that he is still no more than a little boy.
Our new neighborhood is teeming with boys, a posse of sweaty necked masculinity races down the street all afternoon.  My Tia, a rose among thorns, keeps up with little complaint, though I know she longs for a companion to sit on the rug in her purple room and play dolls with.
On any given afternoon, they gather in our backyard.  It is a football field, you know.  In fact, I believe my husband has promised Sloan a football birthday party, complete with striping the yard. 
Oy…
At one point, there were ten boys altogether, joined to tackle one another with max force and ample glee.  Sloan is sandwiched.  Most of the boys are 10-12 years old.  A couple are five and six.  Sloan stands the odd man out, eight years old and as tall as the bigger boys in stature, but lacking their experience and maturity.  It starts well, but then he misses the ball.
"Oh come on, dude!" they scream.  "You gotta catch those!"  He tosses the ball to them indignantly and presses on.  Then he's tackled, he fumbles and second by second he loses control of the game that's happening in his very own yard.  Finally the moment comes when he gets the ball and doesn't drop it.  He makes a mad dash toward the goal line only to be clobbered by an eleven year old screaming like a starved goblin.
It's at this moment that Sloan begins to reveal his age.
The tears and the anger are hard to suppress.  He swears off football forever, he declares his utter disdain for those boys and he sobs gut wrenching cries that break his Mama's heart.  I'm ready to go out and full on tackle the boys myself, my mom hackles fully bared.
But Lee just sits quietly and calmly as Sloan rants on and on.  Finally, when he's paused long enough to take a breath, Lee looks straight in his eyes.
"Are you ready to listen to me now?" he asks.
Sloan nods, his eyes shooting daggers and his cheeks flushed red.
"If you want to play with the big boys, son, you're gonna have to toughen up.  If you can't do that, then you just don't need to play ball with them."
And that's that.  Such simple wisdom from father to son.  It's much better than what I planned to say.  My monologue about everyone needing to respect one another and use kind words and not tackle too rough quickly escaped me and we all sat in silence for a few minutes.  Sloan's eyes filled with giant alligator tears and his chin quivered.
"But I don't like it when they're mean to me," he whimpered.
"I know," Lee answered.  "But you can't take it personally.  You have to get up, brush it off and get back in the game.  That's the only way you're going to get better."
We left for dinner with Sloan still holding firm that he would never again play football but a seed had been planted inside the heart of my stubborn boy.
Watching my child grow and face disappointment is painful.  But it's entirely inevitable and it's only going to get worse as he grows older.  There is always going to be someone who is better, someone who is bigger, someone faster and stronger and smarter and…
Teaching our young ones to handle disappointment with grace is a beautiful challenge.  Letting them spread their wings and fall to the ground is extra hard on Mama Birds.  If I had my way, I'd be cradling him still, singing Disney songs and stroking his hair.
Lovely.
But with each day, he pulls away from me just a little bit more.  He challenges me harder, cuddles less and fits on my lap like a Great Dane, all spindly knees and elbows spilling this way and that.  My job now is to step back a bit and push him toward his dad more and more.  I take the back burner as the training toward manhood takes place.
Of course, I'm always ready with a cookie and a fierce hug should life's knocks come a little too hard and fast.  But once the tears are dried and the hurt subsides, it's time to push him back on the field and let him try to stand on his own two feet.
All I can do is watch and pray that the seeds of wisdom that have been planted begin to take root and sprout a man of character.
Whether he can play football is utterly beside the point.