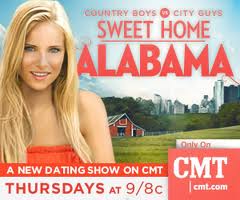 We don't watch a lot of television these days.  There isn't time for it and, honestly, there is very little reason to.  When we get into our house we won't even hook cable up and I don't think anyone will miss it.
In the mornings, the kids enjoy Animal Planet. Steve the Crocodile Hunter makes us all laugh…and cringe a little.  In the evenings, every once in awhile, we turn on re-runs of Extreme Makeover: Home Edition. It makes us all cry.  Tonight, as the show ended, the network began airing a preview of the next show to air.
Not the adorable Resse Witherspoon movie.  No, no.  This was yet another ridiculous time suck of a reality show about a group of over bleached, over tanned, under dressed girls from (I can only assume) Alabama.  I immediately changed the channel.  Little House on the Prairie – the only insanely pure show still played on television, although sadly the commercials are so horrible that I had to keep changing the channel to the Catholic Reading Hour every time the show took a break.
Ha!
"Mom, why can't we watch that?" Sloan asked as I muttered under my breath.
"Because there's no reason to watch a show about a  bunch of bimbo's," I replied.  "I'm not raising a bimbo.  I'm raising a strong, confident girl who doesn't think that life revolves around boys and spray tans."
And I mean it.
This is not meant to offend, but here's the thing.  I loathe reality TV.  Loathe it.  *hear me snarl* Outside of Extreme Makeover: Home Edition (which even the excess of that show gets on my nerves after awhile…because I am, apparently, a robot), I can't stand a single reality show.  They make me bonkers.  Nicole said it a couple of weeks ago and I will reiterate the same point – everything that's wrong with our society is showcased in reality TV. Everything.  And we put it on display for the whole world to see.
Is it any wonder America has lost so much respect in the world?
Jersey Shore. Real Housewives of Such and Such (AAAAAAAAAAAAAAHHHHHHHHHHHHHHH – NOT REAL NOT REAL NOT REAL).  Sweet Home Alabama.  Russian Dolls (are you kidding me?).  Big Brother.  The Bachelor and it's spawn The Bachelorette.  I know, I may have just broken some hearts.  Unfortunately, this list of absurdity could go on and on.  And on.  And ooooooooonnnnnnn.
Selfishness, greed, hatred, lust, gluttony, deceit, anger, malice, jealousy, guilt and plain old stupidity – all of these highlighted for entertainment's sake.  And when I see a clip of a bleach blonde girl Valley Girl chatting into the camera I want to throw a shoe through the TV then take my daughter out and teach her how to be a real REAL woman.  I want to teach her to play sports and love people and respect herself and care for the hurting.  I want to tell her that life is more than boys and clothes and fame and notoriety.
I want my boys to know that what makes a woman beautiful is not the length of her skirt but the love she has and shows for others.  I want my boys to respect women more than the men on those shows respect them.  I want my daughter to respect herself more than those women respect themselves.
I have to check myself when I begin to rant on these shows.  Because the fact of the matter is this: I can disconnect cable and make sure my children are never subjected to the horror that is reality TV, but unless I'm modeling what it means to be a woman of grace, peace, love and maturity to my daughter, she will never know it.
If Lee doesn't model to the boys what it means to look like, act like and behave like a real man then they won't know.  If he isn't showing them how to respect women and how to love a wife, they won't know.  It doesn't matter what's on TV – our kids have to see it modeled from us first and foremost.  That's the real challenge.
That and making sure that none of that smut gets into our home.
*steps meekly off soap box and slides it back under the bed*
Ahem…