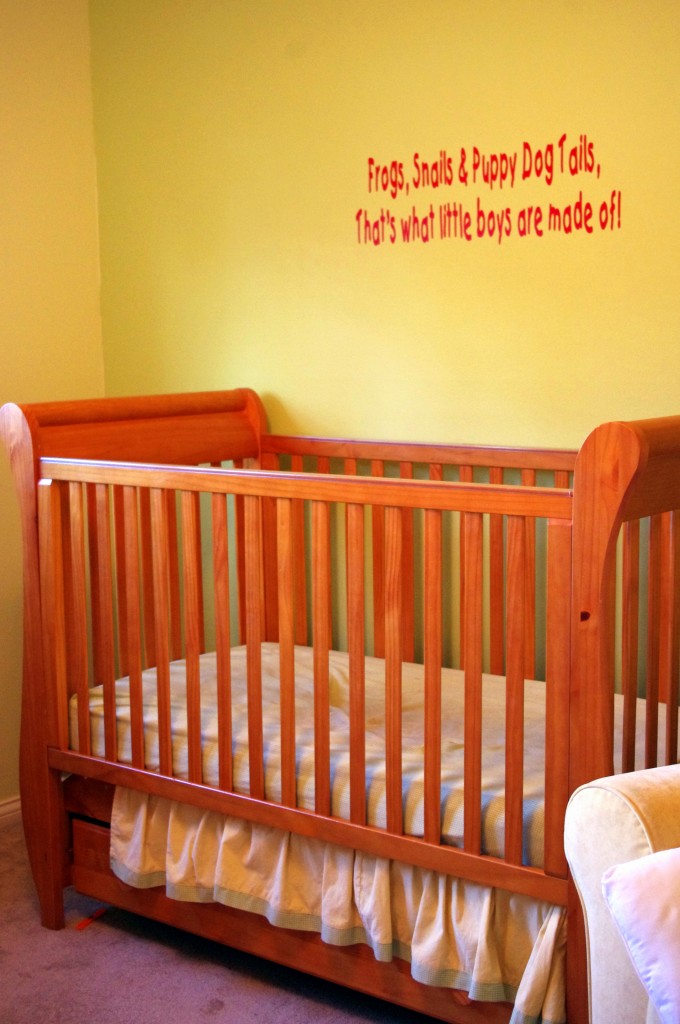 I've told you before…I'm a cryer.  Crier?  Yes…I think it's crier. 
I cry a lot.
I cry easily, I cry loudly, I cry ugly.  And if I try not to cry, I eventually burst like a dam spilling my ugly all over whoever is closest to me.  Sometimes I laugh to cover the cry, which tends to make the cry louder and even more embarrassing.  I blubbered throughout my entire wedding ceremony.
I don't know why!  Weddings are happy right? 
I'm off topic.  I'm reeling myself back in.  I said all of the above to lead into the fact that I cried this weekend.  I cried a lot, I cried hard and I cried ugly.  This is the part where you all need to feel sorry for Lee, the unintended target of all my crazy.
It started Thursday afternoon when Lee came home from work to find me wrapped in two blankets in front of the fire place trying to thaw out after a frigid morning at Purina Farms on Sloan's field trip.  The conversation went something like this:
Lee: "So what's the plan Saturday?"
Me: "Mom and Dad are keeping the kids overnight Friday night and are bringing them back Saturday around 3:00."
Lee: "Well, I forgot to tell you, but the elders are supposed to do XXXXXXXXXXXXXX on Saturday morning and we'd really like our wives to come along."
Me: "No!  I can't.  That's my one day off."
And then…the dam broke.  It was a face in hands, over the top, Sweet Mother of all that's Holy cry from the gut.  And here is why:
Every single second of my life right now is scheduled.  From the moment my feet hit the ground to the second my head hits the pillow I have things that need to be done and places I need to be.  Every single evening of the week is occupied and by Thursday afternoon I had been burning the candle at both ends for so long that I was dangerously close to burn out.
And I snapped.
Poor, sweet Lee.  He didn't even see it coming.  Again my fault.  I haven't been communicating because I didn't want to complain since I'm the one that committed to all of these responsibilities and I hadn't really communicated to him how desperately I needed a day to myself.  But being the Wonder Man that he is…and given that I freaked him out a bit with my impressive meltdown, he immediately told me not to worry about it, he'd go without me and youjuststayhomeandgetalittlerest.
Amen.
So I did and it was bliss.  I edited 30 pages of the book I'm working on, did six loads of laundry, got my house relatively cleaned up and never once changed out of my pajamas.  I didn't wipe anyone's behind or take out a single sippy cup.  By the time they all came home I was completely rejuvenated.
Until…
We decided to take down the crib this weekend and put Landon in a big bed.  Good grief, just writing that sentence brought tears to my eyes.  I took the mattress out of the crib while Lee went to search for a tool box and I just looked down into it and literally seven and a half years of baby floated through my head.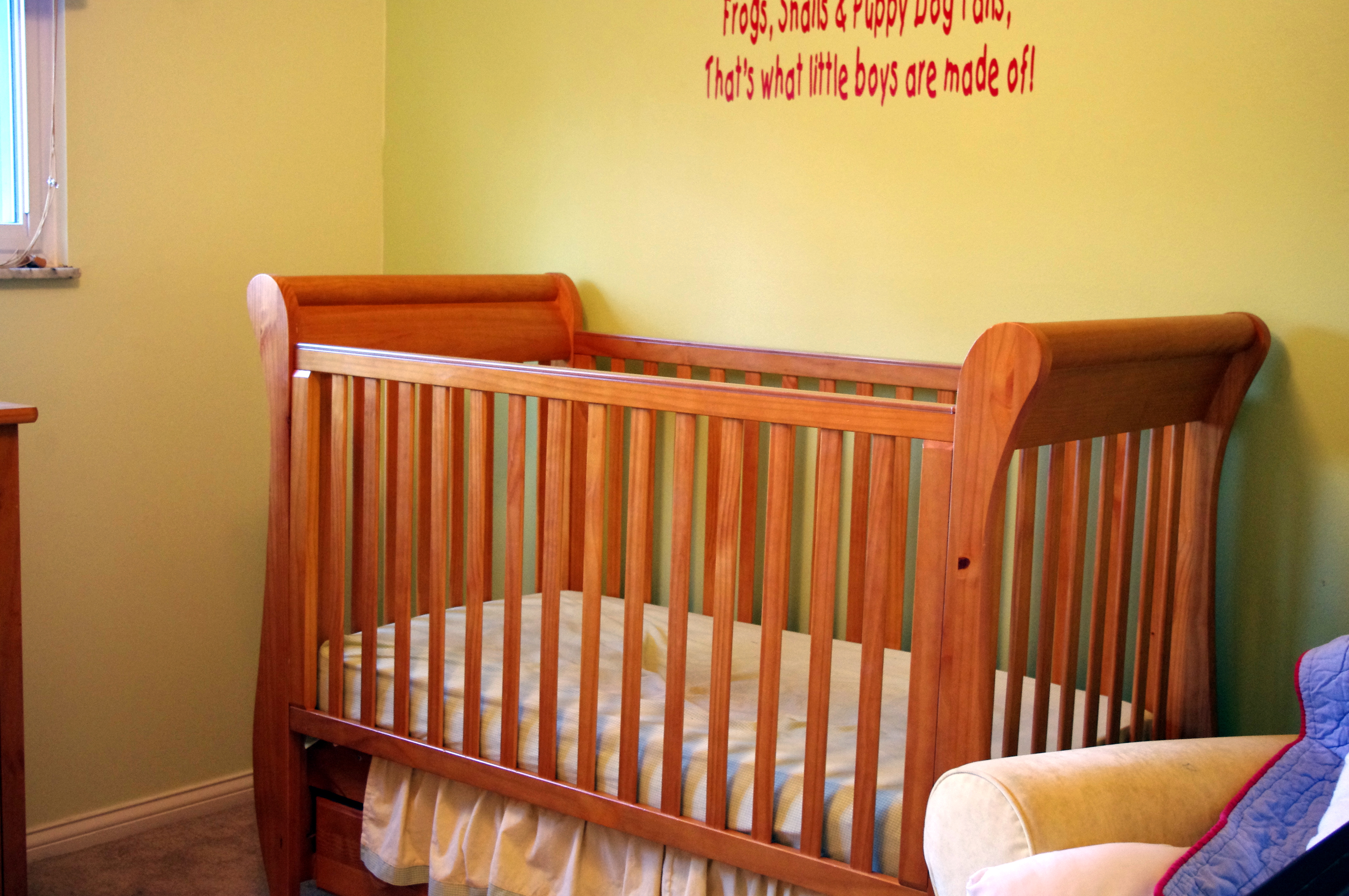 I remembered myself a brand new mom holding Sloan on the floor next to the crib because we had just moved in and I had no place else to sit.  I remembered walking in and seeing Sloan coo at his mobile hanging above the crib.  I remembered walking in to find a fat, happy little boy staring at me for two years until he was replaced in the crib by a tiny, precious surprise of a baby girl. 
I remembered buying new, girly bedding and excitedly putting it in the crib despite the fact that I had purchased "gender neutral" bedding the first time around.  I remembered staring at that sweet baby in pink for hours, her tiny little backside up in the air as she slept.  I remembered the sound of her climbing out of the crib before she was even two…
I remembered placing Landon in the crib and looking down at him, wondering if he really would be the last to sleep in it.  I remembered the long nights as I rocked with him in the chair next to the crib.  I remembered the dread I felt as I thought of disassembling the crib.
Then Lee came back in the room and sat down on the floor.  He stopped for a minute and looked around.  "This is sad," he said.
Cue breaking dam.
I tried to laugh it off like, Hahaha- isn't it so silly to cry over this?  But I couldn't laugh and I turned away so he wouldn't see my ugly cry face and I sobbed those deep, soul wrenching sobs.  Kind of like I'm doing right now.
Then Lee got all choked up, which made me cry more…and made me feel better.  I wasn't crazy to cry.  It is sad.  It was time to do this, for sure.  But it was also sad.  That season of life went by so quickly and I'm not ready for it to be over.  Of course, it might not be.  There is always the possibility that we'll have to pull the crib back out at some point…but for right now, that's not the case.  For right now, that crib is lying in the basement, a reminder that life is flying by in solitary blinks.
Cry with me, won't you?  It feels good.  And it hurts.
After a few moments of sobby sobs, I reigned myself in and handed Lee the screwdriver he needed.  Of course, my tears quickly turned to laughter…or at least mild chuckles…when we realized we weren't at all prepared with a big bed to move Landon into.  We have to round up box springs, which we hadn't even thought about when we decided to make this move. 
Oh and, incidentally, who in their right mind decides to move a child out of his crib the night of daylight savings?  I think we were so focused on ripping the bandaid off that we didn't think clearly and logically through what we were doing.  So for now, the boy sleeps on a mattress on the floor, which suits him just fine.
And me?  I have a feeling there will be a few more tears shed over this little milestone.  Ugly gopher tears.  Lee – prepare yourself.