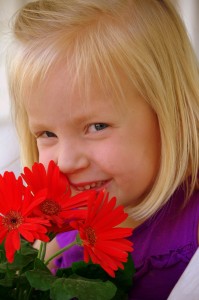 She is part girl, part Tazmanian Devil.  She is gregarious and passionate.  Equal parts sugar and spice, she really is everything nice.  And she is 100% a four year old, which means she lets loose with a few gems now and again.
Take, for instance, our trip to Target last week.  As we run into the store (and when I say run, I mean run.  This child rarely walks), she smacks right into one of those big, red, cement balls out front.  And at a decible only a preschooler can create exclaims, "Ow!  My penis!"
And the older couple in front of us turn in surprise then melt into laughter.  And I wonder if I could possibly dig a hole in the ground and bury myself there…
She's a happy girl who loves to dress up, but won't let a dress stop her from having fun.  In fact, I'm pretty certain you won't find a messier child on planet earth.  It's probably a good thing we don't have a little girl behind her, because I don't know that I have a single outfit without a stain on it.
She's also fearless.  She will climb up and jump off of anything.  Case in point, we were at a friends country home this weekend.  They have a swing chained to a tree branch and it swings out over a hill so when you're swinging forward, you're much higher in the air than you expect to be.
My kids love to jump off swings.  Sloan went first and in keeping with his thoughtful approach to life, he waited until he had slowed down a bit before jumping and rolling down the hill.  Tia went next.  In keeping with her fly by the seat approach to life, she jumped at the peak of her swing, which means that she was easily 6 feet in the air when she launched.  Maybe more.
Lee and I had heart attacks and both yelped.  She arced through the air as confident as could be and slammed to the ground.  I was certain she broke both ankles, but she hopped up, turned around and gave us a look like Dude!  I totally had that.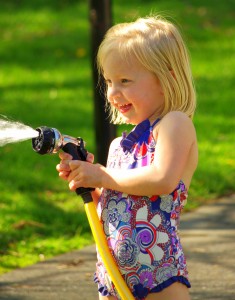 She takes delight in tormenting her brothers.  De-light.  Here she is spraying them with the hose.  Despite the fact that Landon was screaming his head off, she chased him across the yard, spraying and grinning like the Cheshere Cat.
Then she tried to spray me.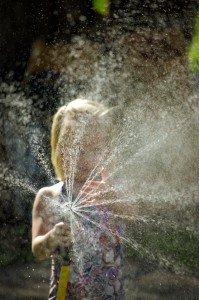 I caught her putting on my make-up last night.  She had on blue eye shadow, a LOT of blush and red lipstick.  She looked like a little Vegas Showgirl.  When I asked her what she was doing she gave me "the look" (the one that clearly says, Duh Mom…) and said, "I jus want to be woody (really) pitty for Daddy."
I caught her taking a swig out of the Infant Tylenol bottle yesterday.  Fun times.  She didn't get but a sip, but I made sure she understood how dangerous it was to drink medicine.  She shrugged her shoulders and said, "Yes Ma'am, I undewstand…but I still woody, woody fink I need medicine."
"Why do you need medicine?" I asked.
"I don't know," she said.  "I just fought if I said dat you would give me some."
She is my girl and, my goodness, I am madly in love with her.  Even if I am fairly certain she is conspiring to make sure I age at hyperspeed.