Well we didn't get the eight inches of snow they were predicting yesterday (it looks more like 3-4 inches to me) but it's still flurrying a bit out there so we'll see what happens.  The kids are enjoying their first ever snow day and right now are all piled up on the couch in their soggy pull ups and diapers watching Micky Mouse Clubhouse.
The weatherman says that the snowstorm is finished (but what does he know?) but our temperatures will be falling throughout the day.  Falling from 17 with a windchill of 1.  They're saying by midday we should have wind chills hovering somewhere around -15 to -20.  I told you the other day about my extreme hatred for cold weather.  It makes me all flustered and cantakerous.
To compound things, Lee is currently at the airport waiting on a flight to take him to Phoenix for a work meeting.  Phoenix…where it's warm.  (mutter, mutter, grumble, grumble)
So, like Ma Ingalls, the children and I shall power on.  We will survive our manless estate during these record low temperatures.  I will brave the weather so my kids can sled down the small hill in our front yard.  I will throw salt on the driveway and shovel away some of the snow.  I will churn the butter and bake corn bread from scratch…
Okay, I'll probably just rip open a box of Mac and Cheese.  I'm more of a modern day Ma.
And we will likely spend most of our day inside where I pray the children do not eat each other alive.  If you try to call later and I don't answer it's because I've locked myself in my bedroom and curled up in the fetal position.
Hopefully all our together time looks like this: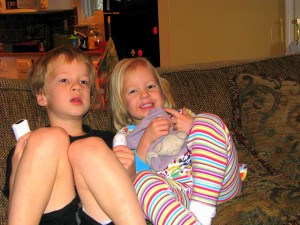 Happy and Gettin' Along:
We'll drink hot cocoa and eat the oatmeal cookies that Landon and I made yesterday:
Yes, we will enjoy this snowy morning and we will gather before a roaring fire when the wind chills dip to dangerously low levels.  We will read books and eat cookies and watch movies.
It may not be so bad after all.