*Update-Okay folks, you have to comment to win.  Even if you're not sure you want this, surely you know someone who would like to have it.  Click on the link below to preview the book, then please leave a comment.  Giveaways are more fun when you have several commentors to choose from!
This post is a sticky post.  It will remain at the top of the page until the contest ends.  To read updated posts simply scroll down.
I've been blogging for almost two years now and I've never before done a giveaway.  I've thought about it, but just haven't really gotten around to doing it.
But today changes as I am hosting my first giveaway.  And what will I be giving away you ask?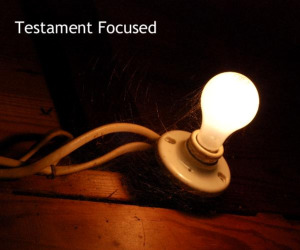 A copy of my sister-in-law Becke's new book, Testament Focused!  That's right – I've ordered a copy of the hardbound edition of the book and I plan on giving it away to one lucky reader.  But first, a little about the book.
Testament Focused is beautiful.  It's 72 pages of spectacular images, each with a corresponding Bible verse. Becke' has combined her love for photography, God's creation and God's Word into a coffee table style book.  This would make a great gift for Christmas or would be the perfect book to have sitting on your coffee table. And you could possibly have one for FREE! That's a value of over 50 dollars. Seriously, you guys are going to love it!
So, to enter simply leave me a comment telling me what a fantastic idea this is telling me how much you would love to own this book and you will be entered to win! 
Want to earn extra entries?  Great!  I'll tell you how: Leave a status update on Facebook announcing the contest, then come back and leave me a second comment telling me you did that and you will be entered again.  If you tweet about it, I'll count that as a third entry.  And if you announce it on your blog, leave a comment with the link and I will consider that an entry as well.  Oh so many ways to win!!
So leave a comment, then get to tweeting/facebooking/blogging for more entries.  I will use Random.org to pick a winner on Monday, November 23.