Wednesday nights are busy for us.  The kids have Awana's at church and Lee and I serve in the music ministry.  So it's always late when we get home on Wednesday and roll our sleepy babes into their beds.
And this morning was the first time we've ever overslept.  I rolled over at 7:15 this morning and for a brief moment thought about just going back to sleep and letting Sloan play hooky today.
But reason got the best of me and I dragged him out of bed around 7:30, clapped my hands several times, and managed to get him on the bus at 7:57 with hair and teeth brushed, and a tummy full of Cheerios.
Because I rock.
Of course, Landon is still in his soggy diaper and jammies, but one out of three ready to go isn't bad, eh?
The thing is, it's so hard to wake them up when they look like this: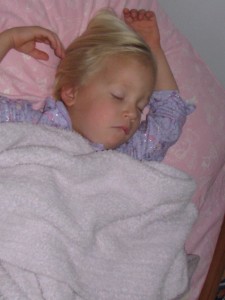 I couldn't even get a picture of Sloan because he was snuggled so deep into his covers that all I could see was a smattering if blonde hair splayed across his pillow.
So the day started a little hectic but the good news is, we're all well rested!  How was your morning?
A post I wrote about my family heritage went up on 5 Minutes for Mom yesterday.  Go check it out when you get the chance!