I am blessed.  I have been surrounded by wonderful men my entire life.  I've often thought that the reason that I'm just an okay writer and not a spectacular write is because I don't have daddy issues.  The greatest writer's all have so much angst, such heartache, and, often (not always, I know) they have severe daddy issues.
Not me.  And I'm okay with that.  Here are a few of the fathers in my life:
1.) My own father.  He's a man of God.  He loves my mom and alway
s has.  He loves me unconditionally.  He is there for me at the drop of a hat whenever I need anything.  He's my biggest supporter.
My dad is a great man.  He is extremely wise – more so than I think he knows.  He's funny, sometimes in a sick and twisted way, but funny nonetheless. 
A few years ago, Lee and I came home from a trip to the condo and were watching back the video we took.  While on the beach one day, my dad took the camera so we could all be in the video.  Suddenly, a very pretty girl in a very skimpy bikini filled our screen along with my dad's voice.  "Here you go, Lee," he said.  "A vacation memory just for you…" At which point my mom broke in, "Richard!" The screen jumps. "What?" my dad asks, all innocent like.  "You're supposed to be taping the baby." My dad laughs, "Oh yeah…" And the screen focuses on Sloan once more. HA!
My dad was a hands on dad.  I hardly remember a big occasion that he didn't attend.  I know there had to be some, because he travelled a bit when we were kids, but I don't ever remember a time when I felt let down or disappointed by dad.  And I'm grateful for that.
I love you dad.  Enjoy your new toy and I'll see you soon :).
 2.) My father-in-law, Herb.  A man who many people find intimidating but who I know is nothing but a big teddy bear.  Herb is also full of wisdom and I'm always grat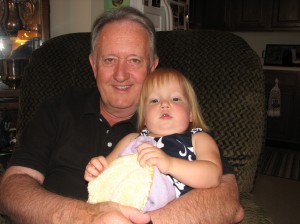 eful for the moments when we can sit and talk with him.
When I first met Herb, I was a 20 year old college kid who was just trying get in good with the family of the guy I had a crush on.  I fell equally in love with Lee's family.  I lived with his parents for the summer before my senior year of college.  I'm so grateful for those weeks I spent in their home as it gave me a true appreciateion for my future father-in-law.
I love you, Herb.  I'm grateful to you for the wisdom you impart to us as a couple and individually to Lee.  Have a great Father's Day!
3.) Last, but most certainly not least, I am thankful for my own dear husband – the father of my children.  A man who loves and supports me, who leads our family with the great wisdom that he gleaned from his father. 
Lee was created to be a dad.  He's just so good at it!  He's is a phenomenal father and it's evident in the way that his kids adore him.  He plays with them tirelessly, he reads to them, disciplines them, loves them and laughs with them.  He models Christ to them and teaches them of God's love.  He is a wonderful leader of our home and I pray that the kids all grow up to appreciate who their father is.
Here is short video of Lee in action.  The other night at bedtime, the kids wanted to read Puff the Magic Dragon, then they wanted to sing along to the CD.  Can you see why I love this man?