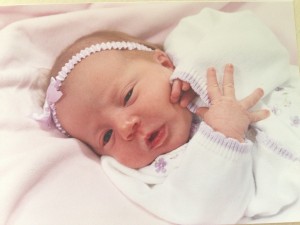 When Tia was nine days old, I took her to have pictures made. I wanted to go all out on her newborn pictures, so I naturally went to Picture People and paid $10 for 150 pictures of the exact same terrible shot. (I paid an extra 10 bucks to get 150 of a second shot because I felt like splurging.)
In my defense, digital pictures were just now beginning to take off. Lee and I had only gotten our first digital camera less than a year earlier. I still preferred a camera with actual film because…I don't know why. Because change is hard? And for all you young 'uns reading this blog who don't remember life without digital images, this is how fast technology can change the world. I also had a flip phone back then that I could never remember to keep charged and I didn't text because tapping out the alphabet was a torture greater than trying to nurse an infant in a crowded room.
In short, I am old enough to remember the good old days.
I have digressed mightily, though. This post isn't about technology, nor is it about the terrible pictures I got at Picture People. This post is about motherhood, obviously.
Back in those days (seven and a half years ago…feels like a lifetime), I did not yet have a minivan, I didn't blog and I only had one and a half kids. An infant only counts as half, that's how those census people are able to determine that the average American household has 2.5 children. Infants. They aren't full people until they can support their own body weight.
Sometimes I think back to those early days with little littles and I laugh at how difficult it all felt. Just getting up and out of the house felt like a momentous task each and every morning, and indeed it was. Try getting half a person ready while a two year old (who should really count as three people if we're being honest) terrorizes the house. Those days were hard. They were really hard.
The morning I took Tia and Sloan to Picture People for those awesome of awesome portraits, I did it all on my own. Lee was out of town (because his company had impeccable timing and adored sending him away for a week and a half every time I had a baby) and I was on my own. I got up extra early that morning. Actually, if I remember correctly, I just didn't go back to bed after the 4 am feeding. I took a shower, fixed my hair, put on make up (make up!), dressed two small children (one and a half, whatever…), changed diapers, fed said children breakfast, got them bundled up (February in St. Louis is cold in an evil, diabolical sort of way) and got out the door.
As I walked into the mall – the mall! – for our 9:00 appointment, I strolled confidently up to my mom. I had the car seat popped securely in the stroller and Sloan held tight to the side. I was rocking that motherhood gig. I felt like shouting LOOK AT ME, EVERYONE! SEE ALL MY AWESOME! BEHOLD, COME GAZE UP MY TOGETHERNESS AND MARVEL AT HOW EASY I MAKE THIS LOOK! I DID THIS ALL ON MY OWN! LOOK AT HOW GREAT I AM!
"You made it!" Mom cried. As if there was any doubt.
"Yep, and I got everything done! Look, I even got a shower!"
We stepped onto the escalator and as we did, I tripped slightly so I looked down to catch my balance.
I was still wearing my slippers. These were not slippers that looked like shoes, either. These were slippers that looked like slippers. I looked back up at my mom and she threw her head back and laughed.
"Well, if that's all you forgot, you did okay," she said with a grin.
Motherhood is exhausting and every season of child-rearing brings a new set of crazy. Sometimes the online world can make it seem like we all have it together. We're coiffed and showered. Our clothes are clean and our children are picture perfect. The world online can look like sunshine and rainbows, and for the exhausted Mama getting up at 4 am so she can get out of the house by 8:30, it can feel like the entire world has it more together than you.
Just don't forget that we're all wearing slippers in some way, shape or form. Raising kids isn't about having it all together, or looking put together, so don't give into the pressure, because honestly?
Slippers are so very, very comfortable.