Dear Peyton Manning,
I think you're great. I mean…well, truthfully, had I not married into a family full of sports nuts, I probably wouldn't know who you were. I'd likely have only a passing awareness of your name, but I would not be intimately aware of the details of your life, your big moves (Go Denver! Okay, I totally had to pause to go look that fact up and make sure I was right before hitting publish…) and your familial affinity for the game of football.
But my life involves a whole lot of Sports Center, so I do know these things. I know you're considered one of the greatest Quarterbacks of all time (at least, I think you are. Actually, I don't really know all that much at all…) Anyway, my point is this – you're really good. I know you are. But you might want to watch out, because this kid?
He just could de-throne you.
What's that?
Who am I?
Oh…I'm just this kid's Mom.
Yes…I know that makes me partial and that my opinion is completely biased and I seem to have very little true knowledge of the ins and outs of your sport but…
What? Why do I think he's out to take your spot as one of the greats?
Oh, you know…only because he threw four perfectly spiraled passes for four touchdowns in his first football game ever after only three practices, one of which he did mere seconds before being sacked.
Watch your back, Peyton. There's a new kid in town and he's got quite the swagger.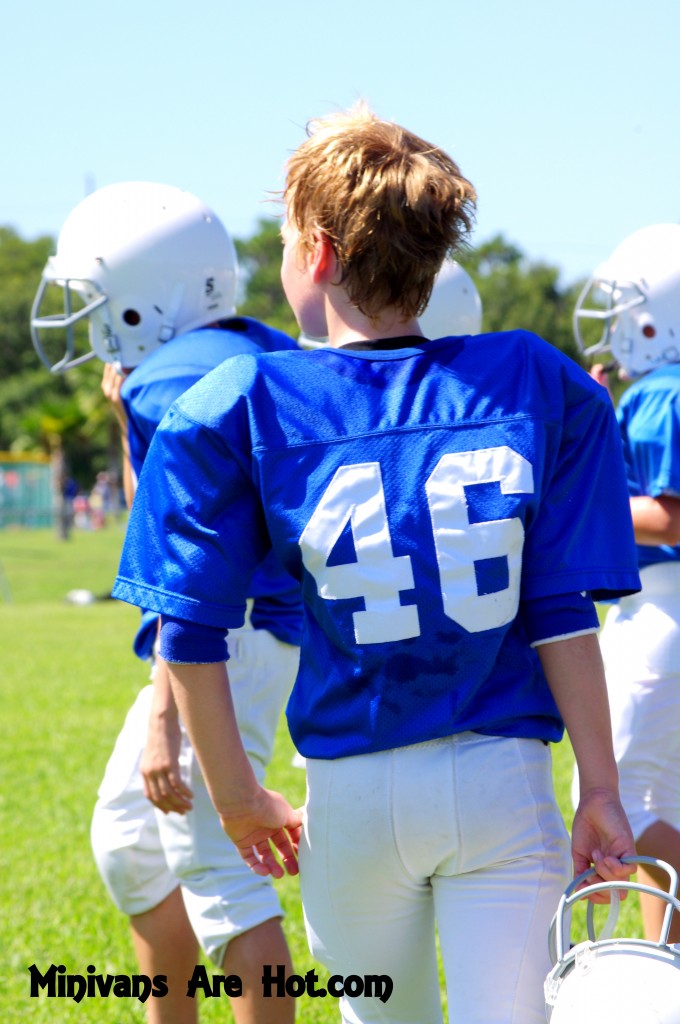 Oh and by the way…he also has a little brother who happens to be a sports prodigy so you might want to tell Eli to watch out, too. Today it's the Manning Brothers but give it twenty years…it just might become the Stuart Brothers.
In my totally and completely biased opinion…
PS – I used to think there was nothing cuter than a little boy in a baseball uniform. I was wrong. Little boys in football uniforms take the cake.
Do you have any budding little athletes in your house?