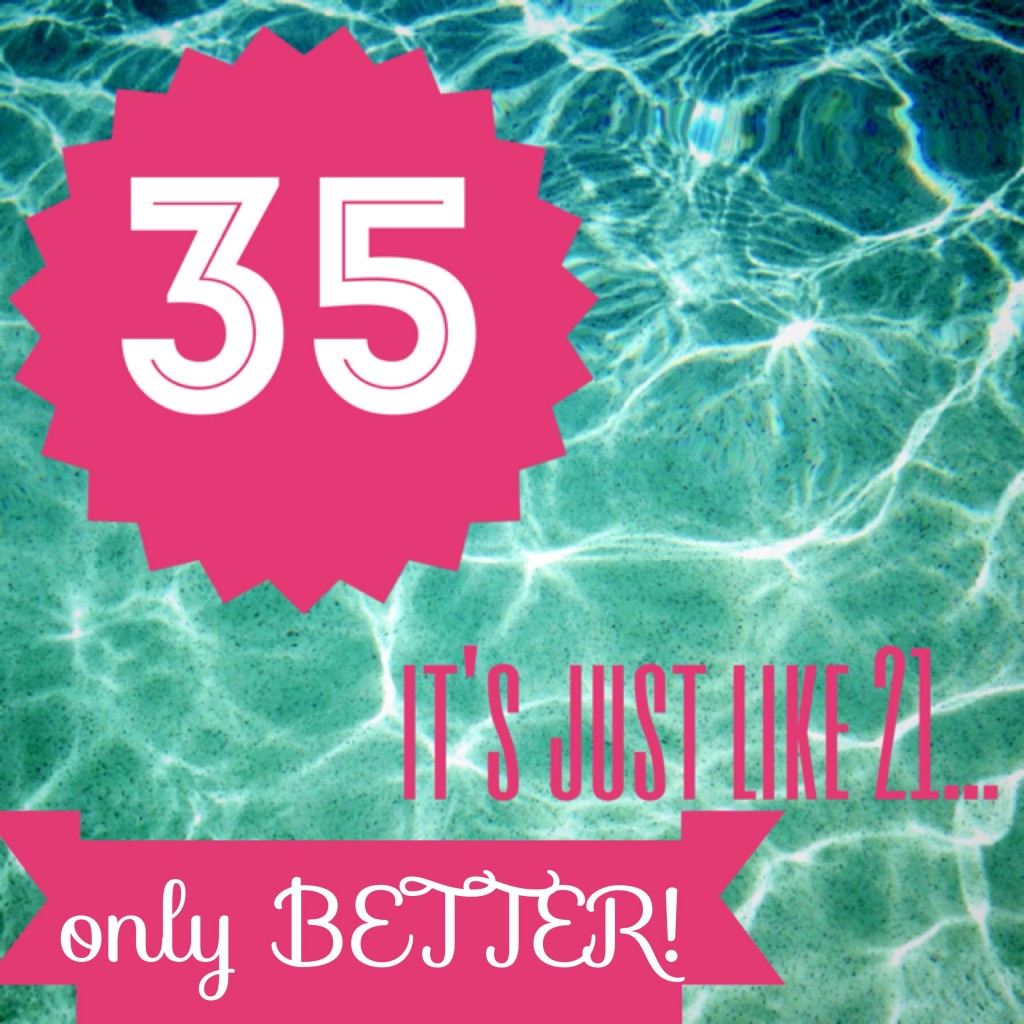 It's my 35th birthday and the day couldn't be more crazy or indicative of what my life is these days. I have end of school awards, play dates, kindergarten registration (SOB!), laundry, dirty dishes and somewhere in there I think I'll be allowed to breathe. It's hectic and crazy and a skooch stressful, but altogether awesome because my life is bustling and full and rich. I wouldn't change anything about it.
As I sat and thought about turning 35 and remembered back to the day when I thought that was SO OLD, I realized something. 35 and 21 are almost exactly alike! I mean, stand them up side by side and you can hardly tell the difference. To prove my point, I give you:
Ten Ways 35 Is Exactly Like 21
1. You are up at all hours of the night, only at, 35 you're up involuntarily changing sheets, or doling out medicine or looking for lost lovies and on and on and SWEET MERCY I'M TIRED!
2. You eat Mac and Cheese for lunch. When you were 21 you did it because you were broke. Now you do it because making lunch for yourself takes effort and sooooo tiiiiirrrreeeeddddd…
3. An alcoholic beverage incites a bizarre amount of excitement, again for different reasons.
4. You look at a book and think of all the other fun things you could be doing instead of reading. Only when you were 21 the fun things you thought of involved less sleep, not more sleep.
5. You live in a pigsty and you don't really care.
6. You have to clean up vomit periodically.
7. When you're in the car, you crank the tunes. Of course, when you're 35 the tunes are usually sung by Disney Channel teeny boppers and you turn it just loud enough to drown out the sound of arguing children….
8. You run outside to play in the rain just for the fun of it, only when you come in you now have an entire mountain of laundry to clean instead of just your own soggy clothing.
9. You enjoy a laid back movie night now and again, but instead of that creepy horror movie that allowed you to hide your face in the shoulder of the cute guy next to you, you're watching a Disney movie with a scary bear in it while small people hide their faces in your shoulder.
10. You have high and lofty dreams of the future, but this time those dreams don't center around you, but rather around those small people that you helped create….and you dream of a vacation where you're allowed to do nothing but sleep.
So basically 35 is exactly like 21,

only it's better.

Because I sure wouldn't trade a single thing about where I am or who I'm with. 
At 21, life was all about me – my future, my goals, my dreams, my accomplishments. Today I sat on the most uncomfortable chairs known to mankind in a room full of other thirty-five(ish) year olds and I watched my third grader walk up on stage to receive a school accomplishment award and I thought, "Huh. So this is what thirty-five year olds do."
Afterward I walked out the the courtyard and he ran to me, throwing his long, lanky arms over my shoulders and leaning his head on my shoulder. I kissed the top of his head (because it won't be long before I won't be able to reach the top of his head anymore) and I decided 35 is kind of awesome. It's awesome because of them:
The 21 year old me would have been shocked at this picture.
Heck, the 35 year old me still does a double take when I look at them.
I am blessed.
Thanks for all the birthday wishes everyone! It's proving to be a good one.
(And if you can think of other ways that 35 is just like 21, share them in the comments. I dare you…)