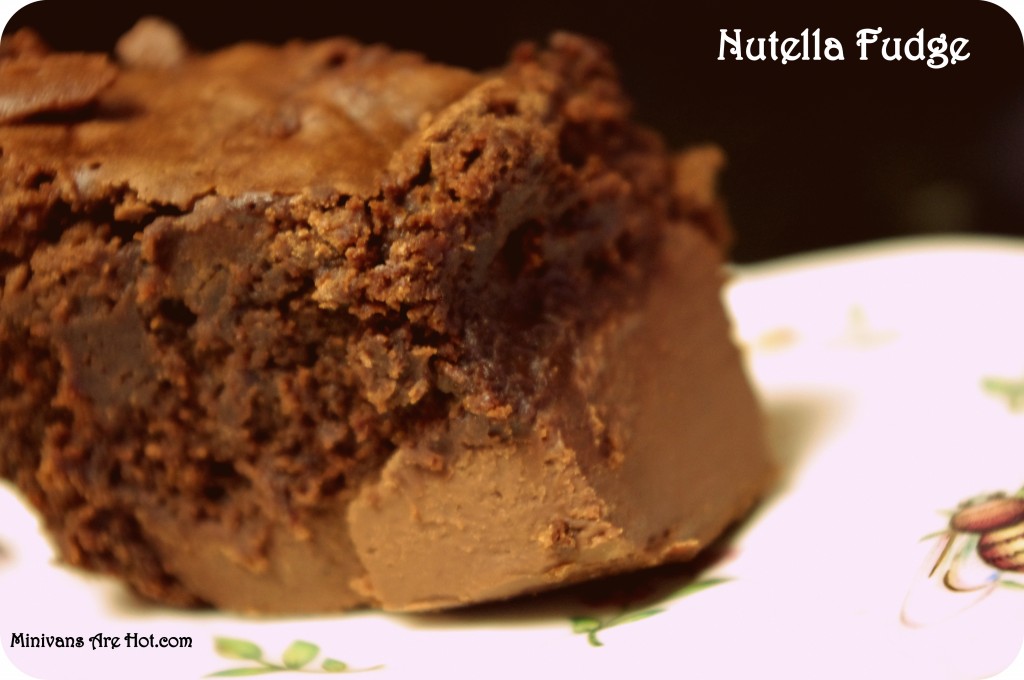 I'm not what you might like to call a "cook." I don't enjoy preparing food. I do, however, like to bake because, let's face it – it's way more fun to eat baked goods than healthy foods.
Am I right?
I also consider myself an addict a connoisseur of all things Nutella. Some might call me obssessed, but they're only the people made of tin…See the thing is, I'm a firm believer that Nutella will be the centerpiece of the heavenly banqueting table. I mean, technically the Bible makes no mention of Nutella, but it's probably just an issue with translation, you know?
So a couple of weeks ago, my online friend, Karen, sent me a recipe for Molten Nutella Chocolate Pudding Cakes.
I KNOW! It's almost too glorious to even imagine, isn't it?
This is why Karen is my favorite.
Just kidding…I don't play favorites.
(Yes I do. She's my favorite…) 
I had no real occasion to make said glory cakes, but the recipe seemed too good to pass up, so last Friday, I bought the necessary ingredients (of course I already had Nutella in stock!) and whipped up these glorious mini-cakes. People of the world, I do not exaggerate when I tell you that these cakes are life changing.
LIFE CHANGING!
In fact, I don't want to brag (yes I do), but when we served the cakes to friends Friday night, I'm pretty sure they got saved after eating those cakes. Maybe even twice…
Now, here is where my accidental brilliance comes into play. See, anybody can be brilliant on purpose, but to display brilliance completely by accident is something different. Try not to be intimidated, of course. I'm still the same girl. Nothing has changed.
I'm just an accidental genius.
When I bake, I have this odd compulsion to ALWAYS DOUBLE THE RECIPE. If a recipe calls for two eggs, I must use four. I can't escape the need to make double, because you never know when something is going to be so life changingly good that you need extras.
So I doubled this recipe. Because if 6 TBSP of Nutella is good, then 12 TBSP of Nutella MUST BE BETTER! (Yes, the all caps is necessary. I'M WRITING ABOUT NUTELLA!)
When the time came to bake the cakes, however, I didn't have enough ramekins to bake them in, so I pulled out my cupcake pan. But even then, I still had so much batter left over, so I pulled out my loaf pan, greased it up, and poured a thin layer of cake mix in the bottom. Then I used almost half a can of Nutella (don't judge me!) and spread a thick layer on top of the cake mix. I finished by pouring the rest of the batter over the Nutella, then I baked it for thirty minutes.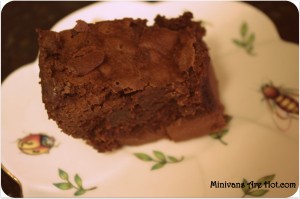 After it cooled, I realized that I couldn't cut this cake without it crumbling and falling apart since the Nutella was in the middle. I needed to get things cleaned up, so I just covered the loaf pan with aluminum foil and stuck it in the fridge so it would be out of sight.
ACCIDENTALLY BRILLIANT!
When I pulled the loaf pan out a couple of days later, I cut into the cake. It was difficult to cut through because it was thick. But upon putting it on the plates, I realized that the Nutella had hardened between the layers of cake and when I bit into it…
Well…I got saved. Twice.
It tastes just like fudge!
So learn from me. Go forth and make Nutella cakes, but please, please, please DOUBLE THE RECIPE and refridgerate the extras. I hereby proclaim with certainty that it will indeed change your life.
HALLELUJAH!
Anyone else have a good Nutella recipe they want to share?
(Oh, and FYI – You have to keep the Nutella fudge refridgerated. As soon as the Nutella thaws, it gets gooey again, which is equally delicious so honestly it doesn't really matter what you do. You're eating Nutella sandwiched in chocolate cake for crying out loud! It's hard to ruin…)
Here is the recipe (without my accidental modification):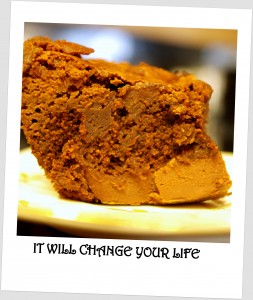 Molten Chocolate Nutella Pudding Cakes
1/2 c. all purpose flour
1/2 c. unsweetened cocoa powder
1/2 tsp baking powder
4 oz semisweet chocolate chips
1 stick butter
4 large eggs
1 tsp vanilla
1 c. sugar
6 TBSP Nutella
Preheat oven to 350.  Mist 6– 6oz ramekins with cooking spray.
In a bowl, whisk flour, cocoa and baking powder.  Melt chocolate chips and butter in microwave and whisk until smooth.  In another bowl, using an electric mixer, beat eggs, vanilla and sugar until pale yellow….at least 3 minutes.  Beat in melted chocolate mixture and then flour mixture.
Place a "blob" of chocolate mixture in bottom of each ramekin.  Layer with 1 TBSP of Nutella and then divide the remaining batter equally over the top of the Nutella.  Place a roasting pan in the oven and fill with a 1/2  inch of hot water.  Place ramekins in the pan with water and bake for about 30 minutes.  Cakes will rise and may crack a bit on top.  (I did not have a roasting pan so used a casserole dish and was able to fit 4 ramekins in it)
You can make these in muffin pans do not cook them as long…. about 17 minutes.  Tops may or may not crack.  If using a dark muffin pan, then bake at 325!